Every week from now until San Diego Comic-Con, we're celebrating you: our readers! So let's meet this week's Attendee of the Week: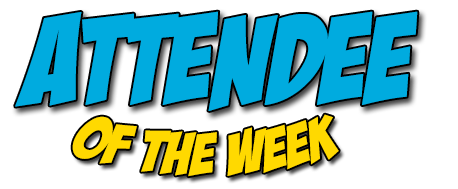 Pablo Machado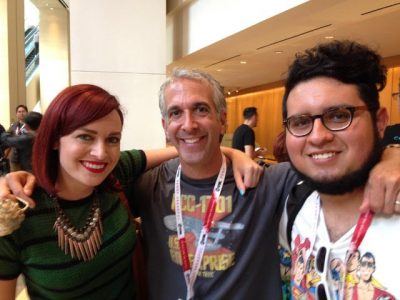 Where are you traveling from for San Diego Comic-Con?
Guadalajara, Mexico.
How many years have you been attending?
2017 will be my 5th year in a row.
What was your favorite panel and why?
This is a really good question. During my first years, I was all about Hall H and Ballroom 20, but then I discovered the wonders of small, intimate panels. In 2016, I ended up in a panel full of showrunners that was incredibly interesting and taught me so much about the industry.
What is your favorite exhibitor or artist booth and why?
Weta! Their booth is always impressive and full of great articles.
What was you favorite autographs session and why?
Evangeline Lily in 2014. She's the sweetest, nicest celebrity I've ever met. She was incredibly sweet and took the time to ask me a little bit about how the con was going. She wished me luck for next day's Hall H Line and I made it into The Hobbit panel. I call it an angel's blessing to walk into hell.
What is your favorite con snack?
The Nature Valley Trail Mix. (This is not a sponsored answer)
Tell us about your most memorable celebrity encounter at the convention?
I was lined up for Screen Junkies Central, chatting with a few friends. Suddenly and completely out of nowhere, Joseph Gordon-Levitt walks right past us and says hi…It was quite a surreal moment. Honorary mention to Misha Collins running every Sunday morning through the Hall H line.
What is (or was) your favorite offsite and why?
Nerd HQ! It's surreal how welcoming the community Zac has created is. From the conversations to the parties, Nerd HQ embodies everything that's good and positive about nerd culture! I'm so bummed about them not being in San Diego this year.
What is your favorite restaurant in downtown San Diego?
When Comic-Con takes place, I'm a man of simple tastes. The Comic-Con Diet consists
primarily of my hotel's complimentary breakfast, apples, pouch tuna (yes), trail mix bags, and water. But when it comes to breakfast, there's nothing like The Broken Yolk (355 Sixth Ave). Few things beat eating a Ranchero Omelette with a side of hash browns the morning before the madness begins. Even their coffee is the best in town!
What is your favorite Comic-Con memory/moment?
Saturday. Last year. I decided to attend the Masquerade, an event I've always wanted to go to, but never could because of overlapping events (nothing new at a convention), but last year I took the time and went. It was a surreal experience, as my jaw only dropped more and more at the tremendous talent of the participants and the effort they put into their creations. To further my enjoyment, I discovered an after Masquerade party takes place in the Sails Pavilion (you learn something new every year)
Do you have any advice for a first time attendee?
What you'll hear the most is that you need a plan, and I can't stress that enough. It's all about having options. Don't let a missed autograph or panel ruin your con experience. Remember where you are, all the stress you went through, and the countless hours of planning behind all of this and go find something else to do, because believe me, there will be something. Also, be open to completely un-planned events or walking into a panel you never contemplated. Also, if you're a first timer and an international attendee (like me), don't be afraid. The Comic-Con community is welcoming and will always help you!
Want to be featured as our Attendee of the Week next week? Find out how!