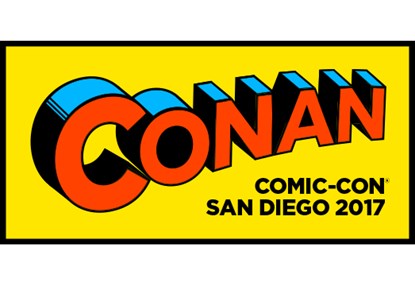 The Conan San Diego Comic-Con dates have quietly gone up on 1iota, the ticketing website that distributes tickets to the tapings. They're not currently live – but they are "coming soon".  [UPDATE] The dates have been disappearing and then coming back up, so keep checking. It's likely all a sign of things to come soon. Very soon.
As we previously reported, just like in years past, there will be four tapings during San Dieg Comic-Con at the Spreckles Theater, Wednesday, July 19 – Saturday, July 22 (and according to the 1iota page, the tapings will be at 3PM, but that's always subject to change slightly). There's no word yet on guests for this year's event, but in the past, it's included everyone from the cast of Suicide Squad to Game of Thrones.
Last year, tickets actually went live on July 7 – so we're likely a bit early for them to go up. In the past, it's been essentially a lottery, where you enter your information for each date that you want, as well as a quantity of tickets 1-4 — and if selected, 1iota will send you an e-mail to claim your free tickets. You then stop by the venue on the day of your show to pick up the physical tickets and find out your seat assignment. Nothing official for 2017 has been announced, but it seems likely to work similarly.
Also expected to return are the Conan Funko Pop!s, which can now be seen on the San Diego trolleys. This year's line-up includes a Jedi, The Flash from Justice League, Spider-Man, and a White Walker from Game of Thrones. Here's a look, from Screening Guru on Instagram:
(Thanks to @KimberlySis for the heads up!)