Mezco Toyz is returning to San Diego, and while the manufacturer is smaller than some of the exclusive giants (Hasbro, Mattel, etc.), they still hold some exciting licenses (including Marvel, DC, and many more) and offered some exciting exclusives at Comic-Con 2016. What will 2017 bring?
All Mezco exclusives are available for pre-sale on their site for shipping after the convention, or you can pick them up at Booth #3445 at SDCC 2017.
Here's a look at Mezco's 2017 exclusives:
[UPDATE June 28] 
If you're a true Spider-Man fan, you know Peter Parker was the original, but not the only, Spider-Man.
Mezco's latest in their One:12 line is a nod to the Miles Morales Spider-Man, who took over for Peter Parker after Parker's death in Ultimate Fallout #44. Morales' Spider-Man comes with a detailed outfit with the unique colors worn by the character. For $80, the figure comes equipped with 30 points of articulation, six interchangeable hands, acrylic eye lenses, five different weblines, two bases, and a lot more. you can either pick Miles Morales' Spider-Man up at Mezco's Booth #3445, or you can have him shipped straight to you after the con.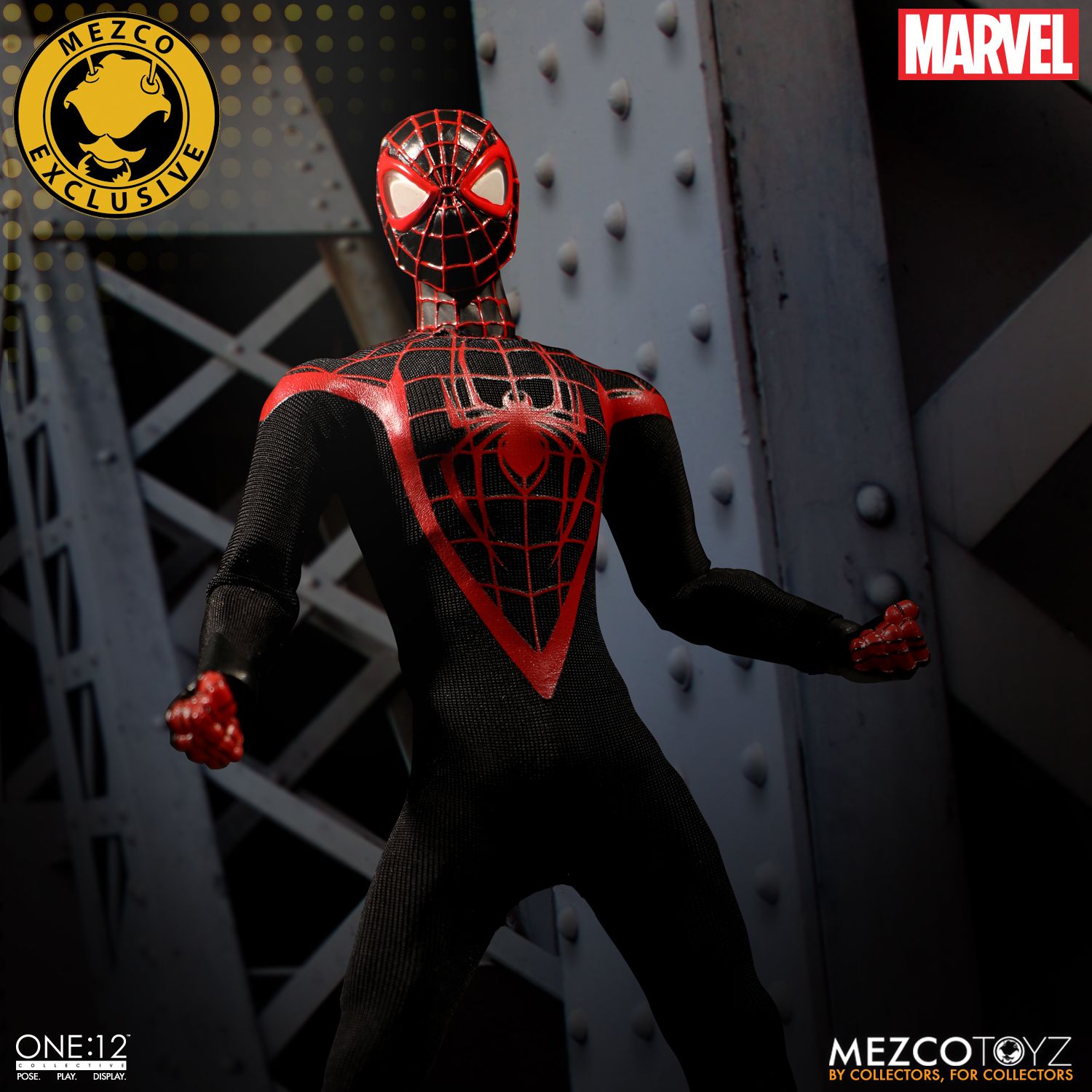 [UPDATE June 21] 
For the first time ever, Mezco is introducing a Living Dead Doll that speaks – for maximum creepiness.
With the touch of a discreetly located button, Rurrection Cuddles with Sound will giggle devilishly or repeat one of six "vaguely menacing phrases". She comes packaged in a coffin-shaped window box, and features glass-look eyes and a newly reimagined outfit. Cuddles comes equipped with a machete, and will retail for $65 – which you can either pick-up at the con, or have it shipped straight to you after the con.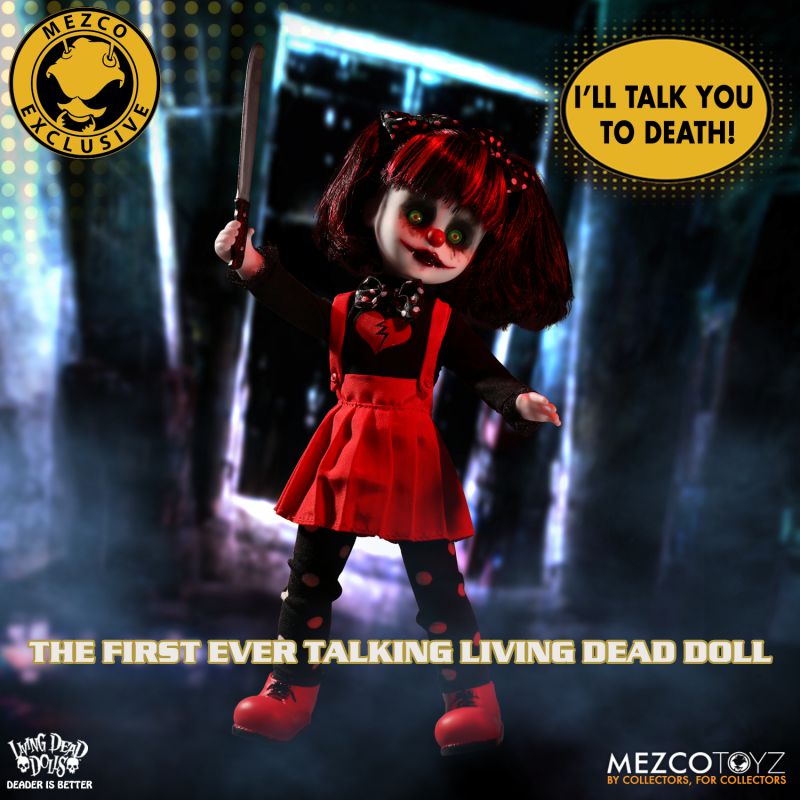 [UPDATE June 14]
Maximum effort! Mezco certainly put that into their latest One:12 Collective X-Men Deadpool Summer Exclusive. The Merc with a Mouth collectible has 30 points of articulation and measures over 16 cm tall. But isn't Deapool's suit red so the bad guys don't see him bleed? Normally, yes, but this exclusive is drawn from the moment when he lost a bet with Beast and Cable and tried on one of Professor Xavier's famous blue and yellow uniforms. We think it looks good on him, but we'll always be partial to his traditional red and black. He comes with all sorts of gear and accessories as well (but no chimichangas); we just hope he doesn't forget all of it in Dorpinder's cab again. It'll cost you a mere $80 to bring Wade W. Wilson home with you from SDCC. If you're too busy hunting for Francis (er, Ajax) to pick him up at the con, he'll ship to you after SDCC is over.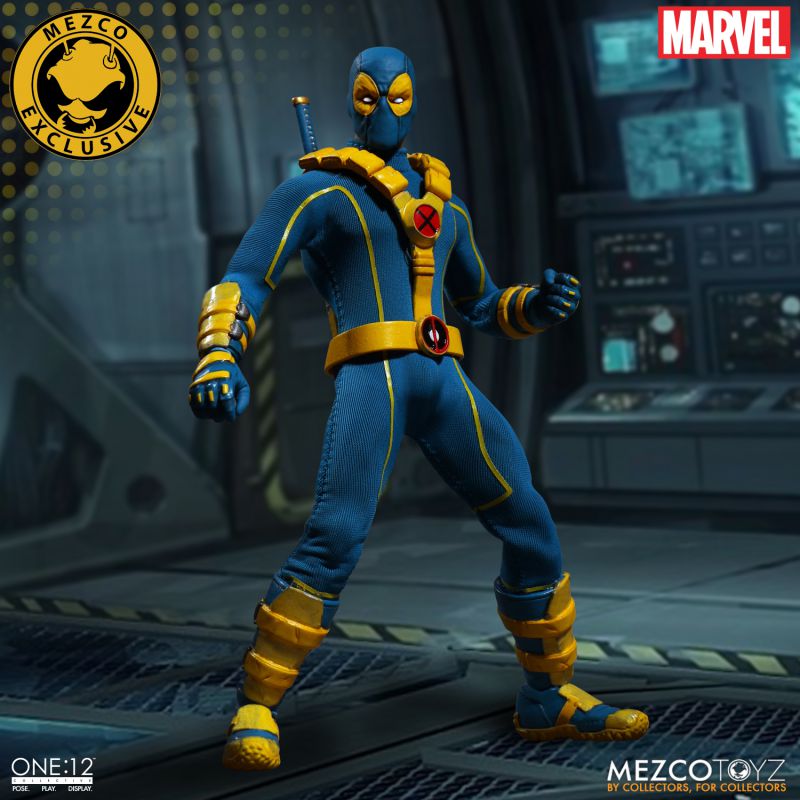 [UPDATE June 7]
I'm Batman! Well, maybe not, but Mezco's latest exclusive announcement comes from their Mez-Itz line. They've chosen to immortalize Tim Burton's 1989 Batman in all of Michael Keaton's glory. The package includes the 2″ Mez-Its figure along with grappling gun, Batarang, and a die-cut card you can hang in your Batcave. You don't need to terrorize Gotham city to get him; you just need $8. As with their other exclusives, you can send up your Bat Signal now, but he won't come save you until after SDCC.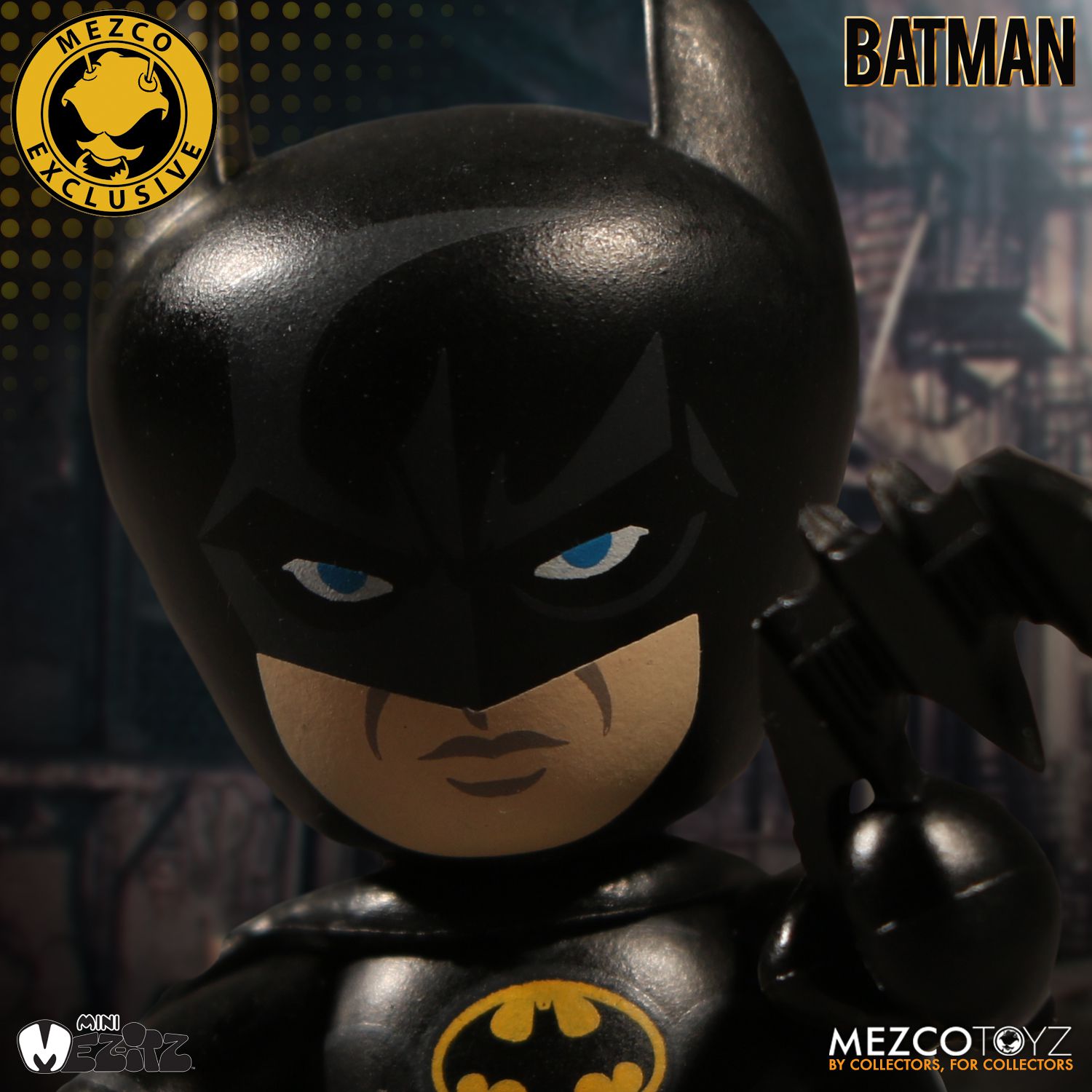 [UPDATE May 31]
Hey, Puddin! Mezco's latest SDCC/Summer exclusive is from their Living Dead Dolls collection: Classic Harley Quinn Unmasked. Standing at 10″ tall, Harley is in her pigtails and  traditional harlequin clown constume and comes equipped with her giant mallet, just in case "Bats" swoops in to ruin date night. We think it's safe to let her out of Arkham for now, right?
She comes packaged in a specially die-cut window box, and features five points of articulation – and you can grab her for $55 now if you want to skip the line at the con (but she won't ship until after the convention).
[UPDATE May 24] The first Mezco exclusive is: Summer Exclusive Lion-O with Light-up Eyes. Thundercats, Ho! Mezco's first SDCC exclusive gives us sight beyond sight with this 14″ Lion-O action figure, which features seven points of articulation. The figure comes equipped with:
Open mouth roaring head featuring light-up eyes

Removable Claw Shield

Sword of Omens (long version)

Sword of Omens (short version)
Lion-O retails for $40, and you can pre-order now, but he won't ship until after Comic-Con.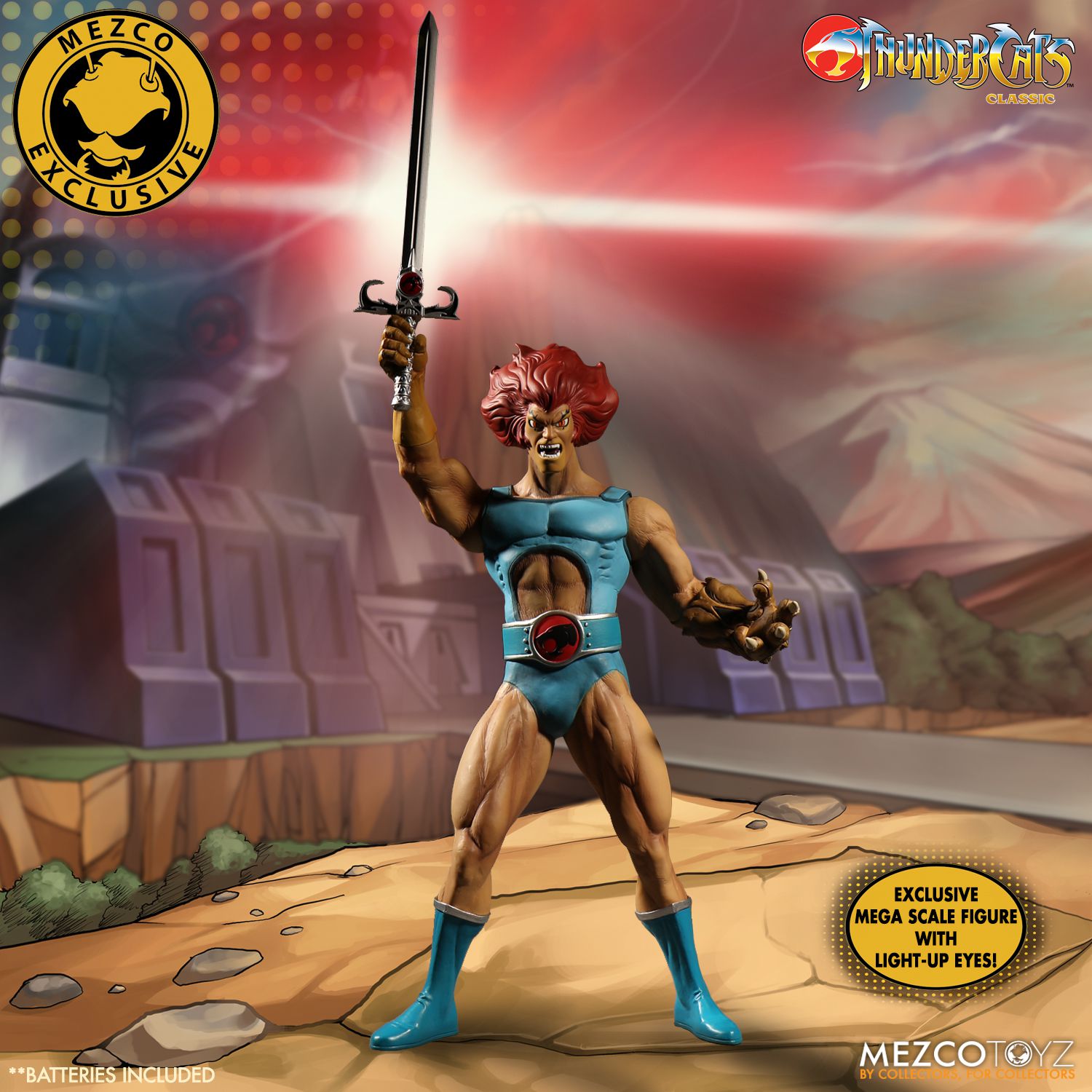 Which Mezco exclusives will you be pre-ordering? Let us know in the comments.