Artist Patrick Ballesteros, whose work you might recognize from The Late Late Show with James Corden or from his Punny Sweater series or his 25 Cent Wonders collection, always brings his A-game to San Diego Comic-Con. This year is no different, and you can find him at Artist Alley DD-08, where he will have a plethora of 25 Cent Wonders and other art, as well as five San Diego Comic-Con exclusive prints, and maybe a few extra special surprises.
His 25 Cent Wonders collection, which features kid versions of some of your favorite characters, riding old-school mechanical rides like you used to find outside grocery stores, are both unique and playful. His previously announced SDCC exclusives — It's a Cruella Summer and Pantastic Voyage — are beyond adorable. A different exclusive print will be available each day of the convention, with the exact release schedule still to be announced.
But you're really going to make his next San Diego Comic-Con exclusive part of your world — or "Part of Your Underworld", as it might be. The Little Mermaid 25 Cent Wonder San Diego Comic-Con exclusive features Ursula riding atop a mechanical eel.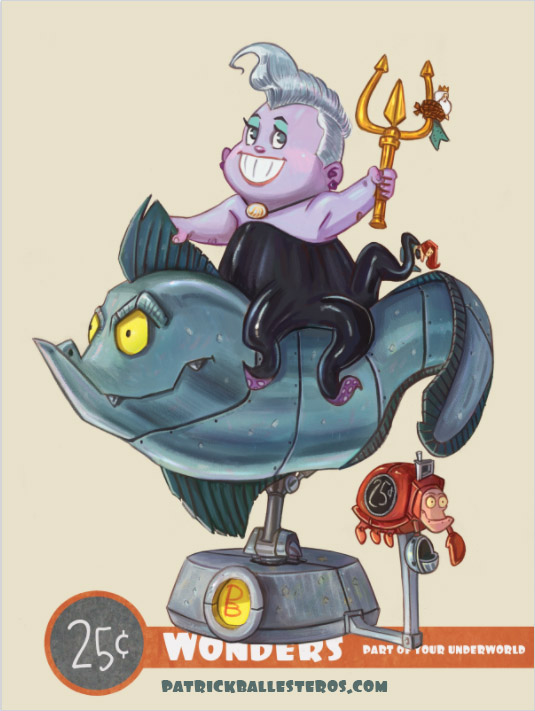 Each 6×8 print (with rounded corners) is a limited edition of less than 100, and is signed and hand numbered by Ballesteros. You can pick it up at Artist Alley Table DD-08 for only $12. So don't be a poor unfortunate soul — pick this up at San Diego Comic-Con.
You can find more of Ballesteros' work on his website.
Will you be picking up this print at San Diego Comic-Con 2017? Let us know in the comments.