Our friends at Ninjabot (Small Press L-08), the art of the wonderful Arnel Baluyot, will be back at San Diego Comic-Con this year in a big way.
[UPDATE] We know you've been dying to see Ninjabot's San Diego Comic-Con 2017 free button design, and today is your lucky day. This year's buttons will feature Star Wars: Rogue One characters, with one button being released each day of the convention. In addition to the free buttons, you can also score one by spending $15 or more at their booth, and an additional secret button by going up to the booth and saying, "Please help me, Ninjabot, you're my only hope."
Wednesday – Bodhi
Thursday – Baze
Friday – Chirrut
Saturday – Cassian
Sunday – Jyn
Everyday – K2SO(with a $15 purchase, or more)
Everyday – Secret Button(ONLY with password)
Here's a look at all the designs (except the Secret Button, which won't be revealed without the password in person):

[PREVIOUS] As previously announced, they opened commissions on June 1! The Portland-based illustrators who put their own unique spin on everything from superhero origin stories to pop culture-ized cats — are now not only giving attendees a chance to see their favorite pop culture characters in cat and dog form, but also to Pop Cat/Dog yourself. Commissions are just $80 each.
For those who prefer themselves not to take a starring role in their artwork, Ninjabot will also still be doing regular Pop Cat/Dog commissions for $80 each (which include a free frame, and which can be customized to resemble your pet at no extra cost), Mini Pop/Cat dogs for $40 (which also include a custom frame), as well as custom character headshots for $80. All payments will be done with PayPal, and the paintings must be picked up at SDCC – or, if you prefer to wait until you get to the con, the prices will raise to $50 and $100.
And in sadder news, Ninjabot's buttons – which we love – will soon be a thing of a past. Now through June 5, they're offering a 60% discount on remaining buttons through their site. You'll still be able to pick up your free daily buttons at San Diego Comic-Con 2017, but that will be your very last chance to get your hands on a Ninjabot button.
Fear not, though, as Baluyot has been busy at work on other exciting things – including the release of Origins Series III, which looks back at the origins of some of your favorite superheroes. The pre-order will go live on July 1 at 10AM PT, but we'll get our first look on June 12.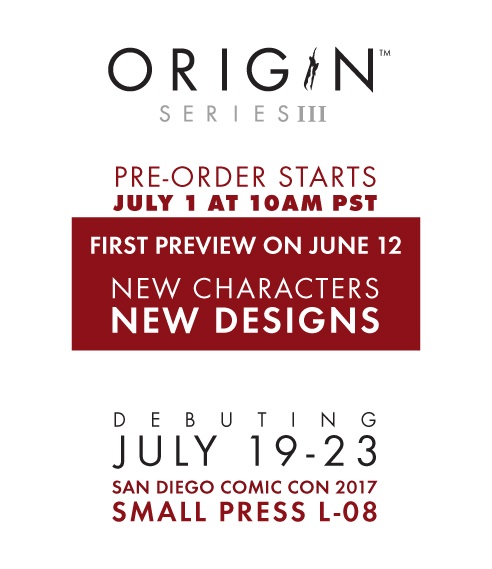 Will you be getting a Ninjabot commission? Let us know in the comments.