We here at the San Diego Comic-Con UNOFFICIAL Blog believe you don't have enough crochet in your life, so we've packed this issue of Under the Tents full of it. Sure, you'll also find news from Conan O'Brien, Scott C, Han Cholo, Loot Crate, and a lot more, but we know you're all about that crochet. Did we mention there's crochet in this post? Because there's crochet.
Here's a look at what you might have missed:
Are you an artist who would like to be featured on this year's Conan Con? Conan O'Brien's Team Coco is looking for fan art to be featured this year at SDCC. Submit your work here by 8PM PT July 7 for your chance to be part of this year's spectacular event.
ATTN Team Coco Artists: We're now accepting fan art submissions for #ConanCon 2017. https://t.co/f0m5QOyErr pic.twitter.com/ZjG1jqABNC

— Team Coco (@TeamCoco) June 26, 2017
San Diego Comic-Con International has been bringing writers and artists together for years in their Comic Creator Connection. CCI announced they are now branching into the gaming field with their first ever Game Creator Connection. Their goal is to bring seasoned veterans in to advise and mentor those who are struggling to get their foot into the gaming industry's door. The connection will be held at the Santa Rosa Room in the Marriott Marquis and Marina from 1PM-3PM PT. If you want to participate, email the following info to programs@comic-con.org:

First and last name
Email address
Field of interest (e.g., game design, production, art, writing, programming, indie development, etc.)
Are you currently a student? Yes/No
Are you currently working in the game industry in any capacity? Yes/No
Primary mentoring goal (i.e.: what specifically do you hope to learn from the mentors?)

Maybe you're a struggling video game developer who just needs to pitch their idea to someone? CCI also wants to give you that this year with their Game Pitch Review as part of their Game Creator Connection. This will also take place in the Santa Rosa Room in the Marriott Marquis and Marina from 11AM-12PM PT, and you just need to sign up starting at 10AM PT to participate. It's first-come, first-served, and sign-ups will be taken on-site. If you do plan to pitch something, come equipped with the following before you sign up:

A well-practiced, 3-minute verbal pitch that clearly explains the game concept, how it's unique to the marketplace, why it would be worth funding, etc.
Any hardcopy or digital visuals (images, video, etc.) that help illustrate the concept and viability of the idea (you must bring the device on which you will display the visuals)
Be imaginative in your pitch and be passionate; imagine you're making a very quick pitch to receive funding for your idea.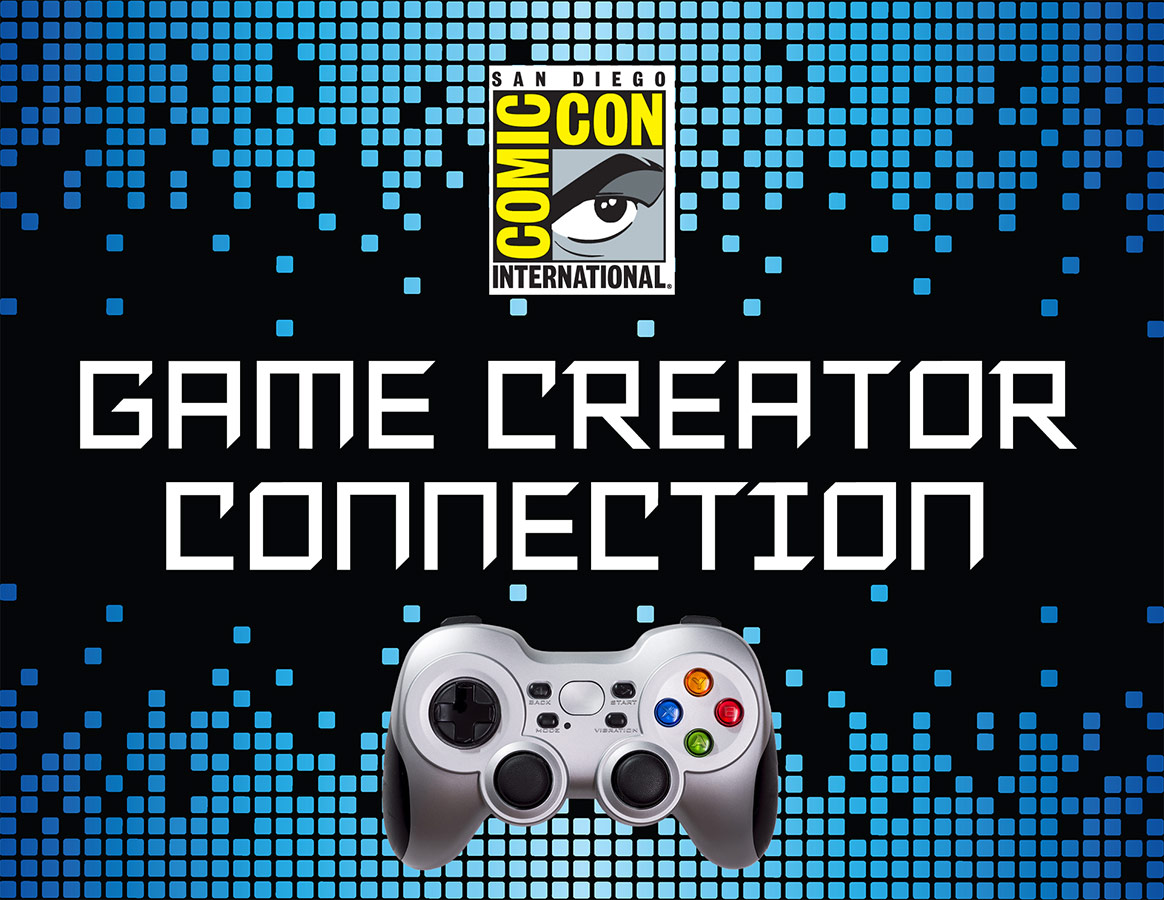 Who you going as @caitrionambalfe ? https://t.co/qtOi85YbhY

— Sam Heughan (@SamHeughan) June 27, 2017
This may be our biggest scoop of SDCC 2017. Fashion-forward artist Scott C announced he will debut new shorts at SDCC this year. You can't buy these shorts from him, though, as they'll be the shorts he's wearing. If you ask him nicely, though, he'll probably tell you where he got them when you stop by the Gallery Nucleus Booth #2643.
I'll be unveiling some new shorts at #sdcc. Not for sale. Just shorts that I will be wearing on my body.

— Scott C. (@scottlava) June 26, 2017
If you're not a fashionista, Scott C is also signing some of his work to bring with him to SDCC. You'll find these, along with his hip new shorts, at Gallery Nucleus Booth #2643.
Signing some things especially for #SDCC next month. I am very excited about this, you guys. https://t.co/U9zcHm3sth pic.twitter.com/pWQcBTSDty

— Scott C. (@scottlava) June 26, 2017
Also at Gallery Nucleus's Booth #2643 will be Lorelay Bové and her gouache paintings. She recently posted her latest creation she'll have with her, Esta Noche en Río.
https://www.instagram.com/p/BVyVsT_l_ok/
Loot Crate co-founder Matthew Arevalo sounded off on Twitter that the Loot Crate Booth (#3635) will be in full effect at SDCC this year, and they will have SDCC exclusives for us. If you're familiar with this monthly box of nerdy goodness, you know they always bring something awesome to SDCC.
Loot Crate booth in full effect. Plus we have SDCC exclusives… 🙂

— Matthew Arevalo (@mattarevalo) June 25, 2017
Our good friend, The Ninjabot, tweeted one final tease for his SDCC exclusive. The full reveal will be on July 1 and will be available to pre-order. It also appears this will be part of one of his awesome giveaways, so let's keep our eyes on Ninjabot.
Last tease before the full reveal on July 1st! SDCC attendees will be able to pre-order it this year, & we'll be doing a giveaway! Thoughts? pic.twitter.com/ichvawpKhZ

— Arnel Baluyot (@theninjabot) June 27, 2017
Multi-talented artist Randy Martinez showed off his Poison Ivy piece he'll have at SDCC this year. Stop by the Choice Art Group Booth #4219 on Thursday, July 20 from 2PM-6PM, where Martinez will be live-painting.
https://twitter.com/RandyMartinez40/status/879037981423566849
It's been known for a while that Outlander will have a panel at SDCC this year, just who will be on it is still a bit of a mystery. Writer/producer Matthew B. Roberts announced that, unfortunately, he will not be part of the SDCC panel.
.I believe there is a panel and no I won't be there #Outlander

— Matthew B Roberts (@TheMattBRoberts) June 25, 2017
You might remember in our earlier UTT column, we shared a video from Weta Workshop, where they announced some of the awesomeness they're bringing to SDCC this year. Sadly, they announced later in that Twitter thread that Warcraft would not be part of that awesomeness this year. Still, we know that a trip to Booth #3613 is never wasted. Besides, they're not done revealing who will be at their booth with them this year.
Nothing new from Warcraft, but we'll be revealing some of the awesome film stuff we're bringing over the coming weeks!

— Wētā Workshop (@WetaWorkshop) June 25, 2017
All will be revealed over the coming weeks 😉 But I can reveal they are a digital sculptor, a painter, & a leatherworker

— Wētā Workshop (@WetaWorkshop) June 25, 2017
If you're a fan of San Diego's alternative radio scene, you know they always go all-out for Comic-Con. This year is no exception for FM 94.9. Hamby, one of their DJs and resident SDCC nerd, announced FM 94.9 will be there with an awesome no-tickets-required setup you can bring the kids to. If you're looking for Cantore + Woods, however, you won't find them with FM 94.9 this year.
wow thanks man! We are going to have an AWESOME setup down there this year w/ @FM949sd NO Tix required for FUN. Bring the kids! pic.twitter.com/dTrOjK0nAQ

— Hamby aka Walt's Dad (@HambySanDiego) June 25, 2017
I will not personally have books to sell, but the @DelReyBooks booth is always well stocked! And I'll be signing there!

— Robin Hobb (@robinhobb) June 24, 2017
Co-creator/writer/co-executive producer of Z Nation, Craig Engler, jumped on the bandwagon and showed off his shiny SDCC badge on Twitter. Sadly, although he will be there, he announced that he's not aware of any Z Nation panel plans for SDCC. Womp-womp.
Not that I know of. Sorry 🙁

— Craig Engler (@craigengler) June 26, 2017
OK, enough about stuff that won't be at SDCC. Artist Sean Forney posted an image of a Padme Amidala sketch commission he's working on for SDCC. Head to Booth #AA-15 in Artists Alley to find more work like this.
https://www.instagram.com/p/BVyZwaMBEfU/
Artist Sho Murase isn't done showing what she's bringing to Artists Alley Booth #GG-24 this year. She posted an image of her Black Cat sketch she'll have available for us at SDCC.
https://twitter.com/sho_moo/status/879466259305308165
https://www.instagram.com/p/BVxozNrAg5j/
.@lydoshygirl does drops at Disneyland, but I'll be pulling drop duty for her at SDCC this year! https://t.co/ZKe580sQ7S

— Geeky Hooker (@GeekyHooker) June 26, 2017
And check out this teeny little BB-8 that I'll be dropping for @lydoshygirl at SDCC! https://t.co/MYnXnsPlIf

— Geeky Hooker (@GeekyHooker) June 26, 2017
Last year I dropped critters for @moon_catcher and she's offered to riddle us all with more critters all the way from Europe! https://t.co/039YXitRxb

— Geeky Hooker (@GeekyHooker) June 26, 2017
OMG just when I thought she was done. She just went literary on us, y'all. Another guest critter by @MoonsCreations for me to drop at SDCC!! https://t.co/AdlR49Pqvr

— Geeky Hooker (@GeekyHooker) June 26, 2017
Supergirl's going to be flying in along with Riddler for #SDCC drops thanks to @moon_catcher! 😀 https://t.co/JRnpbCLkQR

— Geeky Hooker (@GeekyHooker) June 26, 2017
The Geeky Hooker won't be the only crochet artists dropping critters at SDCC. One of her prior winners was so inspired by her, he decided to get in on the fun and do his own critter drops.
Inspired by @GeekyHooker, I'll be doing my own #minicritterdrop at #SDCC. These guys are pretty small. I hope they don't get lost. pic.twitter.com/pEDthL2TJU

— #minicritterdrop (@shozumi) June 24, 2017
Lord Vader gets a bit of a colorful makeover in this tease from Sarah Jo Marks. Look for these sparkly Vader figures from Carlos Ramirez at the DKE Toys Booth #5045.
https://www.instagram.com/p/BVzew3XD9H7/
Voracious Comics is now taking pre-orders for their SDCC exclusives Voracious #1 and Appetite for Destruction ashcan. Do you know where you are? No, not the jungle. They're at Jason Muhr's Artists Alley Booth #CC-15.
We are now taking pre-orders for the SDCC Exclusive VORACIOUS #1 & Voracious: Appetite for Destruction Ashcan! https://t.co/KgqTYf5zd8 pic.twitter.com/Pl5UiEAcKK

— VORACIOUS (@VoraciousComic) June 26, 2017
Mary Jane Parker's love for Peter Parker/Spider-Man has never been in doubt. In The Amazing Spider-Man: Renew Your Vows, she promises that if she had it all to do over, she'd do it all again. Find this at Scott Blair's Booth #FF-18 in Artists Alley.
Mary Jane Parker AMAZING-SPIDER-MAN Renew Your Vows for SDCC pic.twitter.com/wiomNdXCfm

— Scott Blair Art (@scottblairart) June 26, 2017
https://www.instagram.com/p/BVyt0eYgVKr/
https://www.instagram.com/p/BVzlF7bAqHd/
Along with his Deadpool exclusives, Justin Harder will also have these Disney Barns available at the CLAUS Studios Table #O-08 in the Small Press area.
https://www.instagram.com/p/BV0DA8YheLf/
Local San Diego artist Jessica Yambao posted another of her paper dolls for the SDCC Art Show. You can find her Yellow Diamond-inspired mermaid at the Manchester Grand Hyatt in Grand Ballroom C. Be sure to visit her and all the other talented artists in this year's show.
https://www.instagram.com/p/BVz79FQBNnp/
Skottie Young will be busy at SDCC this year. Not only will he be signing at the Gentle Giant Booth #3513, he also announced he will be signing at Image Comics Booth #2729.
yes. i'll be there. at the gentle giant booth, and at the image booth a few times.

— skottie young (@skottieyoung) June 26, 2017
Exclusive prints, comics, and sketches. Stop by and see me at #SDCC2017 #SDCC #artistalley pic.twitter.com/mqki4DaUmN

— Sean Forney at C2E2 O-6 (@SeanForneyArt) June 26, 2017
Anything we missed? Let us know in the comments, drop us a line, or tweet us at @SD_Comic_Con.