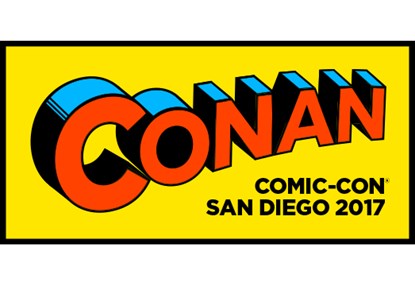 Conan O'Brien returns to San Diego Comic-Con with an all-star lineup of guests this year for his Wednesday – Friday tapings. The option to sign up for tickets is now full (though where are those Saturday confirmation e-mails?!).
So who will you be seeing during the tapings?
This year's line-up includes the casts of Supernatural and Bright on Wednesday, the cast of Game of Thrones on Friday, and stars from The LEGO Ninjago Movie on Saturday.
[UPDATE] Deadline has confirmed that, just as we speculated, the Thursday "surprise" cast is for Kingsman: The Golden Circle.
The following is the schedule for the week's episodes and the guests who have been slated so far:
Wednesday, July 19 Taping – Airs on TV Wednesday, July 19
Stars from Bright: Will Smith, Joel Edgerton, Noomi Rapace, Edgar Ramirez and Lucy Fry.
Stars from Supernatural: Jared Padalecki and Jensen Ackles
Thursday, July 20 Taping #1 – Airs on TV Thursday, July 20
Stars from Kingsman: The Golden Circle: Taron Egerton, Colin Firth, Halle Berry, Channing Tatum, Jeff Bridges, and Pedro Pascal.
Thursday, July 20 Taping #2 – Airs on TV Saturday, July 22
Stars from The Lego Ninjago Movie: Dave Franco, Olivia Munn, Justin Theroux, Zach Woods, Michael Pena, Kumail Nanjiani and Abbi Jacobson
Friday, July 21 Taping – Airs on TV Sunday, July 23
Stars from Game of Thrones: Alfie Allen, Jacob Anderson, John Bradley, Gwendoline Christie, Liam Cunningham, Nathalie Emmanuel, Conleth Hill, Sophie Turner and Isaac Hempstead Wright