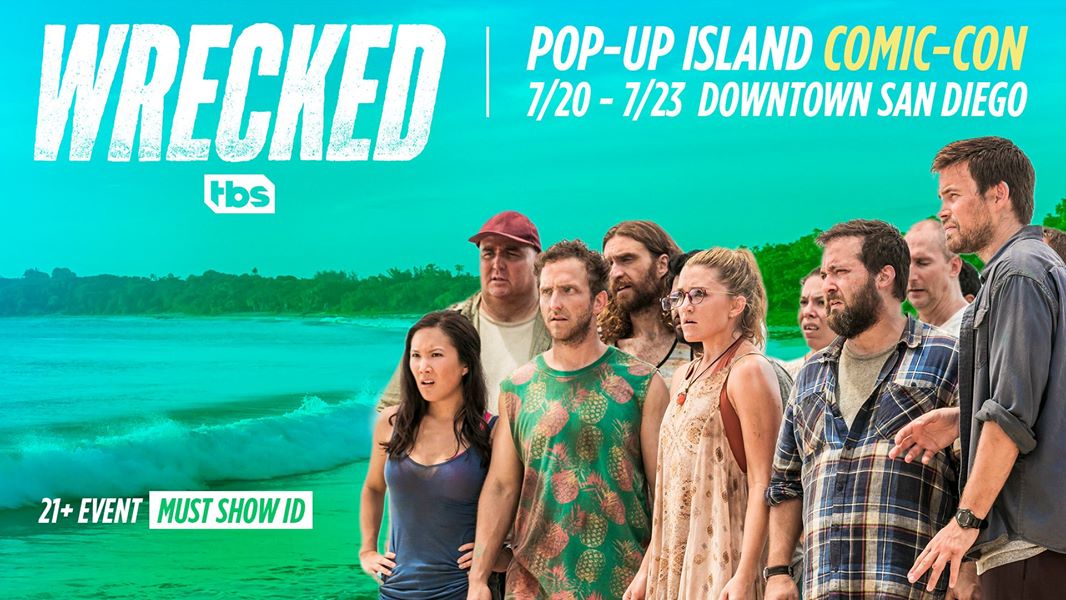 Get "Wrecked" at San Diego Comic-Con this year at the TBS Wrecked Pop-Up Island Tour, which will be coming from Thursday, July 20 – Sunday, July 23.
Those who find themselves stranded at the pop-up bar will be able to partake in an island bar and coconut ski ball, and can ride a mechanical boar. You must be 21+ to participate (and must show your ID).
The half-hour TBS sitcom follows a group of strangers whose flight crashes on an uninhabited island (sound familiar?). On their own, survivors struggle to navigate their makeshift society while also learning to live without such modern comforts as indoor plumbing, cellphones, social media, and fast-food restaurants around every corner. While the offsite activation doesn't guarantee a panel for the series, it certainly makes it more likely.
 [UPDATE] Tickets are no longer required for the event! Those who registered were e-mailed this message:
This event will be taken off of Event Brite, however it will be taking place over the course of Comic-Con at the Marina behind the Convention Center. There will be no "tickets" for this event as it is on a first come-first serve basis, so please disregard all "ticket" information. See you all there!
[UPDATE #2] We appear to have solved the mystery of exactly where this offsite will be — it's on a boat! The Wrecked offsite is actually a floating "island", that was created in part with San Diego based Hadley Media. In addition to the mechanical boar and coconut Skee-Ball, it will also feature a mini golf station,a palm-tree climbing wall, spots for photo ops, and more. You can find it docked outside in the marina during the con — and here's a look:
[UPDATE #3]
Outside Comic-Con stopped by the event this weekend, and snagged a closer look: