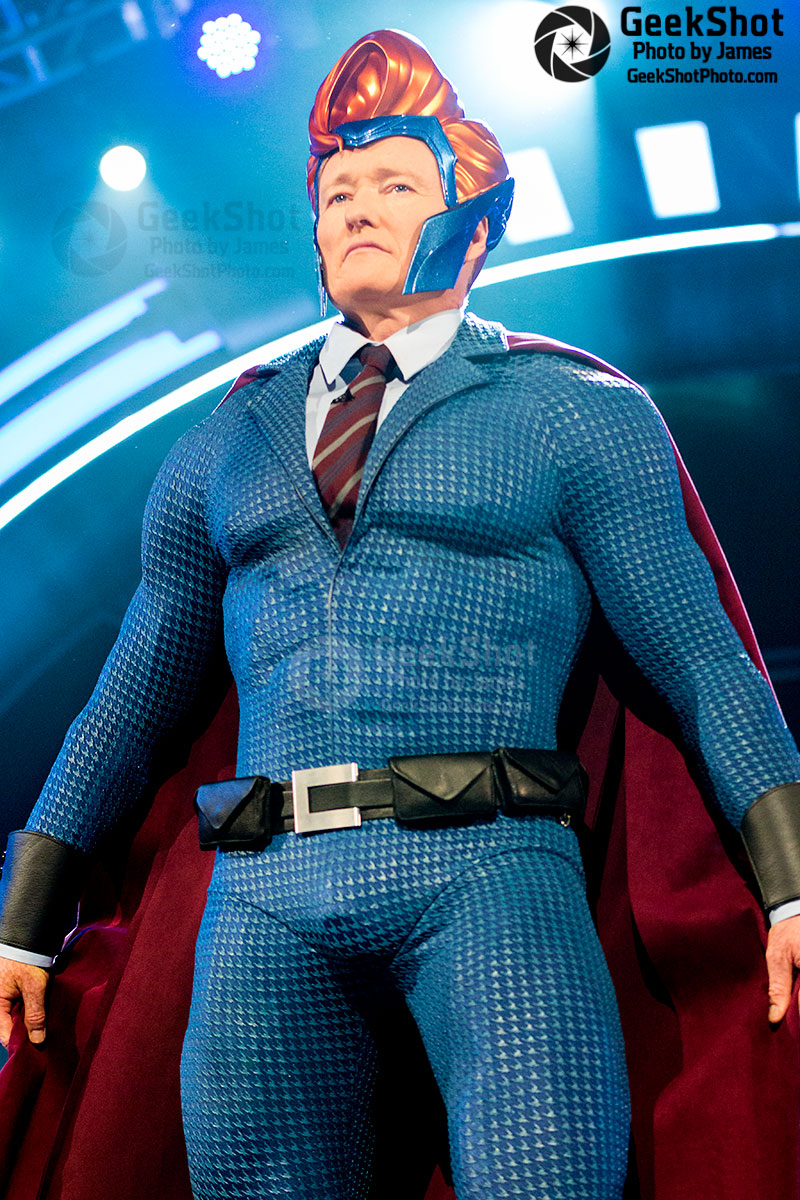 1iota has been e-mailing out confirmed tickets to Conan tapings for all days now (finally!)  — but whether you're on the receiving end, or staring sadly at your empty mailbox, there are some important next steps to take.
I Have A Ticket to Conan!
First of all, congratulations! Make sure that you actually follow the instructions in your e-mail to reserve the ticket — but you're still not actually done. On the morning of your taping, you'll need to head to Spreckles Theatre with your e-ticket and ID, between the hours of 8AM-the cutoff time listed on your e-ticket, and exchange it for a physical ticket and wristband.
The line will start forming earlier than 8AM, because this is Comic-Con that we're talking about, but there's no need to show up at the crack of dawn. While we don't recommend showing up at 1:59PM just in case all tickets are given out,  there's no need to rush. Tickets are distributed in a totally random order (though in general, closer seats are given earlier, so again, maybe just don't wait until closer to 2PM to go!), so there's no real advantage to getting the first ticket of the day or the 300th.
Finally, enjoy the show!
I Don't Have a Ticket to Conan!
Deep breath — this is not necessarily the end of your Conan hopes and dreams.
If on the morning of the show, you still don't have a ticket — you can always try for standby. Head to Spreckles, and beginning at 8AM, Conan's team will begin distributing numbered wristbands to those without an e-ticket. You'll be given a time to return, and if there are still available seats, they'll be distributed to standby in order of the number on the wristbands. Each year, people do make it in from standby for each show — but you have to be willing to put in the time both in the morning and again just before the taping.
Everyone in your party must be there when you pick-up tickets – including the person whose name the tickets are under.
Who Are the Guests?
Wednesday, July 19 Taping – Airs on TV Wednesday, July 19
Stars from Bright: Will Smith, Joel Edgerton, Noomi Rapace, Edgar Ramirez and Lucy Fry.
Stars from Supernatural: Jared Padalecki and Jensen Ackles
Thursday, July 20 Taping #1 – Airs on TV Thursday, July 20
Stars from Kingsman: The Golden Circle: Taron Egerton, Colin Firth, Halle Berry, Channing Tatum, Jeff Bridges, and Pedro Pascal.
Thursday, July 20 Taping #2 – Airs on TV Saturday, July 22
Stars from The Lego Ninjago Movie: Dave Franco, Olivia Munn, Justin Theroux, Zach Woods, Michael Pena, Kumail Nanjiani and Abbi Jacobson
Friday, July 21 Taping – Airs on TV Sunday, July 23
Stars from Game of Thrones: Alfie Allen, Jacob Anderson, John Bradley, Gwendoline Christie, Liam Cunningham, Nathalie Emmanuel, Conleth Hill, Sophie Turner and Isaac Hempstead Wright
What About the Funko Pop!'s?
If you are lucky enough to attend one of the Conan tapings — whether through a confirmed ticket or by making it in through stand-by — you will receive one of the Conan O'Brien Funko Pop! figures. A different figure is distributed each day, and no, we don't know the schedule (though it's a safe bet that the White Walker will be on Friday with Game of Thrones).
Last year, Funko, Conan, and Comic-Con International joined forces to offer a morning lottery at the Manchester Grand Hyatt on Thursday-Sunday to give away the exclusive Funko Conan O'Brien Pop!s. There's been no word that this is coming this year — but it was a resounding success last year, and certainly seems within the realm of possibility.
Otherwise, TBS always gives some of the Funko Pop!s away at their booth — and Team Coco always lets viewers sign up on their website during the con for a chance to win some as well.