The Petco Interactive Zone (and the rest of Petco) have a lot going on next week, with activations for Blizzard, XFinity, IT, Sphero, Wikia Fandom, and more. Plus, there's the usual food trucks.
Let's start with the Interactive Zone, which is open Wednesday from 5PM-9PM, Thursday-Saturday from 9AM-9PM, and Sunday 9AM-7PM. Here's a look: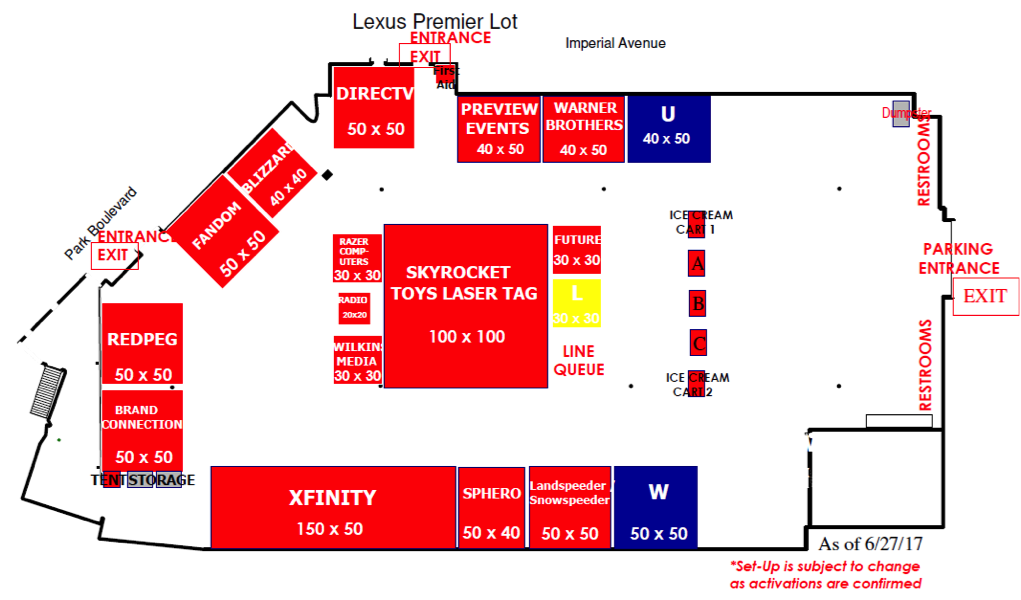 BLIZZARD ACTIVATION
What We Know: The activation includes a custom built cold room that will have an exterior façade to resemble a frozen-over ice cream shop. Inside, they will be serving nitrogen ice cream — and giving away foam sword premiums! There will also be someone dressed up as the "Lich King".
MR. MERCEDES ACTIVATION
What We Know: There will be an activation that includes ice cream, popcicles, chocolate eclairs, and other items given away through a food truck.
DREAMWORKS/NETFLIX ACTIVATION
What We Know: Voltron will also be represented in Petco Park's Interactive Zone with the official Hunk food truck, which will be serving up Green Food Goo (frozen yogurt). The cast will also make an appearance.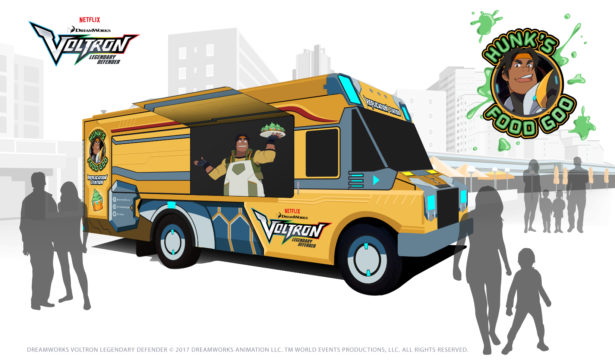 FANDOM FEST ACTIVATION
What We Know: Quite a lot, actually! Wikia's Fandom is bringing a huge offsite to the Petco Interactive Zone, where they've teamed up with Pepsi to provide free, pop-culture-inspired food paired with Pepsi products all week long. There will also be a lounge area for fans to congregate, and a stage that includes celebrity interviews (Michael Rooker!). You can read more about it in our offsite event calendar.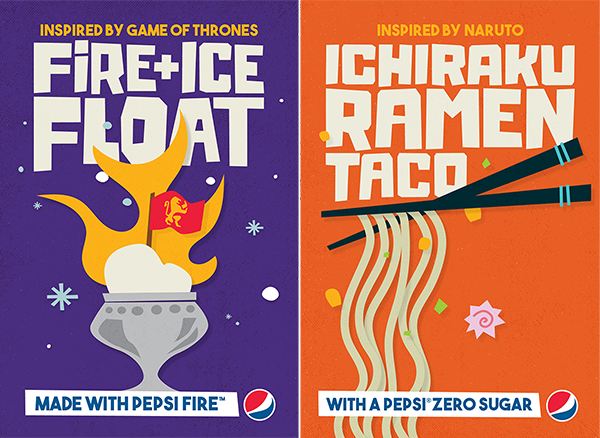 GEICO ACTIVATION
What We Know: Not much.
IT ACTIVATION
What We Know: This is the stuff Kerry's nightmares are made of. Those who are brave enough can hop on the creepiest school bus in town: an IT-inspired virtual reality installation that will have them skipping school for the foreseeable future. Red branded "IT" balloons will be given after each group experiences the VR show. Select users will also be rewarded with limited edition "IT" art prints.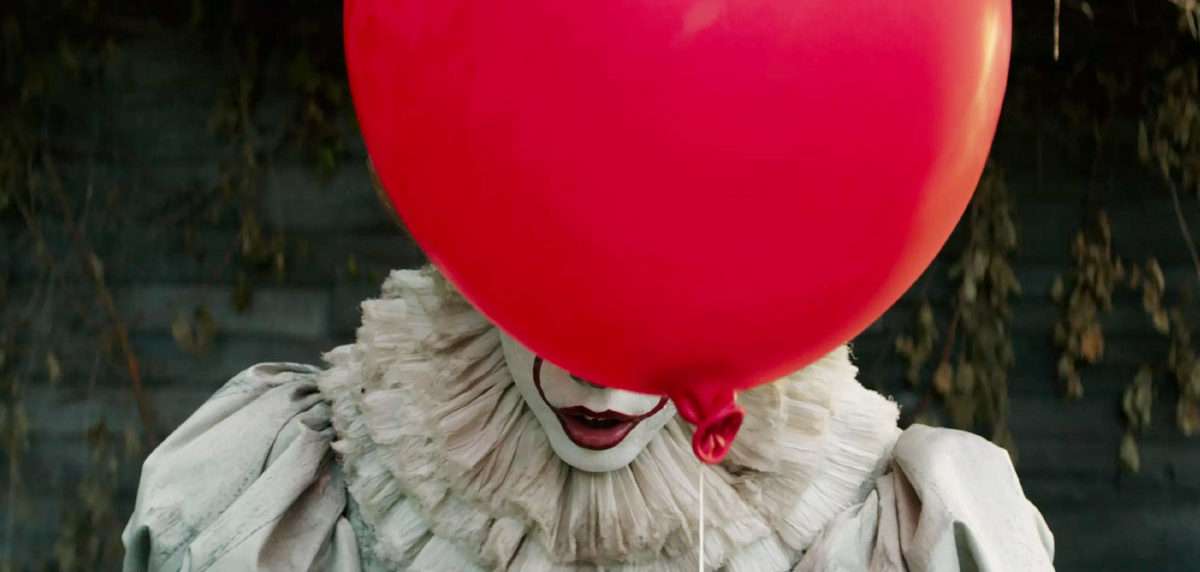 JACK IN THE BOX ACTIVATION
What We Know: Jack in the Box will be dropping food three times a day (including breakfast, burgers, and tacos).
NICKELODEON ACTIVATION
What We Know: Literally nothing except that it's happening.
RAZER COMPUTERS SUMMER TOUR ACTIVATION
What We Know: Interactive set-up featuring Razer computers and accessories. There will be games to play, prizes to win, along with a custom photo booth for fans to take their picture for even more chances to win a new laptop from Razer!
REAL MOVIE TOYS: LANDSPEEDER & SNOWSPEEDER STAR WARS VEHICLE DISPLAY ACTIVATION
What We Know: Stop by to see REAL movie toys featured in Star Wars.
SCHICK HYDRO SUPERHERO ACTIVATION
What We Know: Designed by cosplayers for cosplayers, an engaging and relevant Escape Room has been created for Comic-Con attendees. Enter the experience in small groups to find hidden objects, figure out clues, and solve puzzles to earn your freedom and gain access to the ultra-relaxing Hydro VIP lounge to rest and recharge. Immerse yourself in an interactive video booth (green screen) experience, to show of your custom cosplay; the "cosplay ER" can help fix costume mishaps before engaging with the video booth to keep Comic Con attendees looking and feeling their best. If your group succeeds within the allotted time limit, you'll be given swag like a water bottle.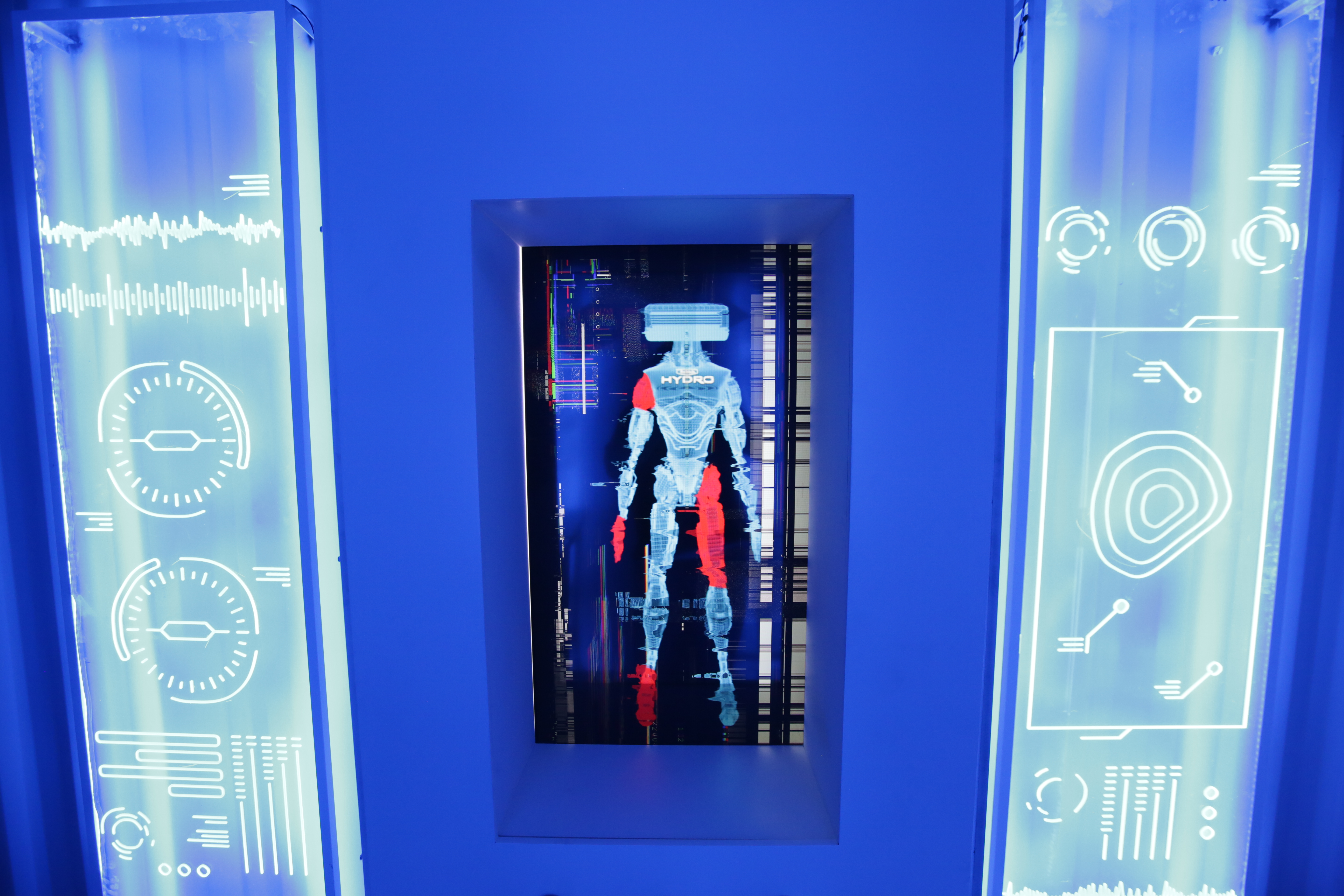 SKYROCKET TOYS LASER TAG
What We Know: Skyrocket Toys is bringing outdoor laser tag to the Petco Interactive Zone! The Bunker-Themed Activation will introduce AR-enhanced, FPS-themed game RECOIL to the world. Jason Mewes and Michael Madsen (aka Colonel Striker of RECOIL) are set to make guest appearances, sign autographs, take pictures, interact in contests.
SPHERO ACTIVATION
What We Know: Nothing!

SPROUT ACTIVATION
What We Know: An interactive obstacle course and walk-through experience related to the 'Kody Kapow' kids show. Sprout invites kids and families to use their muscles and minds on a transformative journey filled with high energy martial arts and immersive experiences in the Kody Kapow: Kapower Up Training Camp, designed to allow each child discover his or her inner superhero. The experience includes an Iconic Main Gate Welcome, the Hall of Kapower, a Martial Arts Temple, Walkabout Characters, and the Kapowerful Warrior Course with Slow-Mo Jump Video. Find more on our event listing.
XFINITY TV DINNERS ACTIVATION
What We Know: Xfinity is bringing pop-up TV Diners to Petco Interactive Zone, inspired by Game of Thrones, Orange is the New Black and Marvel's Luke Cage. Each diner will serve Comic-Con attendees with meals inspired by their respective shows – all created by YouTube-famous chef Byron Talbott.
Now, let's look at the food trucks:
COOL BEADS ICE CREAM CARTS: Ice cream served in beaded form.
CURRYWURST TRUCK: German food with a modern and light fast food experience. Grilled, organic, and made with the best ingredients.
MASTIFF SAUSAGE: Locally grown and sourced ingredients. Serving sausage sandwiches, protein plates, fries, and more.
SUPER Q FOOD TRUCK: Hickory-smoked BBQ with all-American BBQ elements of North Caroline, Texas, and St. Louis style flavors and influence.