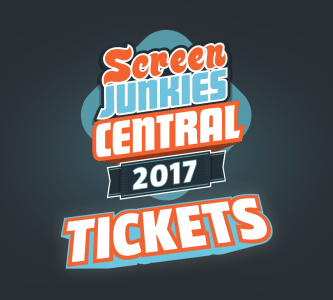 Screen Junkies — the home of some of your favorite YouTube content, including Honest Trailers and Movie Fights — returns to San Diego Comic-Con with a one-night, mega event for 2017.
Last year, Screen Junkies Central invaded Comic-Con with a dedicated live filming location, where they taped segments with some of your favorite celebrities. For 2017, they're cramming all of that awesome-ness into a one-night, blow-out event on Saturday, July 22 at the House of Blues (21+ only). Doors will open at 6PM, and then things will officially kick off at 7PM for a show featuring all of your favorite ScreenJunkies and celebrity guests.
Then, immediately following, the ScreenJunkies party (21+ only) kicks off, and will be DJed by a surprise guest. Tickets are $15 and now on sale, and each ticket gets you into both the taping and the party.
For those who prefer just to party the night away but can't make the taping, you still have the option of attending. You can RSVP now to attend the party, but space will be filled on a first come/first serve basis, with preference going to ticket-holders.
If all of that sounds amazing, but you just don't have your hotel or flight booked to Comic-Con (or you just really don't want to stay in Tijuana) — then ScreenJunkies has you covered. You can enter their sweepstakes now to enter to win travel and accommodation during the con for you and a friend (21+ only, must be a resident of the US).
Still can't get enough ScreenJunkies? You'll also be able to find them across the Gaslamp at the convention center for an official panel, with details set to be announced this week with the full schedule release.