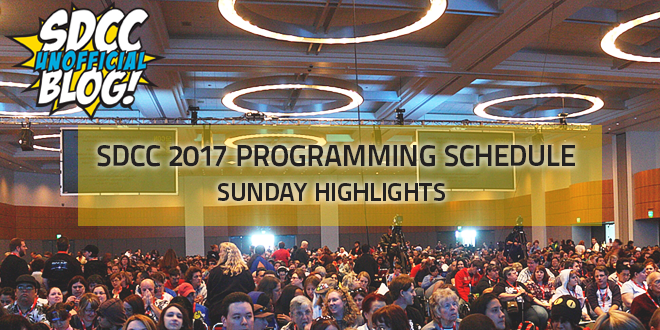 Baring any last minute schedule changes, we now have the full San Diego Comic-Con 2017 programming schedule.
We'll also be discussing our thoughts on this year's lineup, including our top picks, in a special series of live podcasts this weekend. The first of which covered Preview Night, Thursday's and Friday's lineup, and the second segment — in which we break down Saturday and Sunday — will be on Sunday, July 9 at 3PM PT / 6PM ET (that's today!) .
With that said, let's dive right into Sunday.
As always, TV and comics are king at Comic-Con on Sunday, with the former once again taking over Hall H all day. The day kicks off with Supernatural, and while no cast is listed, you can expect all of the usual players. Then The Last Ship gets a major room upgrade, as they present a look at season four with cast members Eric Dance, Adam Baldwin, and Bridget Regan — followed by Dirk Gently's Holistic Detective Agency. Finally, Doctor Who returns to Hall H with a final farewell for both Peter Capaldi and Steven Moffat (as they're joined by fellow cast members Pearl Mackie, Matt Lucas, and Michelle Gomez, as well as others). Who and Supernatural will be the two big draws of the day.
Outside of Hall H, there's also panels for Stephen King's Mr. Mercedes at 1:30PM in Room 8 (and whose idea was it to send Harry Treadaway, Kelly Lynch, Holland Taylor, and Breeda Wool to Comic-Con and stick them in Room 8?!). Plus, there's world premiere screenings with casts for LEGO DC Super Hero Girls: Brain Dead at 12:15PM in 6BCF, LEGO Ninjago: Masters of Spinjitzu at 3PM in 7AB, and LEGO Scooby Doo! Blowout Beach Bash at 10:30AM in 6BCF, as well as the Amazon series Danger & Eggs (with Chris Hardwick, Aidy Bryant, Eric Knobel, Charlyne Yi, Jasika Nicole, Stephanie Beatriz, and more) at 1PM in 24ABC — all of which are also perfect for Kids Day at Comic-Con. There's also the world premiere of Marvel's Spider-Man at 10:15AM in 6A that's not to be missed.
Want more Steven Universe? You can catch creator Rebecca Sugar in an intimate conversation at 10AM in 29AB as she discusses the making of the behind-the-scenes art book for the series. And if you're feeling blue about the lack of a real Buffy the Vampire Slayer panel to commemorative the show's 20th anniversary, Tor Books has you covered. While there's no cast listed (but they do promise "surprise guests"), Tor Books will delve into the series at 12PM in 7AB.
Sunday is also a great day for jumpstarting your kid into a love for comics, or fanning the flames that are already there. Our picks include a chance for your kids to learn some drawing tips from DC pros (including Agnes Gabrowska and Dustin Nguyen) at 4PM in Room 2, a chance to re-visit The Legend of Korra with the Dark Horse/Nickelodeon panel that includes several voice actors in 24ABC at 12PM, and the annual Emily the Strange panel at 10AM in 32AB. Plus, don't forget to stop by IDW's Ultimate Kids' Comic Panel at 10AM in 23ABC, and not only learn about new titles, but also score free comics for all the kids.
There are plenty of other amazing comics panels to attend all day, including a discussion about all things past, present and future for X-Men at 11:15AM in Room 5AB, the annual Jack Kirby tribute panel at 10AM in 5AB,  and a Trivia Match between fans and pros (including Len Wein, Mark Waid, and more) about the work of Jack Kirby in 26AB at 3:30PM. Plus, Brooklyn Nine-Nine's Terry Crews will be on hand in 6DE at 3PM to discuss his new sci-fi miniseries NOTORIUM (and with Beatriz also in attendance, why couldn't we get a Brooklyn-Nine-Nine panel?!).
Other standouts on the schedule include "The Business of Cartoon Voices" at 3PM in Room 25ABC with voice actors Gregg Berger, Julie Nathanson, and Debra Wilson; a look inside how comics and science fiction have pushed real scientific research in 28DE at 4PM; your second chance to attend the always-hilarious Cartoon Voices panel at 11:30AM in 6A; information on how to build an R2-D2 or BB-8 of your very own from the experts at 12PM in Room 11; spotlights on Batman: The Animated Series' Paul Dini and Bruce Timm at 10AM and 11aM in 7AB; and a celebration of 60 years of Hanna-Barbera at 2PM in Room 7AB.
We would also be remiss if we didn't mention the Princess Leia Star Wars Fan Club Tribute Presentation at 10AM in 6DE, where several Star Wars groups gather together to pay tribute to Carrie Fisher's larger-than-life personality both on and off screen.
Everything winds down at 5PM, but for your final stop, consider the Comic-Con Talk Back at 3:30PM, the annual town hall like meeting where CCI's upper echelon are present to hear your concerns, answer your questions, and give you insight into the convention.
You can view the full Saturday programming schedule on the MySched website.
What will you be lining up for at Comic-Con? Let us know in the comments.