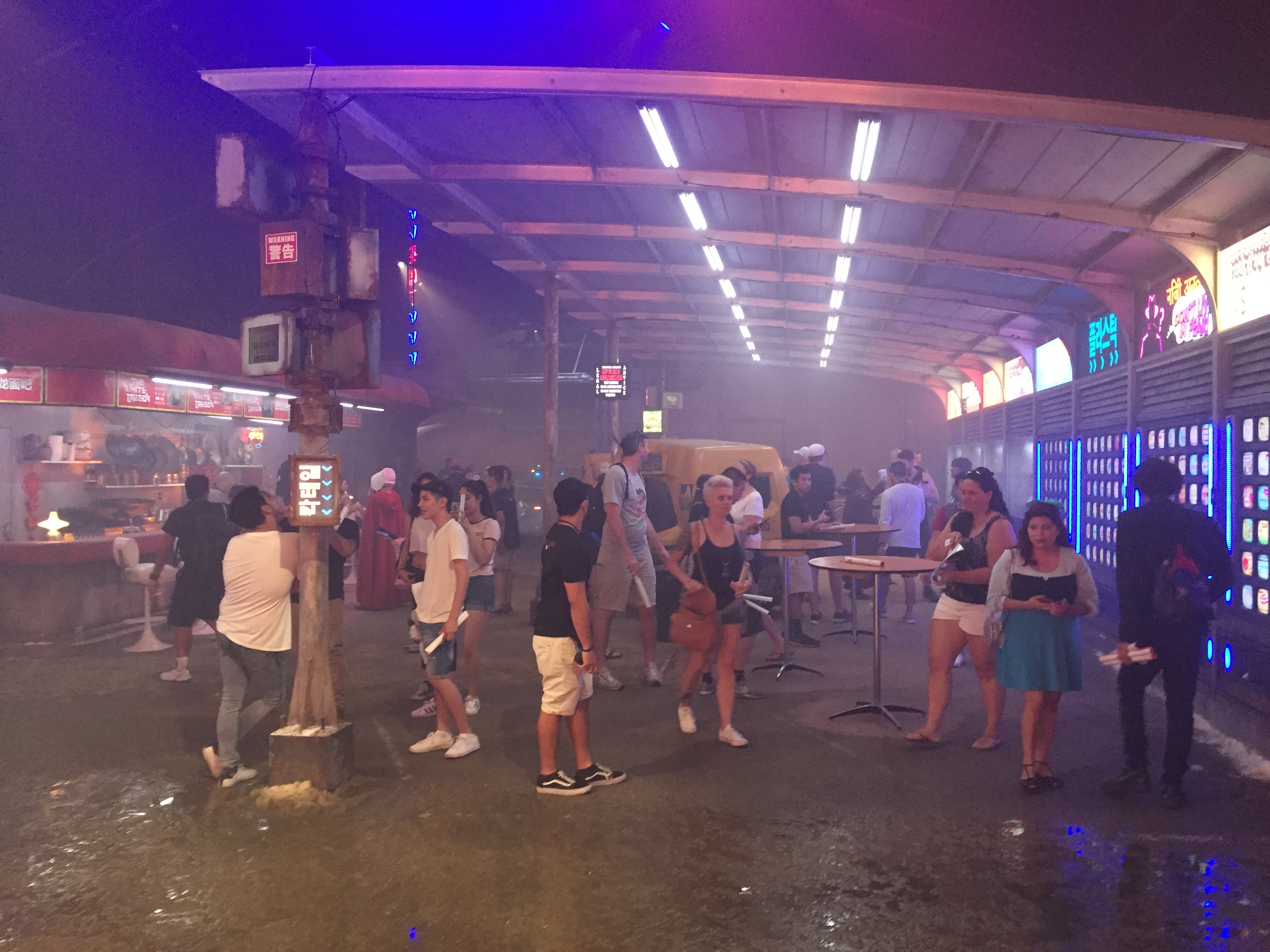 "I've seen things you people wouldn't believe…"
Those of us who have seen Ridley Scott's original 1982 masterpiece, Blade Runner, know that soliloquy well. Roy Batty's dying words are etched in our hearts as we actually felt sympathy for the "bad guy" in the film. Adapted from Philip K. Dick's Do Androids Dream of Electric Sheep, Blade Runner made us question what it truly means to be human.
Lightning strikes twice with Alcon Entertainment's Blade Runner 2049 Experience at San Diego Comic-Con this year. Somehow, they managed to capture the atmosphere and ambiance of downtown Los Angeles in a post-apocalyptic world in the middle of San Diego's Gaslamp Quarter. Participants could choose between a VR or non-VR experience. Unfortunately, due to time constraints, I was only able to go through the non-VR line, but it was still well worth the time commitment.
The experience started in a small room where we were able to view concept art and accompanying scene stills from Blade Runner 2049. This gave us a taste of what was to come next — a recreation of the street scene from Blade Runner 2049.
As soon as I stepped onto the "street," I felt like I was in a scene from the movie. Vangelis was playing noticeably in the background. Actors with plastic umbrellas approached me through the rain and asked if I'd seen anything suspicious. I told them I hadn't yet. They advised me to keep my eyes open; there were Replicants around. Was I one? I'd soon find out. A police officer directed me toward a kiosk where I was "scanned" for their Voight-Kampff Test. It turns out that I am indeed a human (which honestly disappointed me a little), so I was free to move about.
As I walked down the soggy street, people passed by me muttering to themselves about Replicants. I witnessed someone try to grab something from the noodle bar, but she was stopped by the chef, who was too quick for her. As she ran off, he told me to watch out for her, too. She'll steal the backpack right off my back. Looking back, she's probably the one who stole the posters out of my Fox poster tube (they were free, but still…). I chatted a bit with some other patrons at the bar, who had some interesting ideas about how I should spend the rest of my evening, then decided to move on.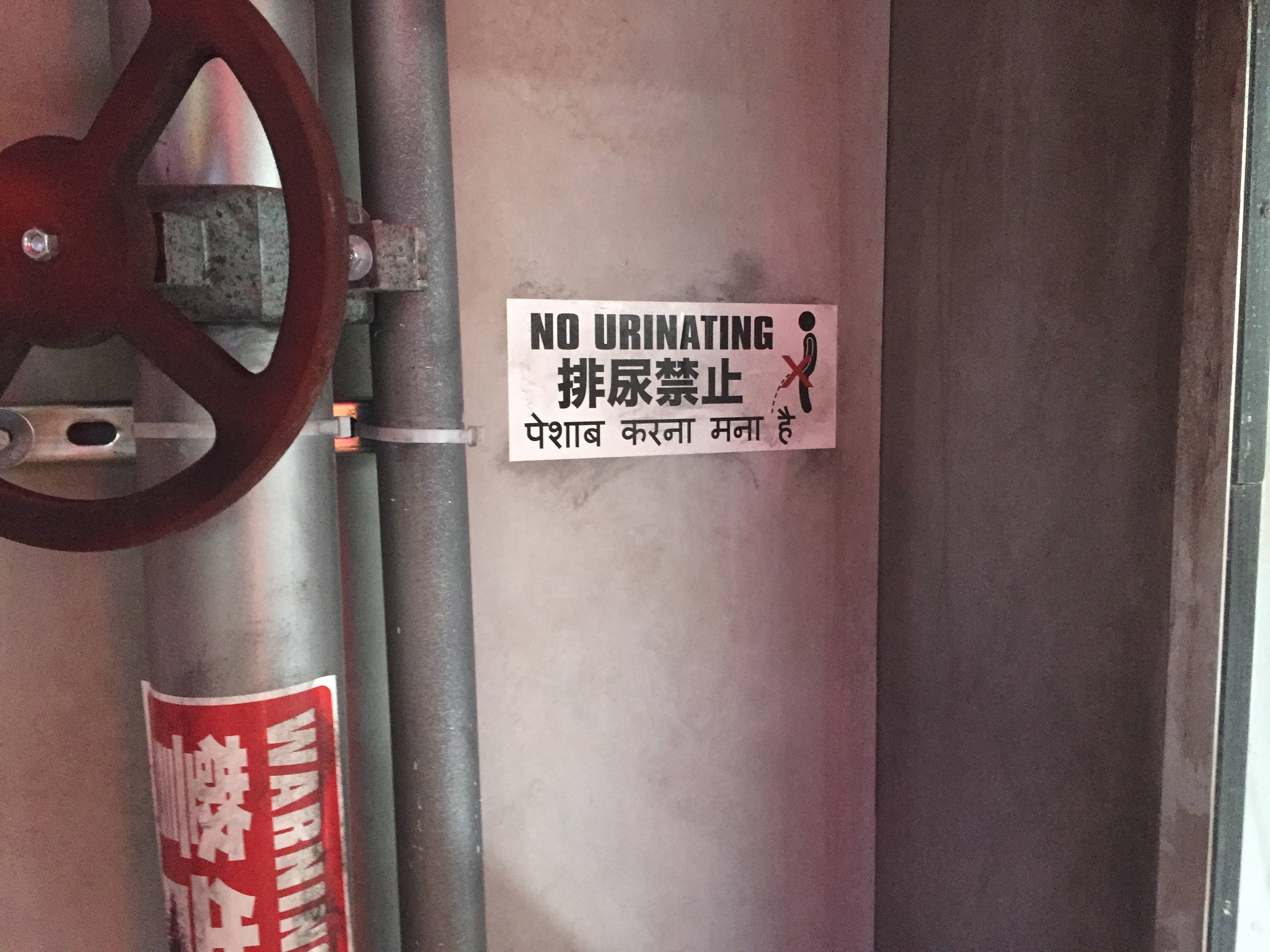 When I came to the end of the street, I found costumes and props used in Blade Runner 2049 along with some interesting signs. I then had a choice of whether to leave or partake in some free food and drink. Co-sponsor Johnnie Walker had samples available of their whiskeys: Black, Blue, and Red Label. They also gave out free noodle dishes (although I'm sure whatever Harrison Ford ate in the movie was more authentic). Once it was all said and done, I walked out the door back into the San Diego sunshine.
In all, this offsite was one of the best of SDCC. I truly felt immersed in the experience. The actors were committed and convincing. There was rain. The attention to detail was amazing. And the fact that it was all in a tent in a parking lot in downtown San Diego is downright mind-blowing.
If Blade Runner 2049 is anywhere near as good as their offsite, I think we'll have another science-fiction classic.
Did you visit the Blade Runner 2049 Experience? Let us know what you thought of it in the comments.