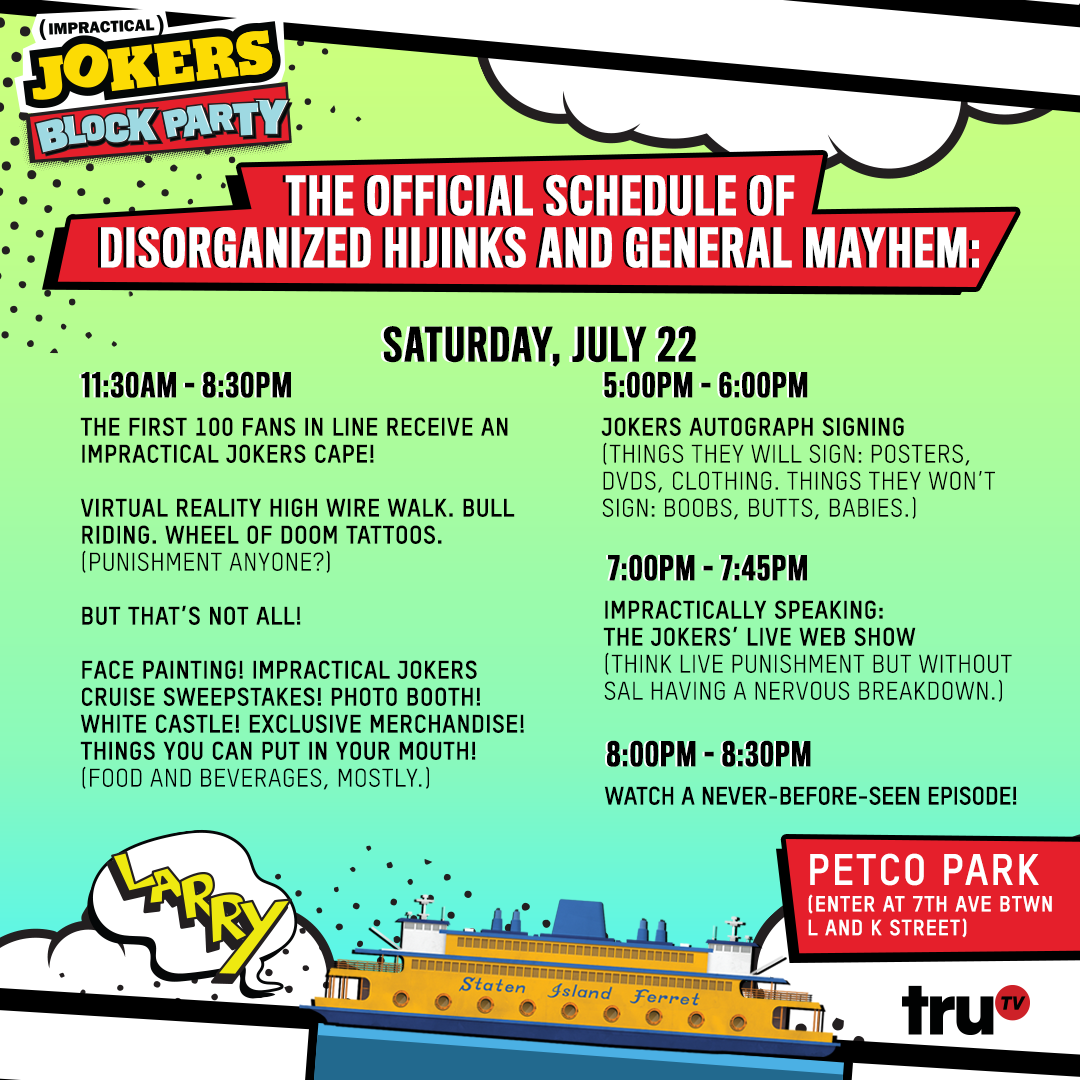 San Diego Comic-Con officially kicks off next week, and there's still tons of news yet to be announced — including word of the return of an awesome block party.
The Impractical Jokers will be throwing their 2nd annual Block Party at Petco Park this year, on Saturday, July 22 on the Field at Petco Park. They'll be kicking the day off as early as 11:30AM, when you can join truTV for a Block Party featuring exclusive merchandise from Spencers (including a new line of Impractical Jokers action figures), a White Castle food truck, Wheel of Doom tattoos, and a set from DJ G Money.
It will also feature a Virtual Realty High Wire Experience, where fans can get a first-hand VR experience walking the same tightrope the Jokers crossed during their 100th episode; a Pseudo Sumo ring where you can try your hand at wrestling; and a Rodeo Clown mechanical bull.
The party will continue until 8:30PM, with some special activities, including:
5PM-6PM: An autograph signing with the Jokers
7PM-7:45PM: A live presentation of Impractically Speaking: the Impractical Jokers Live Web Show, hosted by Casey Jost and brought to fans in the stadium and at home by Mountain Dew.
8PM-8:30PM: An exclusive viewing of a never-before-seen episode of Impractical Jokers.
The event is open to the public on a first-come/first-serve basis, and no badge is required.
Looking forward to checking out the Impractical Jokers Block Party? Let us know in the comments below.