San Diego Comic-Con 2017 is officially this week, which is both as AMAZING OMG as it is TERRIFYING OMG. We've still got a lot of news to cover here in the next three days — including updates on artists and exhibitors.
Here's a look at what you might have missed:
GUNNAR Optiks is returning to SDCC with their third annual GUNNAR Guardians Giveaway. From July 20-22, they'll be giving away prize packs worth $600 twice a day, once at 11AM, then at 2PM each day. The prize packs contain swag from retailers such as GUNNAR themselves, Razer, Filthy Casual, Bandai Namco, Perfect World, McFarlane Toys, Hydro74, and Stelekon. You'll have to follow their Twitter to find out where they're hiding downtown. When you find them, simply tell them the secret password: David Hasselhoff is my Dad! They're also running an online contest for those who can't be in San Diego. Find all the details on their contest site here.
Can you believe we're just 4 days away from #SDCC & the #GUNNAR Guardian Giveaway? Phat lewtz coming your way soon! https://t.co/MXPb8QMbwa pic.twitter.com/sRzZquNYzv

— GUNNAR Optiks (@GUNNAROptiks) July 16, 2017
Artist Hai-Na-Nu Saulque, whom you may know as Nooligan, posted a very creative Instagram video to show off what he's bringing to SDCC Small Press Table #Q-09. It's definitely worth a watch.
https://www.instagram.com/p/BWigiT_Fg8m/
Disney artist Neysa Bové may be at D23 this weekend, but that doesn't mean she's stopped preparing for SDCC. She took to Instagram to post her latest original she's bringing to Gallery Nucleus' Booth #2643.
https://www.instagram.com/p/BWjqb0DAjM_/
Visit Kelly McKernan at Booth #934 to get your hands on these fabric zipper bags she's bringing with her.
Surprise! I'll have these fabric zipper bags with me at #SDCC! There's a super limited amount. I'll be at booth 934! pic.twitter.com/2ncZQcprVm

— Kelly McKernan (@Kelly_McKernan) July 15, 2017
One of our favorites, Camilla d'Errico, posted this video to show us how her framings are coming. She also showed off her haunting Dorian Gray finished piece. Head to Booth #4723 to find these and a lot more from her.
https://www.instagram.com/p/BWkzxH_DDpZ/
https://www.instagram.com/p/BWnlwmbjOH6/
Artist Chris Lee posted another of his Star Wars prints he'll have with him at Booth #1535.
https://www.instagram.com/p/BWk-gP-gYk0/
BeKyoot Inc. is bringing ALL THE KYOOTS to SDCC this year. Booth #5151 will be the kyootest booth at the con.
Here's my booth menu for SDCC 2017! I am bringing ALL THE KYOOTS to San Diego! Please do stop by! 😀 @Comic_Con #SDCC2017 pic.twitter.com/LlykZWvRhi

— BeKyoot (@bekyoot) July 15, 2017
https://www.instagram.com/p/BWlZ7hNBrdm/
https://www.instagram.com/p/BWlt7xeBBWI/
https://www.instagram.com/p/BWnKm8ZBiJb/
Artist Diana Leto posted another work-in-progress she's getting ready for SDCC. Find her and her amazing work at Big Wow Comic Fest's Booth #1300.
https://www.instagram.com/p/BWnJzR7gGs9/
Artist Scott C is going to have these awesome enamel pins (along with his new shorts) at Gallery Nucleus' Booth #2643.
I'll have these classic little jammers for your San Diego jackets when I arrive. https://t.co/8dSPZivyYE pic.twitter.com/HFDQ9sDhCi

— Scott C. (@scottlava) July 16, 2017
X-23 & Wolverine watercolour! This piece with be for sale at #SDCC at table GG-17. 😊😊 #x23 #wolverine #logan #cute #chibi #weaponx #kawaii … pic.twitter.com/oho5raPWEi

— Agnes Garbowska (@AgnesGarbowska) July 16, 2017
Justin Harder is much more that foul-mouthed stick figures, and he shows that in these touchingly brilliant original works he's bringing to CLAUS Studios' Small Press Table #O-08.
https://www.instagram.com/p/BWnaunshnww/
Stop by Booth #5007 in the Exhibit Hall from 12PM-3PM on Friday, July 21 and Saturday, July 22 to meet cosplayer Joanie Brosas. She'll have these prints with her along with some stickers and more merchandise.
https://www.instagram.com/p/BWnem_NFkhj/
By now, we're sure you've heard they've announced the identity of the 13th Doctor for Doctor Who. Syfy wants to know what you think about it and is soliciting questions for SDCC via Twitter. Does this mean they'll have the whole cast there? It seems likely to us, but nothing has been confirmed yet.
This is a milestone moment for #DoctorWho. Got questions? We'll be hanging out with the cast at #SDCC. Reply & tell us what you want to know

— SYFY (@SYFY) July 16, 2017
Artist Rhiannon Owens is working feverishly to add just the right tones to her Medusa piece she'll have at Table #FF-03 in Artists Alley. Just one of her many beautiful pieces you'll find there.
Underpainting skin with purples and pinks! Then blended flesh tones 🙂 w/ @copicmarker on @CansonPaper #medusa #inhumans for @Comic_Con pic.twitter.com/HOKIsLSOAF

— Rhiannon Owens (@RhiannonDrewIt) July 16, 2017
Geek & Sundry invite you to Conival at the Marine Terrace in the Marriott Marquis and Marina. There, you'll be able to play a variety of games, some not yet released, to your heart's content. The good news – you don't need a badge to join in the fun. Find out what they'll have at their website.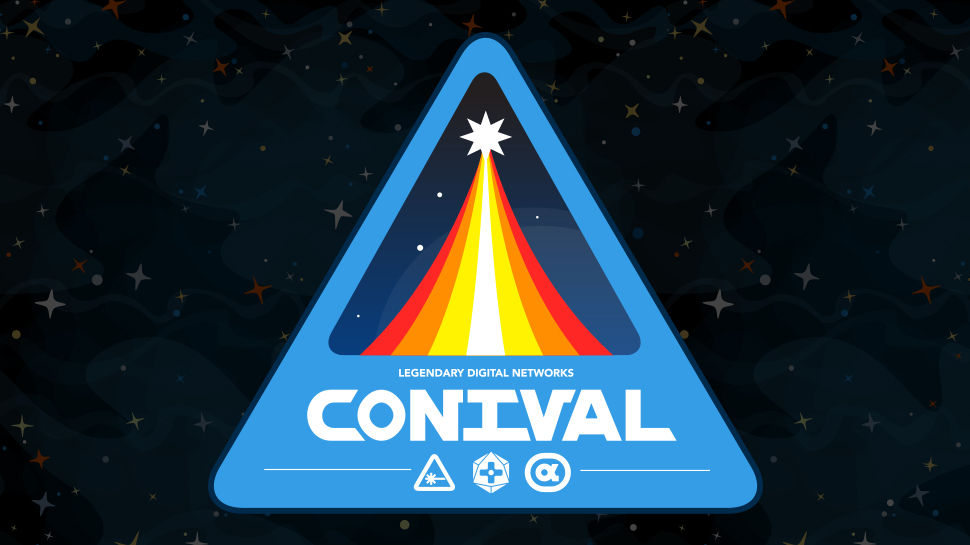 Anything we missed? Let us know in the comments, drop us a line, or tweet us at @SD_Comic_Con.