We're just seven short days away from the official start of San Diego Comic-Con. We hope you've double- and triple-checked your hotel, flight, and car reservations. If you're a San Diegan, we hope you've had the chance to walk around the Gaslamp Quarter to see all the preparations currently underway. We also hope our Under the Tents columns are helping you decide which booths, artists, and entertainers to visit while you're at Comic-Con. In this edition, we have exciting news from BeeFy & Co., Sho Murase, Monkey Minion Press, and a whole lot more.
Here's a look at what you might have missed:
When Geeky Hooker injured her hand, we were worried that was the end of her crochet magic for SDCC. It turns out were were wrong! She managed to make one more critter to add to her SDCC drops this year: Wonder Woman. Follow her Twitter and/or Facebook to find out where you can find this and all the other adorable critters she's dropping this year.
New York Times bestselling writer James Tynion IV announced he will have these SDCC exclusive pins available at BOOM! Studios Booth #4507.
https://twitter.com/JamesTheFourth/status/885554730390257664
The Ninjabot has resurrected his Wonder Woman small print for SDCC. Get to his Small Press Booth #L-08 fast if you want this on your wall.
https://www.instagram.com/p/BWdVcvIA3DB/
If you plan to visit Monkey Minion Press's Booth #5531 (and we think you should), you'll find a brand new print they'll debut at SDCC.
https://www.instagram.com/p/BWdz2chD3nH/
We could (and have) debate for hours on who is the best Catwoman. Julie Newmar? Lee Merriwether? Halle Berry? Brittney Lee's favorite is Michelle Pfeiffer, and she's paid homage to her with her latest mini-painting she'll have at Booth #5551.
https://www.instagram.com/p/BWd3LkVAlvE/
War Machine Marketing is invading SDCC! War Machine will be at Booth #1415, and the company has incredible items for those who attend the convention such as limited edition vinyl records, CDs, collectibles, statues and other hard-to-find items. At SDCC, War Machine Marketing will display new custom action figures — their exclusive service — as well as revealing brand new Rick & Morty customs and custom packaging. There are four musician and artist signings taking place at the booth, including:

Friday, July 21 1PM-2PM: Gerard Way (ticketed, limit 200)
Thursday, July 20 2PM-4PM and Saturday, July 22 2PM-4PM: Anthony Clarkson
Friday, July 21 4PM-5PM: Lights
Sunday, July 23 12PM-2PM: DJ Mystery Skulls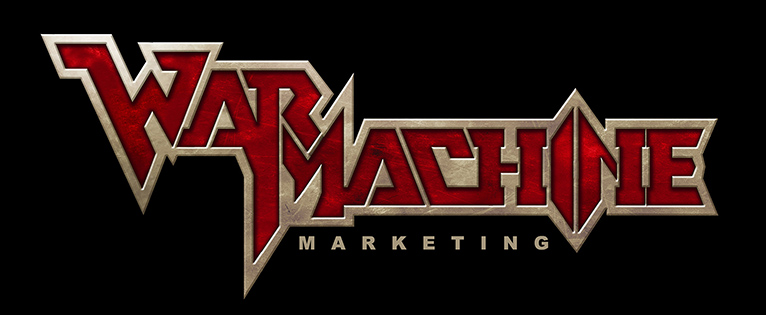 https://www.instagram.com/p/BWdqBkGllTs/
https://www.instagram.com/p/BWdx-ChAvqb/
https://www.instagram.com/p/BWelDXcAp5A/
Just a few tables down at Artists Alley Table #GG-09, you'll find David Petersen's latest Mouse Guard sketch book. It's hot off the presses, so be careful when handling.
The Mouse Guard 2017 sketchbook arrived from the printer! I'll have these at SDCC & online shortly afterwards pic.twitter.com/Oh7W5ksEQj

— David Petersen (@mouseguard) July 13, 2017
Local San Diego artist Scott Hattox is bringing a lot to Green Hill's Entertainment Booth #1829. One of the pieces he'll have with him is this Stormtrooper acrylic-on-canvas.
https://www.instagram.com/p/BWerRLpBx6R/
Han Cholo Designs is bringing the dead to life at Booth #2616. Their corner of the Exhibit Hall will have a little bit of everything, it seems.
Get ready for the Dead invading SDCC. Han Cholo x SDCC 2017. pic.twitter.com/Tmgh9i3LRz

— Han Cholo (@HanCholoDesigns) July 13, 2017
My little Tigress for #KindredsFigure Artist Series to debut at #MartinHsuBooth4530 at #SDCC2017 🐯🌿
Acrylic on 2-pc resin sculptures pic.twitter.com/PxeAAmnbXG

— Martin Hsu 徐 👨🏻‍🎨 (@MartinHsu) July 13, 2017
Oh hai! 😍 Dragon Pup chow chow enamel pin exclusive release at #MartinHsuBooth4530 #SDCC2017 !
Produced by @powercoreio pic.twitter.com/5eVokfDWT8

— Martin Hsu 徐 👨🏻‍🎨 (@MartinHsu) July 13, 2017
BeeFy & Co. announced they're bringing this 10″ Shiny Charipoo to Booth #5051 at SDCC this year. For $10, you can grab this plush that comes with head articulation, poseable wings and tail.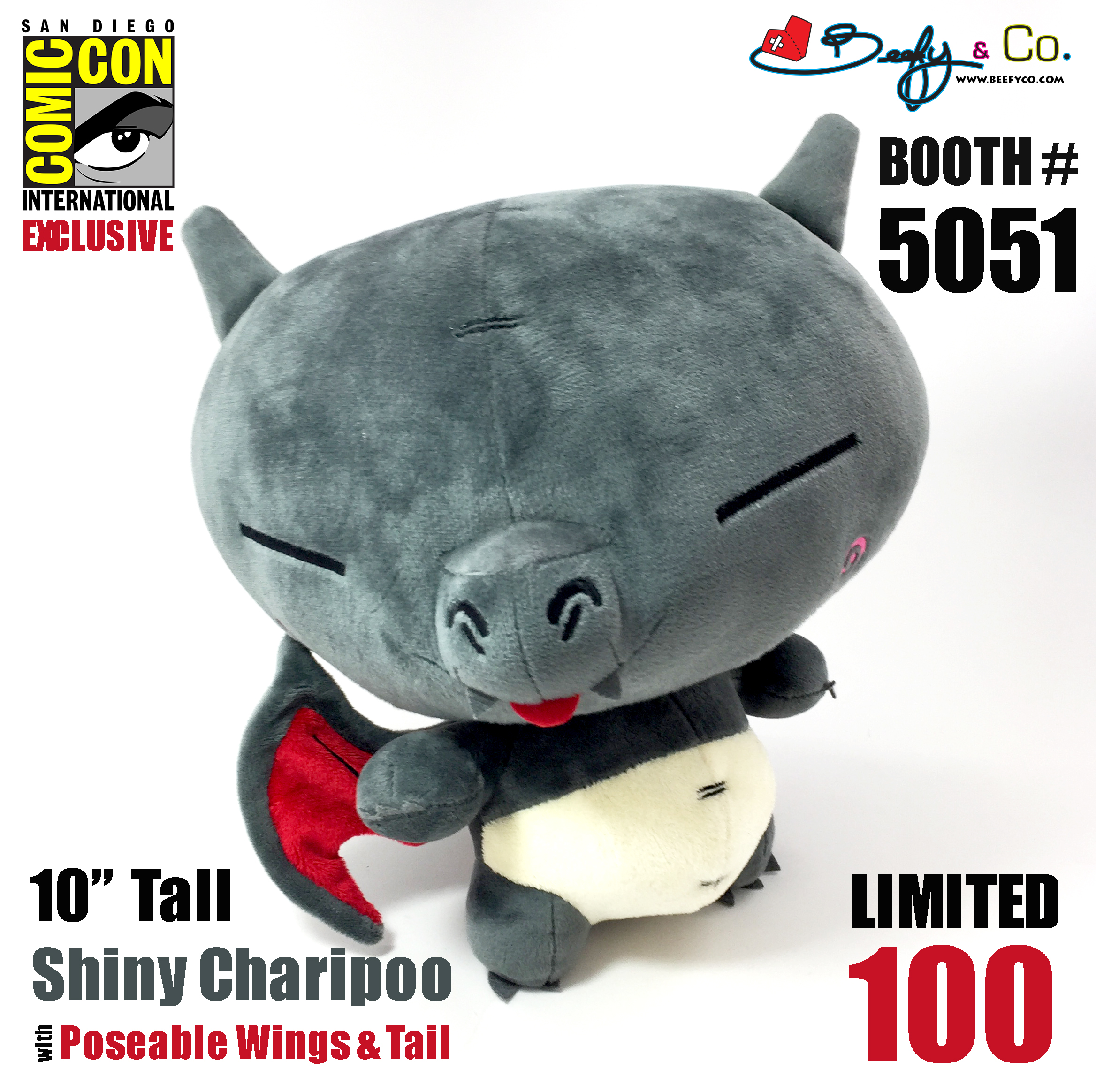 Video game actress (Overwatch's D.Va) Charlet Chung invited con-goers to visit her at Booth #4018, where she'll be hanging out with Anjali Bhimani and Jonny Cruz.
SAN DIEGO COMIC CON
Personal appearance
July 19-23 2017
Meet us @sweeetanj @JonnyCruzzz
Exhibit Hall Booth 4018 #SDCC2017 💙💛 @comic_con pic.twitter.com/py4gcftUHl

— Charlet Takahashi Chung (@CharletChung) July 12, 2017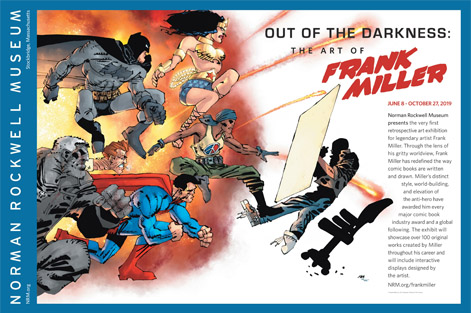 First announcement: Our SAN DIEGO COMIC CON 2017 EXCLUSIVE Poster. Available at our #SDCC2017 booth along w/ tons of other merch/exclusives! pic.twitter.com/3NsOz8VKOs

— Mega64 (@mega64) July 13, 2017
When you visit Camilla d'Errico's Booth #4723 at SDCC, you'll want to grab these new "My Neighbor" vinyl stickers she's debuting this year. Unless you're into enamel pins, which she'll also have available (and they're adorable).
https://www.instagram.com/p/BWfX9nQBr7H/
I've got brand new pins debuting @ my booth 4723 for #SDCC! Which one of these darlings is your fav? Rainbow bunnies or strawberry hedgehog? pic.twitter.com/x3Tvroudc8

— helmetgirl (@Helmetgirl) July 13, 2017
Christopher Uminga is another brilliant artist preparing for SDCC. Find this Batman piece among the rest of his work at his Artist Alley Table #BB-18.
Can't believe @Comic_Con is a week away!You can find me in Artist Alley @ table BB-18 . Hope to see you there. #sdcc #ComicCon #art pic.twitter.com/3TjLPml0u8

— Chris Uminga (@Uminga720) July 13, 2017
The Comics Art Museum is back at SDCC for the eleventh year in a row to bring their Sketch-a-Thon to Booth #1930. For a donation of at least $10 and an hour of your time, you can take home a personalized sketch by such artists as Astro City co-creator Brent Anderson, syndicated comic strip artist Lalo Alcaraz (La Cucaracha), Hugo Award-winning webcartoonist Phil Foglio (Girl Genius), Deadpool artist Scott Koblish, Lucas Turnbloom (Dream Jumper), Jen Vaughn (Adventure Time), plus dozens more. Note that some artists do charge premium prices for their sketches, but not all. Check Booth #1930 often to see if your favorite artist is sketching.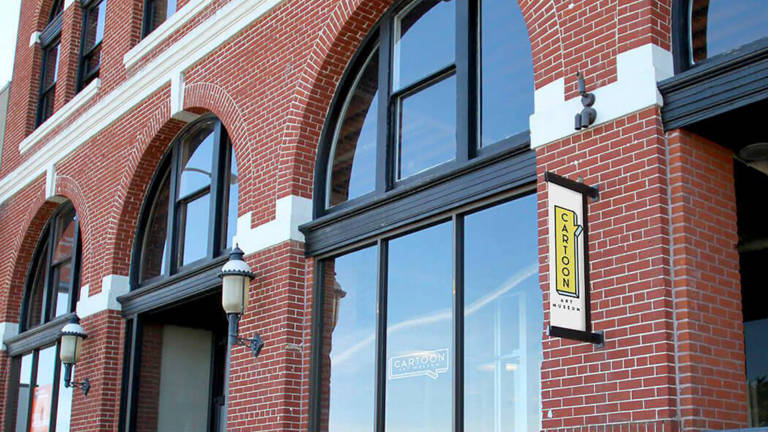 https://www.instagram.com/p/BWfroiYFgRA/
Mr. Mercedes wants to give fans a chance to win an opportunity to have brunch with them. Head to the AT&T Store at 252 Broadway (directly across the street from Horton Plaza) on Thursday, July 20 from 5PM-6PM for your chance to win.
https://twitter.com/MrMercedesTV/status/885555783278120960
Committed Comics takes their coffee very seriously (as many of us tend to do). If you're like them, you'll want to get to Small Press Table #P-10 and drop $15 for their "Is Your Coffee Safe?" propaganda poster.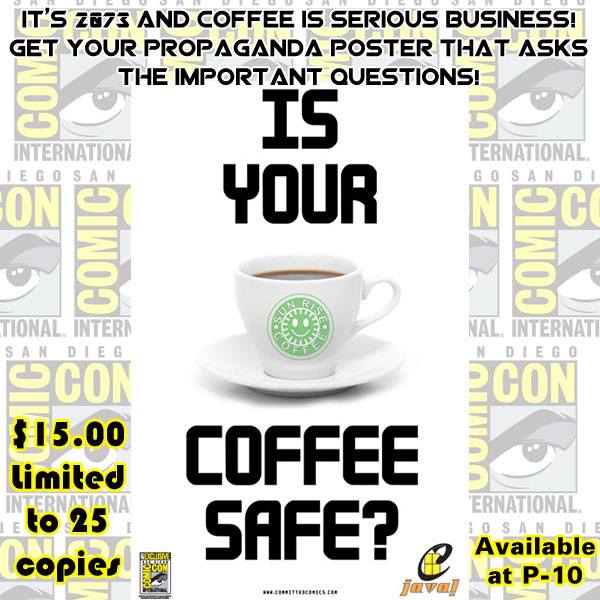 Anything we missed? Let us know in the comments, drop us a line, or tweet us at @SD_Comic_Con.