Folks, we are in full-blown, Red Alert, SDCC prep mode here at the Unofficial Blog. But that doesn't mean we're going to stop bringing you the best SDCC news out there. In fact, we're working harder than ever to make sure everyone is prepared to have the best SDCC experience possible.
Here's a look at what you might have missed:
MTV and Jolly Rancher want to give you a chance to get into this year's MTV Fandom Fest, on Friday, July 22. All entries must be received by midnight tonight — so hurry!
Tweet an emoji to show how you fan over your favs + #FandomContest for a chance to win a trip to Fandom Fest! Rules: https://t.co/rbrtrE0uHu

— MTV (@MTV) July 10, 2017
If you're a fan of Alex Ross's art, you'll want to visit Booth #2415, where you'll find this "Hulk: Shadows" print along with more of his fine work.
New #Marvel art: #Hulk SHADOWS. Available at #SDCC2017, Booth 2415 and online. Sign up here for Con updates: https://t.co/ke8H71woqf pic.twitter.com/PXCwHqy1ql

— Alex Ross (@thealexrossart) July 13, 2017
We all love a good mash-up, and artist Val Hochberg has produced an adorable one with her Star Wars/Harry Potter piece. Look for this and more of her work at Small Press Table #N-12.
https://www.instagram.com/p/BWhGNdfgNjn/
Disney artist Brittney Lee just can't stay away from her toucans. She took to Instagram to post another mini-painting she'll have available at Booth #5551.
https://www.instagram.com/p/BWg2p9DAKrr/
Are you visiting Ninjabot's Small Press Table #L-08 next week? You should, because among the rest of his brilliant work, he'll have Pop Cats Vol 1 hot off the presses and available for you.
https://www.instagram.com/p/BWgVomQg2Fg/
Black Heroes Matter is planning another flash mob this year on Friday, July 21 after the Exhibit Hall floor closes. The event will take place at the Convention Center's grand staircase.
https://twitter.com/JaycenWise/status/885465216686968832
https://twitter.com/JaycenWise/status/885943280554397696
Fanbase Press is excited to announce that the creative team of the comic book series, Quince, will be appearing at the Geekscape's Booth #3919 at San Diego Comic-Con on Saturday, July 22, 2017, from 5:30-7:00 p.m. Creators Kit Steinkellner (Writer, Z: The Beginning of Everything), Emma Steinkellner (Artist, Ayzenberg), and Sebastian Kadlecik (Creator, Penguins vs. Possums) will be signing limited edition 11" x 14" prints featuring the cover of the upcoming Quince trade paperback (shown below) for the first 100 attendees to stop by the booth.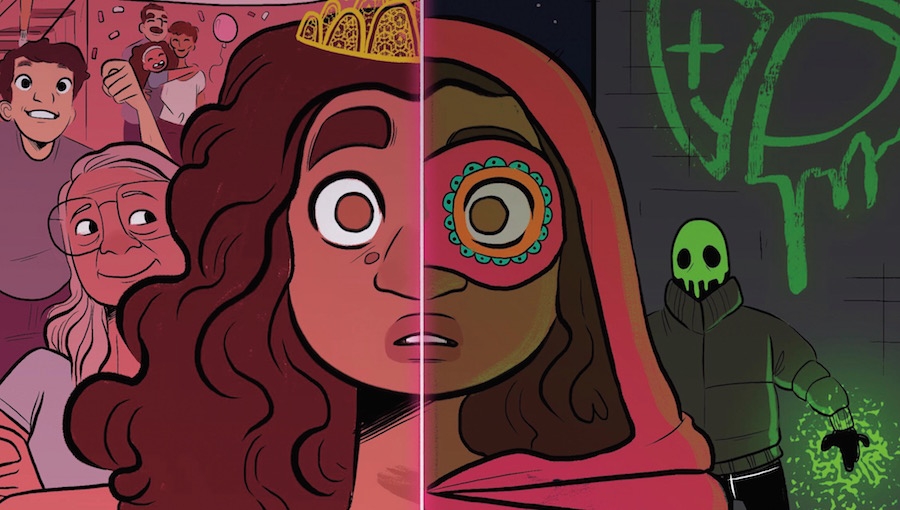 Sci-Fi/fantasy publisher DAW Books showed a teaser of the awesome swag that will be included in the SDCC exclusive October Daye Box. Since DAW is part of Penguin, you'll have to check three locations for this: Booth #1514, 1515, or 4020.
#SDCC2017 is just around the corner, and today, we got a sneak peek at some of the amazing items from the #OctoberDaye box… @seananmcguire pic.twitter.com/XSSZJclKz5

— DAW Books (@dawbooks) July 14, 2017
"I see you comin' down on the scene…" No, this isn't Jimi Hendrix's "Foxey Lady." Multi-talented artist Camilla d'Errico will have her own Foxy Lady at her Booth #4723 on the Exhibit Hall floor.
https://www.instagram.com/p/BWiEsKMj04a/
Sho Murase has such a unique style to her art that we can't help but admire her work. Here are some samples of what you'll find when you visit her in Artists Alley at Table #GG-24.
https://twitter.com/sho_moo/status/885895498300653568
Candlewick Press is giving away free swag at their Booth #5532 during SDCC. Follow them on Twitter to find out when they'll be handing out free goodies.
Visit booth #5532 at San Diego @Comic_Con! Follow us on Twitter for details about daily booth giveaways. Here's a sneak peek! #SDCC2017 pic.twitter.com/5UykM8q6aM

— Candlewick Press (@Candlewick) July 14, 2017
Artist Todd Nauck posted an image of the KittyPride piece that will be raffled off at Gabriel Eltaeb's Preview Night fundraiser. You can find all the work he has available at Table #II-01 in Artists Alley.
This KittyPryde piece is 2of5 of mine to be raffled at @GabeEltaeb's Kickoff Party #SDCC PreviewNight. More info at https://t.co/V1qAZRIZH6. pic.twitter.com/knTVzeS11r

— Todd Nauck (@ToddNauck) July 13, 2017
Ashley Eckstein posted what we can expect from her Her Universe fashion line at SDCC this year. Look for these at Booth #1321 in the Exhibit Hall.
Here is a first look at the new styles coming to San Diego Comic-Con 2017! The new collections will also be available online next week. pic.twitter.com/hfsJE6PbQ7

— Her Universe (@HerUniverse) July 14, 2017
We all loved Storm's mohawk in X-Men: Apocalypse. Rhiannon Owens shows her appreciation in her latest print headed for Artists Alley Table #FF-03.
Mohawk #Storm is coming to #SDCC #ComicCon #SDCC17 #comiccon2017 #xmen w/ @copicmarker digital background by my buddy Splash! pic.twitter.com/58kZz0evEE

— Rhiannon Owens (@RhiannonDrewIt) July 14, 2017
IDW Publishing wanted to remind everyone to avoid the chaos in the Exhibit Hall and pre-order their SDCC exclusives. You can find the link for their pre-orders in the tweet below. We find that to be sage advice.
Guard yourself against the inevitable convention hall chaos, pre-order your IDW @Comic_Con 2017 exclusives today! https://t.co/Q62B6hag1R pic.twitter.com/B0FQVt9i2W

— IDW Publishing (@IDWPublishing) July 14, 2017
Symbiote Studios has to have the best contests at Booth #5636. They're inviting you to play rock-paper-scissors with them for a chance to win a free Catnip Bravo plush bag. You can't lose, because they'll give you a free exclusive keychain just for playing.
#SDCC17 #SDCC Win a game of Rock, Paper, Scissors at booth 5636 and win a Catnip Bravo plush bag. Free exclusive keychain just for playing. pic.twitter.com/yQ8wDoxYVn

— Symbiote Studios® | Toy Manufacturer (@symbiotestudios) July 14, 2017
Konami is offering a discount code for their Yu-Gi-Oh! t-shirts only at Booth #3713 at SDCC.
Exclusive shirts available for a limited time! https://t.co/cvClxxkBHI
Going to be at #SDCC? Discount code at the Konami Booth #3713 pic.twitter.com/SDgitqXR4W

— Yu-Gi-Oh! (@yugioh) July 14, 2017
Warner Bros. is getting into the SDCC spirit by giving away Supernatural gift packs. To enter, RT this tweet and tell them who you relate most to: Sam or Dean. All entries must be received by 10AM PT on Sunday, July 16, and you have to be 18 or older to qualify. The full rules can be found here.
#WBSDCC is almost here and we're giving away #Supernatural gift packs! For a chance to win, RT & tell us who you relate to: Sam or Dean? pic.twitter.com/YLsfrvliR3

— Warner Bros. TV (@warnerbrostv) July 14, 2017
To view the full official rules, go to: https://t.co/snOd1IKZmW

— Warner Bros. TV (@warnerbrostv) July 14, 2017
Visit artist Rosemary Reeve at the SDCC Art Show at the Manchester Grand Hyatt and pick up this TARDIS mini-print free. Watch her Instagram for previews of what she'll have on display and for sale at the show.
https://www.instagram.com/p/BWijcXoDMBn/
Justin Harder posted yet another collage for SDCC. He may be more excited about it than we are (and that's a bold statement). Look for him at the CLAUS Studios Small Press Table #O-08.
Knowing when a collage is done? Never. @Comic_Con #SDCC2017 #ComicCon pic.twitter.com/jVzxYEqA6R

— Justin Claus Harder (@clausstudios) July 14, 2017
Kymera Press posted a long-awaited first-look at their latest release, Mary Shelley Presents…, which is set to debut at SDCC. Hurry to their Booth #2003 and get your signed copy.
https://www.instagram.com/p/BWil–yA1tW/
There may be nothing Camilla d'Errico can't do. From paintings to prints to fine china, she has it all. Now, she's adding clothing to her collection. When you visit her at Booth #4723, you'll find pieces from her new clothing line she has been working on with Live Heroes. Here she is modeling one of her own tank tops.
https://www.instagram.com/p/BWiweLADXpo/
Our good friend Patrick Ballesteros always has the most adorable pieces in his 25 Cent Wonder line, and we know you'll go batty over this latest piece. It's just a part of a whole, however, so you'll have to visit Table #DD-08 in Artists Alley to see the whole picture.
https://www.instagram.com/p/BWiSbsaFcew/
Artist Diana Leto is hard at work to bring her art to SDCC. Find her and her amazing work at Big Wow Comic Fest's Booth #1300.
https://www.instagram.com/p/BWiIsyVASoO/
Artist Sean Forney is working hard on his Wonder Woman piece he'll have at Table #AA-15 in Artists Alley.
Wonder Woman inked for #SDCC2017 #WonderWoman #SDCC #ArtistAlley pic.twitter.com/v7F6liZ8rj

— Sean Forney at C2E2 O-6 (@SeanForneyArt) July 14, 2017
You can get a taste of what Jen Bartel will have available at Booth 2047 in her tweet, along with Kris Anka and Zac Roane.
https://twitter.com/heyjenbartel/status/885179596609642496
Not every print works out the way it's planned, but instead of wasting them, Monkey Minion Press turned theirs into clapbooks. They're only $6 each, and there aren't a lot of them, so get to Booth #5531 fast.
https://www.instagram.com/p/BWi36PSDO8n/
Stanley "Artgerm" Lau is also giving us a taste of what he'll have to offer at Booth #4503, including his "Con Man" pin.
https://www.instagram.com/p/BWjLGsdghHr/
Anything we missed? Let us know in the comments, drop us a line, or tweet us at @SD_Comic_Con.