Tomorrow! Tomorrow! I love ya! Tomorrow! Preview Night is only a day away, and we're singing our hearts out. Sure, it's a hard knock life here when it comes to reporting all this wonderful SDCC news, but we do it anyway, and we're happy to do it. This column has great news from Nuclear Blast Records, Terry Dodson, KFC, and a lot more.
Here's a look at what you might have missed:
The Mighty Morphin Power Rangers are going to be all over SDCC. Along with everything else they're bringing, old and new, they'll also have SDCC exclusive slap bracelets distributed at their partner booths (BOOM!, Nickelodeon, Bandai, etc.). They're also bringing a Legacy Wars tournament featuring an appearance by Green Ranger, Jason David Frank.
Nuclear Blast Records is celebrating their 30th anniversary this year with a huge SDCC presence. When you visit Booth #501, you'll find exclusives from TEAC turntables, Slayer, El Hijo Del Santo, and more.
BleedingCool reports Colonel Sanders and Green Lantern team up to save the universe in KFC #3: Across the Universe, sold exclusively at DC Comics' Booth #1915 at SDCC. Unfortunately, we've confirmed that will be the only KFC presence at SDCC this year, which means no cool statues or benches. Womp womp.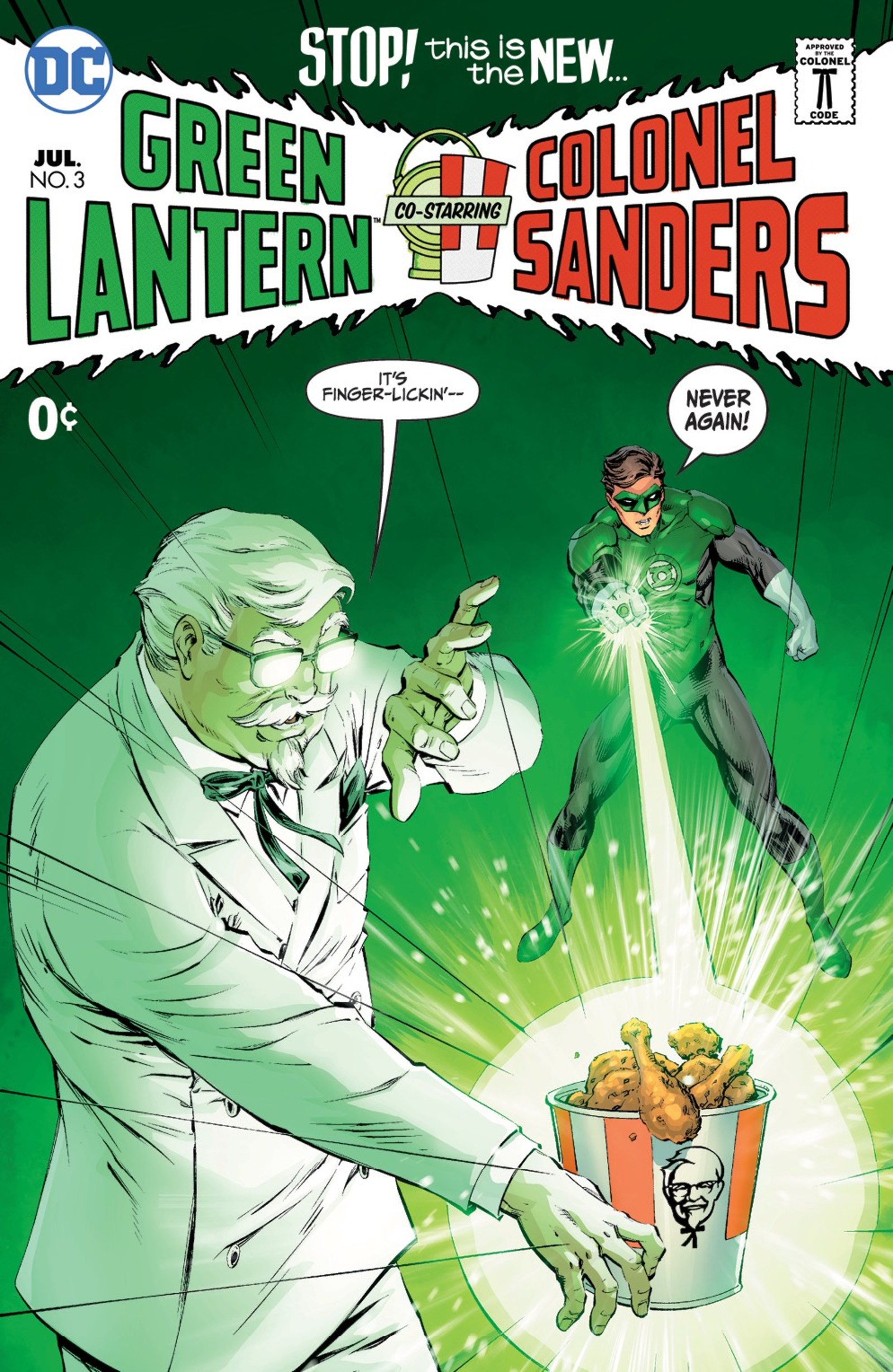 Elhoffer Designs [Editor's Note: YOUR NEW FAVORITE DESIGNER OMG CHECK HER OUT YOU WON'T BE SORRY] will be at SDCC this year, popping up in various locations. See the tweet below for their schedule at SDCC this year.
Who's gonna find me at SDCC??? Here's the quick infosheet of where I'll be!!! (and with special sales on apparel in person!!) pic.twitter.com/etOUEPtMkK

— Elhoffer Design (@elhofferdesign) July 18, 2017
Vault Comics made some pretty awesome additions to their schedule at Booth #1530. Stop by and see all the great stuff they have to offer.
New #SDCC schedule!

Look closely & you'll see two badass additions.

Sat. @heyjenbartel signing: 12:45-1:45

Sat. @Doncates signing: 3-3:30 pic.twitter.com/o6jAFL1tLg

— Vault Comics (@thevaultcomics) July 18, 2017
Author Maxwell Drake will be teaching at SDCC this year and tweeted his schedule. Visit his Small Press Table #Q-03 to see where exactly he'll be teaching.
One more day until I head to San Diego. Here's my teaching schedule, or find me at my normal booth Q03 in small press. #SDCC #SDCC2017 pic.twitter.com/NQIGwOS7Q7

— Maxwell A. Drake (@MaxwellADrake) July 18, 2017
Butch Hartman, creator of The Fairly Oddparents (and a lot more), will be at SDCC this year dropping swag. Follow his Twitter feed to find where he'll be this week.
Getting ready for Comic Con. Watch my feed because I'll be announcing where I am and you could get cool stuff! #SDCC2017 #DannyPhantom pic.twitter.com/9ulvDW1I0d

— Butch Hartman (@realhartman) July 18, 2017
Women in Comics posted their schedule of events to Twitter, including their Booth in Small Press, #H-09.
#SDCC2017 @WomeninComicsNY's Schedule of events and appearances is up courtesy of @FoxyJazzabelle ❤️ pic.twitter.com/YVphSYYlc6

— Regine Sawyer (@LockettDown) July 17, 2017
Artist Terry Dodson revealed his new San Diego print on Twitter. This SDCC exclusive will be at Booth #4706 in the Exhibit Hall.
I'm happy to reveal my new San Diego print!

Debuts @comic_con Booth 4706 on Wednesday!

Details here – https://t.co/9LpSIovUEY#SDCC2017 pic.twitter.com/JDslEzx4JS

— Terry Dodson (@TerryDodsonArt) July 18, 2017
"Dammit, Bobby!" Meet King of the Hill character designer Joel Adams at Booth #1815 at SDCC (if he's come out of his hiding spot).
https://www.instagram.com/p/BWsQiUqhMEn/
Eric Goldman, who is moderating the iZombie panel at SDCC this year, wants to know what questions you would like him to ask. Hit him up on Twitter and see if he asks your question.
#iZombie fans, if you have questions you'd like me to ask the cast and creators during the #SDCC panel, hit me up and I'll try to include!

— Eric Goldman (@TheEricGoldman) July 18, 2017
Photographer Brian Ramage will be in town during SDCC and wants to know if anyone wants to shoot with him. He has all his details in his Instagram post.
https://www.instagram.com/p/BWsFciUDsEx/
Zombie Playground Publishing is still pulling all-nighters for SDCC. They're very excited about their latest Darth Vader piece they'll have at Small Press Table #N-02.
https://www.instagram.com/p/BWrwZtegO74/
Disney artist Brittney Lee is bringing Harley Quinn to SDCC in this beautiful piece. You can find this and more of her brilliant work at Booth #5551.
https://www.instagram.com/p/BWrcQMtADRV/
According to Forbes, PJ Masks will have a limited edition Catboy vs Night Ninja talking toy pack available at Booth #4021.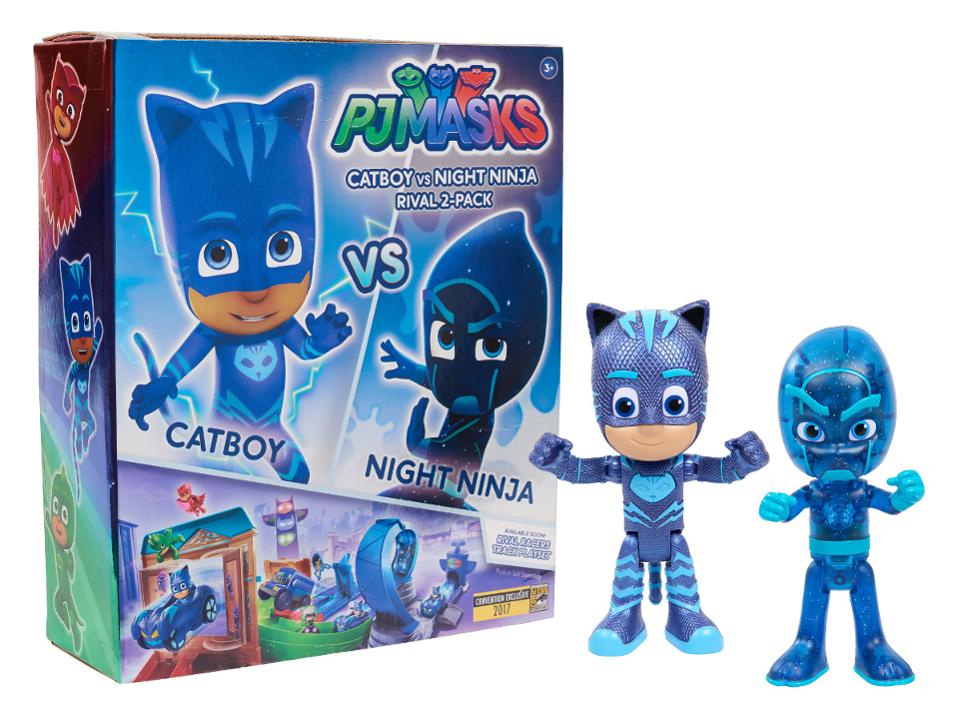 While I'm waiting for the world to wake up over here, I might as well tell you about these shirts oil have at #SDC… https://t.co/ACqZfEBS5t pic.twitter.com/jz5InnVitw

— Scott C. (@scottlava) July 18, 2017
According to EW, a life-sized Thor LEGO model based on the upcoming Thor: Ragnarok film will make its debut at SDCC this year. "Doth mother know thou wearest her drapes?"
Jason Latour thought he could do SDCC low-key, but where's the fun in that? It's go big or go home, so he posted his schedule on Twitter, which includes some signings and some panels.
Was planning on Ghost Riding SDCC but now I'm more than there. Maybe even sketching some. Maaaybe. #sdcc2017 https://t.co/UB4iHNlEvF pic.twitter.com/aYF8Kyc73V

— Jason Latour (@jasonlatour) July 18, 2017
Yes, there will a panel this year. Please stay tuned for further information shortly.

— Marvel Support (@MarvelSupport) July 18, 2017
Justin Harder isn't done with his SDCC work. He posted to Twitter this Thor: Ragnarok piece done in the Thor: The Dark World end titles style. His prices? Negotiable. Haggle with him at CLAUS Studios' Small Press Table #O-08.
THOR Ragnarok done in our THOR The Dark World end-titles style. 11×17 giclee print only avail @Comic_Con on Sat/Sun. Small Press O-08! pic.twitter.com/Wtjrw4k1nb

— Justin Claus Harder (@clausstudios) July 18, 2017
Leaving tomorrow & these guys are coming w/ me to @Comic_Con ! W/ @copicmarker on @CansonPaper . #art #copiccomic #marvel #dccomics #XMen pic.twitter.com/S5pFOhywVQ

— Rhiannon Owens (@RhiannonDrewIt) July 17, 2017
All my prints are safe and sound and ready for #ComicCon . Come get some so I don't have to ship them back 😂😂😂 #art #SDCC #ComicCon2017 pic.twitter.com/CzlRtLNjha

— Rhiannon Owens (@RhiannonDrewIt) July 18, 2017
Anything we missed? Let us know in the comments, drop us a line, or tweet us at @SD_Comic_Con.