No Ambien was involved in the writing of this Under the Tents post (although the author did take some Claritin-D this morning). This issue of Under the Tents has exciting news from Red Stylo Media, an employment opportunity, a new publisher set to debut at SDCC, and more.
Here's a look at what you might have missed:
Red Stylo Media has a Kickstarter campaign going to help fund their trek to bring Crossing 2 & 3 to SDCC, and they're offering a little incentive to boot. If you contribute $25 or more, you'll join them for a special meet-up at the con. Not only that, they have a copy of Ninja Bear #1 waiting for you if you contribute.
We love our fans, and want to meet you! If you back Crossing 2 & 3 for $25 or more, join us in #SDCC for a special meet-up. Hop on the party train! https://t.co/x7xAKCvuVg pic.twitter.com/wlg16Yu419

— Red Stylo Media (@red_stylo) May 29, 2018
Crossing is teaming up with @NinjaBearComic as this train rushes towards #SDCC. Help us fund Crossing 2 & 3 and you can grab a copy of Ninja Bear 1! #indiecomics https://t.co/dVev2AGQN6 pic.twitter.com/EBUfMjOTzG

— Red Stylo Media (@red_stylo) May 30, 2018
Sculptor/artist Brian K has SDCC as one of two conventions he's attending this year and will be signing his work, if he has the time.
Not this Year… we are invited to San Diego and New York Comic Con, if we got time we will be signing stuff thr

— KUCHAREK BROTHERS (@Briank_X) May 27, 2018
Writer/gamer/musician Ava Star announced via Twitter that she will be at SDCC 2018 and will release more details soon.
I also have a few updates:
1. I am starting to produce my own music on @looplabs! Come check me out: https://t.co/ubqqfiqcSa! (I currently have one song, but my next song will be coming out later today!)
2. I will be at San Diego Comic-Con 2018! (More info coming soon!)

— ⭐️ Ava Star ⭐️ (SAO_SuperFanGirl) (@Ava_Star_Tweets) May 28, 2018
Missed us at Fanime? Don't worry, there is still a chance to catch an Official Gaia Online Panel! We just added Anime Expo and San Diego Comic Con to our convention tour. Stay tuned for details~

— Gaia Online (@gaiaonline) May 29, 2018
If you were looking forward to seeing Neil Gaiman at SDCC this year, we have some bad news for you. Gaiman responded to a fan's tweet, saying he probably will not be at the con this year. That's not a great sign for a Good Omens panel, but it doesn't mean it's impossible either.
Probably not.

— Neil Gaiman (@neilhimself) May 28, 2018
Robie Elrod, creator and owner of Mystery CCG, tweeted a sneak peek of of his new piece for SDCC this year.
Just a sneak peak of what I am working on for San @Comic_Con pic.twitter.com/qLp1NqesqT

— Robie Elrod (@Just_Robie_E) May 29, 2018
It looks like Spider-Man and Iron Man are swinging into San Diego in Lester Del Rosario's SDCC 2018 Marvel sample page.
https://www.instagram.com/p/BjWW77Kngjj/?tagged=sdcc
Fans of ElfQuest will have a lot to look forward to from the group at SDCC this year. Creators Wendy and Richard Peni will be signing at the Dark Horse Comics booth all four days. They'll also have a panel celebrating ElfQuest's longevity entitled "Forty Years of Pointed Ears" on Saturday, July 21 at 6:00PM PT in Room 23AB. You can join their Facebook Group for more information as it comes out.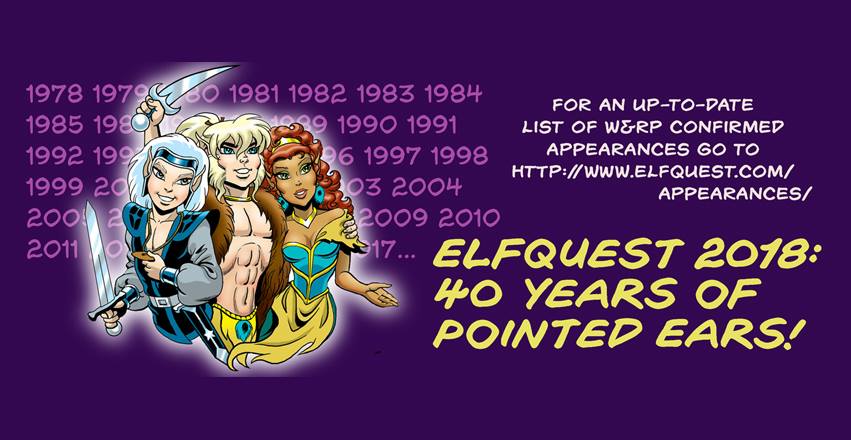 If you didn't get a badge to SDCC this year, you could always work your way into the convention – literally. Activation Pro is hiring some temporary help for their events at San Diego Comic-Con. If you're local to San Diego or can make it on your own, you could earn $25 an hour representing Activation Pro at SDCC.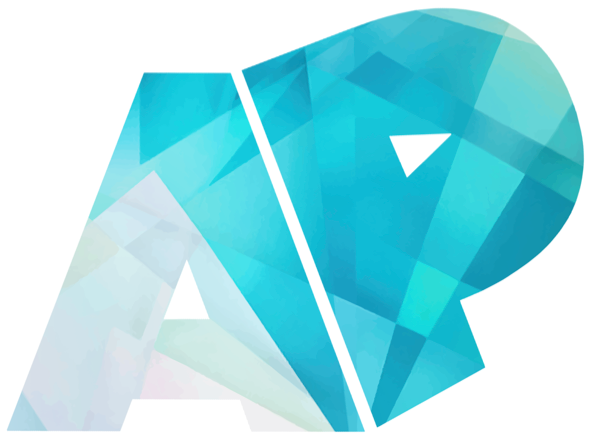 Ben Bishop, one of the minds behind Drawing Blood Comic, announced on Facebook that the comic will be ready in time to debut at SDCC. They plan to spend SDCC weekend signing their books and getting them ready to ship to the backers whose crowdfunding made the comic possible. While they won't be "openly selling" the comic at SDCC, you can let them know you'll be there and, if you're already expecting a copy, they just might hand you one.
Another sculptor we'll find at SDCC this year, Dave Correia, is hard at work preparing for San Diego Comic-Con and giving us some insight into his sketch-to-sculpture.
The folks at Castle by Design are counting the days to SDCC (as we all are) and took some time to post a work-in-progress they're preparing for SDCC. Garsh!
For some reason, my parents never let me get temporary tattoos when I was a kid. If yours were the same, we can rebel a little with these temporary tattoo designs artist Terry Moore is working on.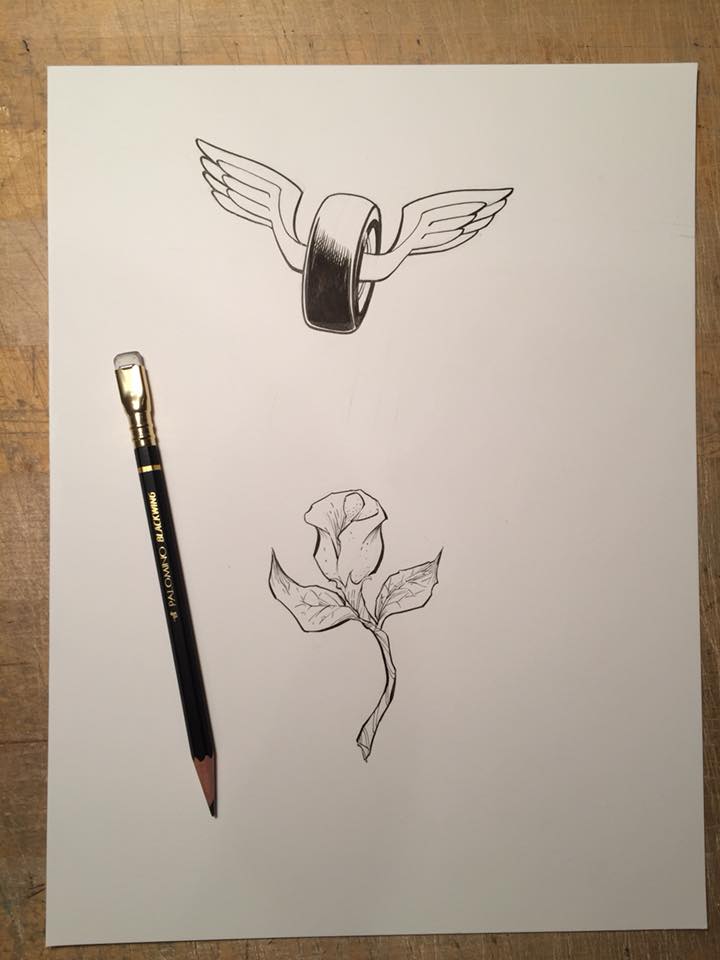 Heidi Tandy was excited to announce to her Twitter followers that her Harry Potter Fandom panel, Fantastic Fans and Where to Find Them, has been approved for SDCC 2018. We'll keep an eye on her Twitter feed for more panel announcements.
Fantastic Fans & Where to Find Them (the Harry Potter Fandom panel) will be returning to SDCC this summer for our 11th magical showcase of all things fannsish! Can't wait to share more details about panelists, date/time/location & announcements (soon)! pic.twitter.com/OSQ3KNFcB5

— Heidi Tandy (my tweets are not legal advice) 💫 (@travelingheidi) May 29, 2018
Cartoonist/writer Jen Wang tweeted her upcoming schedule of speaking events, which included SDCC 2018. Stay tuned for details on where to find her.
https://twitter.com/alooghobi/status/1001551418405277696
According to Bleeding Cool, Charles Band, writer and producer of the Puppet Master movie series, plans to launch his new comic publisher, Full Moon Comix, at SDCC 2018. Their first comic, Dollman Kills the Full Moon Universe, is set to premiere in August.
Cartoonist Sam Logan, creator of Sam and Fuzzy, makes his triumphant return to SDCC this year. It's his first time back since 2013, so let's make sure to welcome him home.
After many years away… I will be returning to SAN DIEGO COMIC-CON this summer!

SDCC 2005 was the first con I ever went to, and I've gone 9 times in total. But I haven't been since 2013.

— Sam Logan (@samandfuzzy) May 29, 2018
Anything we missed? Let us know in the comments, drop us a line, or tweet us at @SD_Comic_Con.