It's time for another Under The Tents with art, exclusives, commissions, and panelists flying yon and hither. Let's dive into this session of SDCC news:
Matt Lanter actor and voice of Anakin Skywalker in Clone Wars and more, tweeted he will be attending the 10th anniversary Clone Wars panel at Comic-Con.
Niiiiiice! 10 years! Can't wait for this panel. https://t.co/c8f8GQHenU

— Matt Lanter (@MattLanter) June 26, 2018
Marisela Ruth posted on Instagram some of her artwork on postcards she will be handing out at SDCC.
https://www.instagram.com/p/Bkd92GNnvL-/?tagged=sdcc18
A Long Time Ago Radio posted on Instagram that they will be having a scavenger hunt during Comic-Con where they will be giving away Star Wars merchandise. Check out their post for the details.
https://www.instagram.com/p/BkgfsLzFUke/?tagged=sdcc2018
New York Times Bestselling author of the Red Rising Saga responded on Twitter that he will be at SDCC and signing at the Del Rey Books booth. We will keep you posted as details come available.
i'll be there

— Pierce Brown (@Pierce_Brown) June 27, 2018
New York Times bestselling author Delilah S. Dawnson posted on Twitter that she and co-author Kevin Hearne will be at SDCC 2018 as a part of their book tour for their new title Kill the Farm Boy.
https://twitter.com/DelilahSDawson/status/1011311698211467265
Kevin Hearne will also be at Upstart Crow Trading outside of the convention center on July 21st at 10am along with New York Times bestselling author Victoria Schwab.
Los Locos Funkeros revealed their Federico shirt on Instagram they will have as Comic-Con 2018. Preorders are now open. Details in the post.
https://www.instagram.com/p/BkgjqkMh0xc/?taken-by=los_locos_funkeros
Anthony Andres posted on Instagram that he will have his sketchbook available for purchase as Comic-Con table P-06.
https://www.instagram.com/p/BkgxBungVod/?tagged=sdcc2018
Chewbee designer Jim Mahfood has posted an updated hand painted picture of limited edition DKE Toys figure. It will be signed, numbered and we now know the packaging will include original comics.
CHEWBEE figure from WOOKIE HASH PIPE line of toys debuts next month at SDCC! Cruise by @dketoys booth and grab one. Only 50 exist in the entire world, man. Hand painted. Signed/numbered w original comics on the packaging. Designed by moi and sculpted by the dynamic @doublegtoys. pic.twitter.com/J5pC9H3RFe

— Jim Mahfood (@JimMahfood) June 27, 2018
A Facebook event has been posted for PC Gaming at Comic-Con. The event will be located in Mezzanine 17B and run throughout the convention. Check out the link for all the details.
McFarlane Toys posted on their website that they will have new products and brands available to view for the first time at the Diamond Comics booth #2401.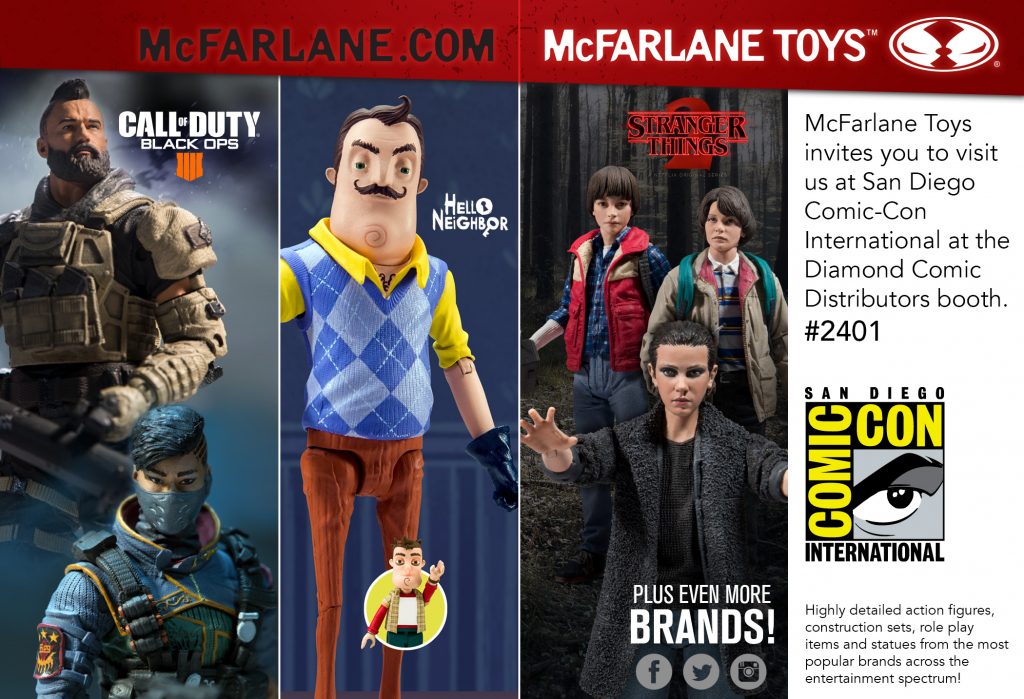 Mike Mignola creator of Hellboy tweeted that during SDCC he can be found at booth #4901.
Will be there Wednesday through Saturday booth 4901

— Mike Mignola (@artofmmignola) June 25, 2018
Stone Brewery posted a picture of things to come at this year's HopCon. This year there will be a costume contest judged but W00tstout collaborator Drew Curtis. Check out the post for the details.
https://www.instagram.com/p/BklCutInrOb/?tagged=sdcc18
Artist David W. Miller will be bringing 30 special edition exclusive 120 page Marauder books to Comic-Con. Each one will have something unique in it.
https://www.instagram.com/p/Bkl_nfRnhcJ/?tagged=sdcc2018
Emmy winning animation producer and director Chris Neuhahn will be bringing 50 copies of his SDCC 2018 exclusive edition comic K'nayha and the Crow. More details coming soon.
https://www.instagram.com/p/Bkl-PpoHRqr/?tagged=sdcc2018
Bestselling comic artist for Invincible, Ryan Ottley tweeted that he will be at SDCC doing signings and taking commissions at the Felix Comic Art booth.
Getting excited for SDCC this year. I'll be doing signing times and taking a list for commissions at @FelixComicArt booth.

— RYAN OTTLEY (@RyanOttley) June 27, 2018
ThriftShopHustler posted an Instagram preview pic of a UCC SDCC exclusive promo card for the Steem Monsters card game.
https://www.instagram.com/p/Bkl4LM-gR6Z/?tagged=sdcc2018
Tara with adorablemayhem is bringing a bear on a swing necklace to San Diego Comic-Con, and it actually swings. It can be found at booth #4537.
https://www.instagram.com/p/BkmIcklnLdq/
Actress and visual artist Pia Thrasher previewed on Twitter a sneak peek of her mixed media painting heading to the SDCC2018 art show. This will be her third and final year offering her Litter Warriors series before changing subject matter. 10% of the final sale price will go towards a mental health non-profit.
Sneak peek at my #mixedmedia original paintings coming to the #SDCC2018 Art Show! This will be my 3rd and last year offering my little warriors before moving on to new focus. I am supporting mental health awareness and non-profit charity by donating 10% of final sale. #artheals pic.twitter.com/oeqtkAVteY

— Pia Thrasher (@PiaThrasher) June 24, 2018
Artist and writer Aaron Lopresti announced on Instagram that his Comic-Con commission list is open. Check out the post for details.
https://www.instagram.com/p/BkmHeqUHmqG/
Artist Hai-Na-Nu Saulque's San Diego Comic-Con pre-show commission list will be opening Friday, June 29th at 10am PST. Check out the details in the post.
https://www.instagram.com/p/Bkl1FSiFa8S/
Dustin Nguyen posted on Instagram that his Gumball Bandit enamel pin will be available for purchase at SDCC.
https://www.instagram.com/p/BklcaPQgvZz/?taken-by=duss005
Associate production designer for Walt Disney Animation Studios Mingjue Helen Chen posted on Twitter that she has opened up her commissions list for Comic-Con. Follow the link for the details.
SDCC Commissions list opened! Email me at [email protected] if you'd like to get on the list! I'm opening 9 slots. pic.twitter.com/LoCoku3KCd

— mingjue helen chen (@MingjueChen) June 28, 2018
Anything we missed? Let us know in the comments, drop us a line, or tweet us at @SD_Comic_Con.