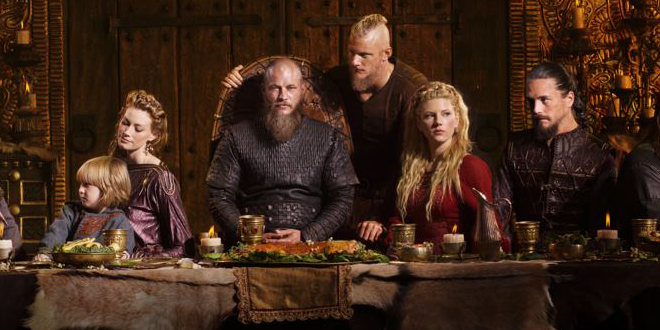 HISTORY is setting sail for San Diego Comic-Con again this year with activations, booth activities, and more for fans of Vikings and their upcoming series, Project Blue Book.
As previously announced Vikings will take over Ballroom 20 on Friday, July 20 from 11:45AM-12:45PM for a panel that includes Katheryn Winnick, Clive Standen, Alexander Ludwig, Alex Høgh Andersen, Georgia Hirst, and creator/writer Michael Hirst. But that's not all the Vikings awesome-ness you'll find at Comic-Con, as Vikings will also be taking over the HISTORY Booth #4215 with a "Seer's Lair".  Only the Seer knows what lies ahead in the upcoming season of Vikings, and fans will have the opportunity to enter his lair and consult him about their own future in a hyper-shareable photo prophecy. You can also find this year's Vikings Comic Book, with story and cover by Andi Ewington and artwork by Daniel Indro, given out to select fans at the booth.
HISTORY's newest series, Project Blue Book, is inspired by the work of Dr. J Allen Hynek and the true, top secret investigations into UFOs and related phenomena conducted by the United States Air Force from 1952-1969. You can stop by Room 6A on Saturday, July 21 from 6:45PM for a look at the new series with stars Aidan Gillen, Michael Malarkey, Neal McDonough, and Laura Mennell.
Then, you can find more of Project Blue Book at the Project Blue Book Headquarters at The Experience on Thursday, July 19 – Sunday, July 22. HISTORY will be giving visitors a look into the new series, and also offer an immersive experience that takes you inside real UFO cases and an attempt to make contact with life beyond Earth from San Diego. An exclusive comic book for Project Blue Book, written by George Mann and with artwork by Mann House, will be given out to fans at both the Headquarters at the HISTORY booth.