Artist Patrick Ballesteros is all about making you remember your inner child – with kid-ified takes on everything from retro classics like Indiana Jones and 16 Candles, to more modern favorites like Game of Thrones and Guardians of the Galaxy.
While not an exclusive, Ballesteros will be debuting a brand new The Avengers: Infinity War set at Comic-Con this month, called "Infinity +1". There are five prints in the series, featuring all of your favorite characters, and when combined, form one larger picture with everyone. Each individual print is 6″x8″, and the five pieces together will retail for $35. There will be limited quantities on hand at Artists Alley DD-08, so make sure you stop by early to secure yours.
[UPDATE July 13] 
The final piece in the Infinity +1 series is "Child's Play", which features Thanos riding in on a giant Infinity Gauntlet with some of his henchmen. There's some fun (and also tragic) details hidden throughout.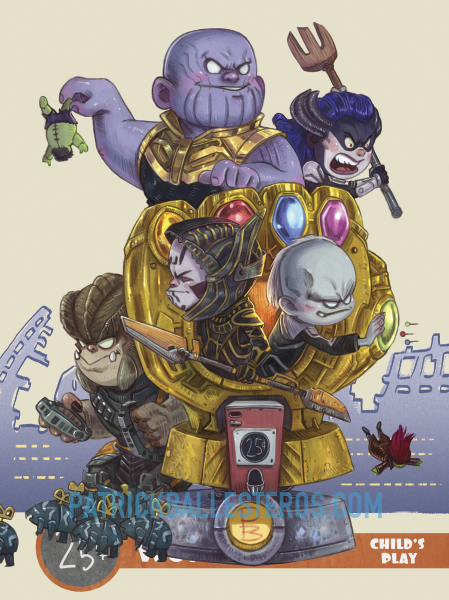 As it's the final piece in the Infinity +1 series, it's also the final piece in the puzzle for the combined piece. When you join all of the prints, they form one larger image when, y'know, assembled (click for larger):

[UPDATE July 11] 
The next two pieces in the series are "14,000,695 Times the Charm" and "Hammer Time". Doctor Strange, Iron Man, Spider-Man, Peter Quill, Drax, Mantis, and Nebula are along for the ride in "14,000,605 Times" — while "Hammer Time" sees Thor, Rocket, and a certain Tree Friend trying to get their ride started.
[UPDATE July 9]
Here's a look at the first two pieces in the new 25 Cent Wonders series, called "Team Players" and "Vision Problems". "Team Players" features Bruce (in his Hulkbuster armor), along with Bucky, T'Challa, Rhodey, and Okoye as they fight off space aliens — while Vision Problems" sees Steve, Nat, Sam, Wanda, and Shuri riding atop a mechanical head of Vision.
You can find the full schedule of Patrick Ballesteros' San Diego Comic-Con exclusive prints and "Can You Hear Me Now?" set over here.