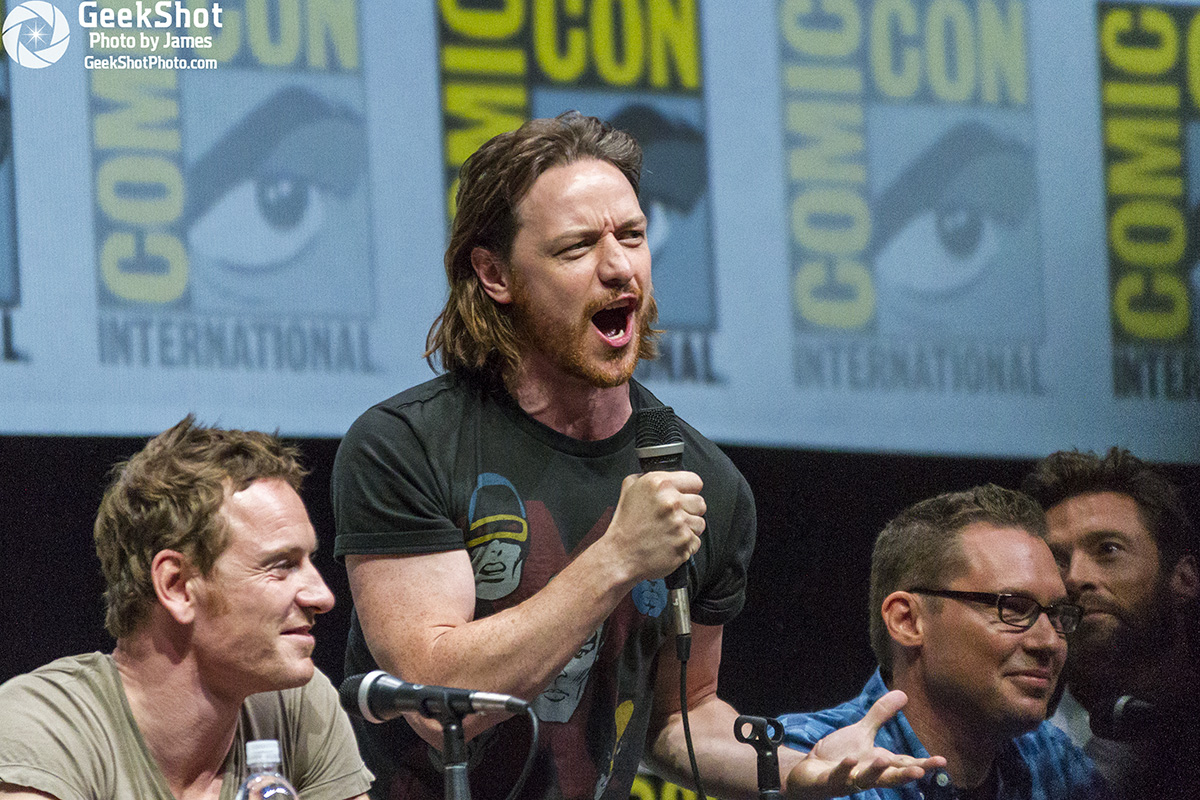 It's two weeks away from Comic-Con, and CCI is releasing the programming schedule for Comic-Con 2017 in its annual fashion. We'll be bringing you the highlights of each day as they're announced.
We'll also be discussing our thoughts on this year's lineup, including our top picks, in a special series of live podcasts this weekend. The first of which will cover Preview Night, Thursday's and Friday's lineup, and will be on Friday July 6 at 9:30PM ET/6:30PM PT (which is tonight!)
With that said, let's dive right into Friday.
If movies are what you're after, right now, Friday is the day to beat. Things in Hall H kick into hyperdrive at 3:45PM with Universal, who returns to the convention after a lengthy break with heavy-hitters Glass and Halloween. James McAvoy, Samuel L. Jackson, Bruce Willis, and Jamie Lee Curtis. It's going to be an amazing panel. Then at 5PM, you'll get Paramount with Bumblebee, followed immediately at 6:15 with Sony and Venom and the animated Spider-Man: Into the Spider-Verse.
There's still plenty for TV fans in Hall H as well, with Fear the Walking Dead, The Walking Dead, Star Trek: Discovery, and Preacher. There's even a reunion for Dr. Horrible's Sing-Along Blog with Joss Whedon, Nathan Fillion, Felicia Day, and more.
And for those who were hoping for a screening of the upcoming WB film Teen Titans Go! To the Movies – you're in luck. It will be at the Horton Grand Theatre at 12PM and again at 2PM, presumably ticketed that morning in Sails. You can also catch the world premiere screening of Warner Bros. Animation and DC Entertainment film The Death of Superman in Ballroom 20 at 7PM, for a screening and panel with the voice cast.
On the non-Hall-H-TV side of things, attendees can look forward to an awesome day of programming in Ballroom 20. Things kick off in Ballroom 20 at 10:15AM with the now-annual Inside The Big Bang Theory Writers Room panel, followed by Vikings, Castle Rock with its world premiere, Entertainment Weekly's now-annual Brave Warriors panel with cast from some of your favorite series (including Dylan Bruce from Midnight, Texas – so perhaps there's a Midnight, Texas panel happening elsewhere during the convention), a two-hour block for Amazon and their many, many series, and then finally Marvel's Cloak and Dagger.
There's plenty of other TV around the rest of the convention as well. In the Indigo Ballroom, it's all animation, all the time, with a fond farewell to Adventure Time, as well as panels for Final Space, Bob's Burgers, Archer, and more. Over in 6BCF, there's more animation to be had with Voltron: Legendary Defender, as well as the last-ever panel for Sharknado. In 6A, you'll find everything from Miraculous Ladybug to Invader Zim: Enter the Florpus to DuckTales to FOX's new series The Passage, to a late-night The Twilight Zone marathon (with swag!). You can also catch the world premiere of Space Command in the Neil Morgan Auditorium with a HUGE cast present, including Doug Jones, Mira Furlan, Mike Harney, and more.
And hey, fans of Wynonna Earp – you can catch the premiere of the new season first, at 5PM in Horton Grand (ticketed up in Sails that morning).
For fans of comics, Friday is a very strong day. Find classic comics talent at the ULTRAVERSE: 25th Anniversary Celebration in Room 24ABC at 6:30PM with Tom Mason, Chris Ulm, Dave Olbrich, Aaron Lopresti (Sludge), Barb Kaalberg (Solitaire), Rick Hoberg (The Strangers), and Terry Dodson (Mantra). Or, for the younger audience, check out DC for Young Readers in Room 9 at 5PM. You can find a spotlight on Hellboy creator Mike Mignola in 24ABC, and Strangers in Paradise's Terry Moore in Room 28DE. Learn some drawing tips from comics legend Adam Hughs at 4PM in Room 2, or catch the annual Marvel Cup O'Joe with Joe Quesado and Jimmy Palmiotti in 5AB at 1:30PM. Mark Evanier will also lead a look back at cartoonist Walt Kelly and POGO, with leading talent from the field.
Fans of toys are definitely going to want to check out the Star Wars Collectibles Update in 7AB. You can also find updates on Hasbro's My Little Pony in Room 6A. There's also "The Return of Mego featuring Joe Namath" in Room 32AB, all about the return of the OG toy company.
While it's not the tribute many had hoped for the 25th anniversary of Tim Burton's The Nightmare Before Christmas, there will be a screening on Friday night in the Horton Grand Theatre. We also recommend Marvel's Black Panther Costume Designer Ruth Carter in Room 9 at 12PM as she and other costume and concept artists discuss what goes into movie costume making. For something different, we're interested in "Star Wars Tourism: Visiting the Galaxy Far, Far Away on Earth" which looks at various Star Wars filming locations across the globe.
Video game fans, Friday might just be your day. Overwatch will give you an inside look at their newest hero in Room 6BCF,
There's also panel for "Shades of Magic: From Prose to Panels", featuring author V.E. Schwab in her own spotlight panel. And, one of our favorites, stop by "Klington Lifestyles" in 5AB at 8:30PM to watch the 25th annual Klingon stage play (just trust us, it's wild).
You can view the full Friday programming schedule on the MySched website.
What will you be lining up for on the first full day of Comic-Con? Let us know in the comments.