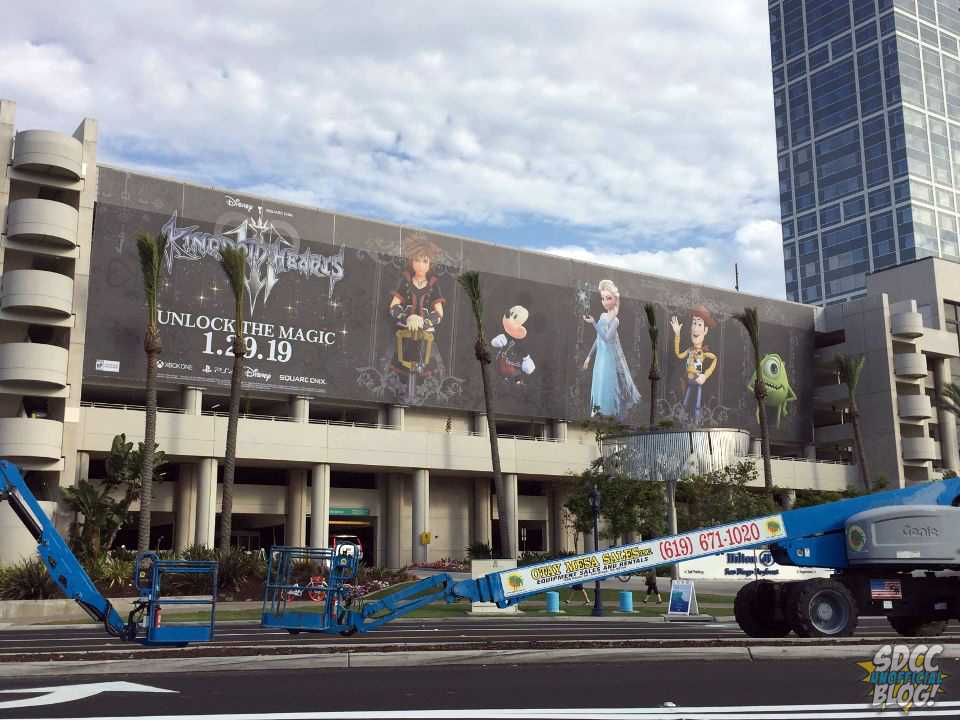 With giant banners up in the Gaslamp now, you had to know that Square Enix would be bringing their A-game to San Diego Comic-Con this year. And indeed they are – with game demos of Dragon Quest XI: Echoes of an Elusive Age and Kingdom Hearts III ahead of their releases, as well as current games. Stop by Booth #3829 all week to play.
Fans can also purchase the latest products from the Bring Arts, Trading Arts, and Play Arts – as well as participate in the Final Fantasy Trading Card Game. There will even be daily giveaways of the Final Fantasy Trading Card Game promo cards, as well as Dragon Quest XI double-sided posters and "Mark of Light" temporary tattoos, Mobius Final Fantasy hand fans, and Star Ocean: Anamnesis buttons.
Here's a look at the game demos available at Booth #3829:
DRAGON QUEST XI: Echoes of an Elusive Age
Platform: PlayStation®4 computer entertainment system, STEAM®
Developer: Square Enix®
ESRB: T (Teen)
Available: September 4, 2018
DRAGON QUEST XI®: Echoes of an Elusive Age™ tells a captivating tale of a hunted hero and is the long-awaited role-playing game from series creator Yuji Horii, character designer Akira Toriyama, and composer Koichi Sugiyama. While it is the eleventh mainline entry in the critically acclaimed series, DRAGON QUEST XI is a completely standalone experience that features entirely new characters, a beautifully detailed world, finely tuned strategic combat, and an immersive story that will appeal to longtime fans and franchise newcomers alike.
Platform: Xbox One and PlayStation®4 system
Developer: Square Enix
ESRB: Rating Pending
Available: January 29, 2019
In the upcoming action RPG, KINGDOM HEARTS III, players can join forces with Donald Duck and Goofy for the adventure of a lifetime traveling across worlds based on beloved films like Disney•Pixar's Toy Story, andMonsters, Inc., and Walt Disney Animation Studios' Big Hero 6, Tangled, Frozen, Pirates of the Caribbean and more. Attendees will be able to experience a boss battle against the Rock Titan from Walt Disney Animation Studios' Hercules and uncover the Toy Box world from Toy Story alongside Woody and Buzz.
Platform: iOS®, Android® and STEAM
Developer: Square Enix
ESRB: T (Teen)
Available: Now Available
MOBIUS FINAL FANTASY™ is an all-original FINAL FANTASY® RPG game custom-tailored for mobile platforms, featuring in-depth character customization, ongoing live events, and HD graphics that push the boundaries of the mobile platform. The story centers around a man who wakes up in a world called Palamecia with no memories of his past, tasked with bringing hope to the world by unraveling a mysterious prophecy around the legendary warrior of light. Played by well over 10 million players worldwide, the game was created by an all-star development team including producer Yoshinori Kitase and writer Kazushige Nojima.
Platform: iOS, Android
Developer: tri-Ace
ESRB: M (Mature)
Available: Now Available
A brand new journey in the popular sci-fi STAR OCEAN® series, STAR OCEAN: ANAMNESIS™, the mobile action RPG, puts players in the captain's chair as they lead a squad of heroes across the galaxy. With fast-paced real-time combat, gorgeous 3D graphics, and a brand new co-op multiplayer mode, players have the freedom to build endless strategic and iconic teams with returning all-star characters from the beloved series.