This year's San Diego Comic-Con has its share of drama and controversy, but you won't find that in our Under the Tents. All you'll find is great SDCC news from artists like Scott C. and Todd Nauck as well as one of our bloggers who will be spending some time at CLAUS Studios' table.
Here's a look at the news you might have missed:
TrekCore.com reports that you'll find three new character busts on display at San Diego Comic-Con at the Star Trek Models booth.
The 'Kirk' bust has been seen, but three #StarTrek characters more join him: Spock, Data, and Worf — they'll be on display at the @StarTrekModels booth at #SDCC. pic.twitter.com/pYKGbYkPBq

— TrekCore.com 🖖 (@TrekCore) July 12, 2018
Artist Olivia De Berardinis will have her original artwork and studies at her booth #5550.
I'll be at San Diego @comic_con next week, #booth 5550!! These are some of the originals and studies that will be in the booth. Prints of all of these are available at https://t.co/e0OOD1laA8. #harleyquinn #margotrobbie #hella #kateblanchett #artistsoninstagram #suicidesquad pic.twitter.com/ZOPs5lCtK5

— Olivia De Berardinis (@OliviaPinupArt) July 12, 2018
We will have these Witchblade and Sunstone pins by @yesterdaysco available at #SDCC. Swing by the @TopCow Booth #2629 while supplies last! pic.twitter.com/ouL2wckVOS

— Top Cow (@TopCow) July 12, 2018
Head to Justin Harder's table O-08 on Thursday, July 19 from 2PM-3PM and meet our very own Andy Wagner who will be acting as  Harder's "booth babe." Biggest news of the convention, really.
Look for me at @clausstudios Table O-08 in Small Press at #SDCC this year, where I'll be a "booth babe" on Thursday, July 19 from 2-3PM! pic.twitter.com/MfqSMwGjKC

— Andy (one 'y,' & it is where you think) Wagner (@SDCCWackyWags) July 12, 2018
Looking for something a little different to do during Comic-Con? The USS Midway Museum is giving a $2 discount on admission with your SDCC badge from Tuesday, July 17 – Sunday, July 22. Check out the link for more details.
Headed here for #SDCC2018 – flash your #ComicCon badge at the USS Midway for a discount on admission! #SDCC18 https://t.co/dqxIZKjeg5

— USS Midway Museum (@USSMidwayMuseum) July 12, 2018
Comic artist Todd Nauck will have a free mini comic for his Mystery Science Theater 3000 #1 available at Dark Horse booth #2615. He will also be doing a signing there with Felicia Day on July 19 from 6PM-7PM . Check out the link for more details.
Get the FREE preview mini-comic of #MysteryScienceTheater3000 issue1 at the @DarkHorseComics booth2615 At #SDCC #SDCC2018!
I'm doing a signing w/ @feliciaday & MichaelHeisler at DarkHorse booth on Thurs 7/19 6-7pm. Wristband required event.
More info on https://t.co/V1qAZRIZH6! pic.twitter.com/d9g95aGgE1

— Todd Nauck (@ToddNauck) July 12, 2018
Good news! The legendary Gail Simone is heading to San Diego Comic-Con this year after all. She has been revealed as a last-minute (but also great!) addition to the SYFY Fangrrls panel at San Diego Comic-Con. Simone wrote on her own Twitter that her ability to attend SDCC happened very last minute and to watch her Twitter feed for more announcements.
Finally, @GailSimone has been changing the game for nearly 20 years, through characters like Batgirl, Wonder Woman and Domino, and fighting the good fight against "women in refrigerators." #SDCC pic.twitter.com/nbBKXQtctX

— SYFY FANGRRLS (@SYFYFANGRRLS) July 12, 2018
Since a million people have asked, I was not going to make it to @Comic_Con this year. However, something VERY cool has happened and I will indeed be attending. It's super-short notice so my appearances won't be in the big guide, I don't think…

— Gail Simone 💙💛 (@GailSimone) July 12, 2018
Skybound has an incredible opportunity for streamers to network and try out some new Alienware gear. Follow their link in the tweet below for all the details.
Are you a #Streamer? Heading to #SDCC18? Join us for an exclusive opportunity to try our @Alienware tech, meet with their devs, and stream to your channel directly from the con! More details here: https://t.co/MJpJjDTF2Y pic.twitter.com/pGNMlDum0d

— Skybound Entertainment (@Skybound) July 12, 2018
Although artist Brian Michael Bendis will not be at SDCC this year, his work will be. Swing by the DC Booth to find new merch from his latest work, PEARL.
even though I will not be there @DCComics will have these at the #sdcc booth along with PEARL temporary tattoos & all kinds of Superman related fun stuff. thank you EVERYONE who has already preordered the all new @scarletrue and our all new creation PEARL. https://t.co/cXmnRSXipg

— BRIAN MICHAEL BENDIS (@BRIANMBENDIS) July 12, 2018
One of our favorite artists, Scott C., is having a Pin Party at Gallery Nucleus' Booth #2643, and he's bringing this little troublemaker with him. Just don't get it wet.
Grem Pins! I'll have these little guys at my table… booth 2643 at #sdcc next week! @gallerynucleus https://t.co/icbcIOkAQh pic.twitter.com/1iFpuMX5gY

— Scott C. (@scottlava) July 12, 2018
Visit Action Lab's Booth #2006 to visit with Eric Van Elslande and chat with him about his SDCC exclusive variant cover for Midnight Tiger Stronger he'll have available.
The cat is out of the bag, I'll be attending #SDCC2018. Come meet me at the #ActionLab booth and enjoy our #SDCC exclusive issue 1 variant cover of #MidnightTigerStronger#MidnightTiger #bethetiger #getstronger #indiecomics #makecomics #sandiegocomiccon pic.twitter.com/p7pEUzEiEH

— Eric Van Elslande (@E_V4NE) July 12, 2018
Josh Warner delighted his Twitter followers with a peek at the new books he's bringing to SDCC Table #L-09 in Small Press.
New books for #SDCC2018 at Small Press table L-09! #SDCCExclusives #ComicCon #comicbooks #indiecomics #cartoon pic.twitter.com/dSIzIOf9hn

— J. Lynn Warner (@josh_L_warner) July 12, 2018
Head over to Red Eye Art at Table #D-04 in the Exhibit Hall to get your hands on these SDCC exclusive limited edition Rugrats pins.
First Look! 🍼 Big People Chuckie & Tommy 🍼 Collab with @Sam_Grinberg 🎨 Limited Edition of 100! 🙌 Exclusive release for @Comic_Con ✨ Chuckie don't, it's a tie! That's the thing that keeps big people's heads from falling off!! pic.twitter.com/Fu2bF17w6h

— Midnight Dogs 🐾 (@MidnightDogs) July 12, 2018
Sachin Teng will also be a guest at Gallery Nucleus' Booth #2643, where she's bringing these SDCC exclusive Mahou Shojo Salty pin variants.
She's salty just like me lol Mahou Shojo Salty will be a limited rose gold color-way and a #sdcc exclusive with @gallerynucleus ! pic.twitter.com/JwfINKYFw1

— Tēng Tsa̍p-Chê (@SachinTeng) July 12, 2018
Warner Archive will once again be tweeting their location throughout SDCC, where you'll find some pretty cool prizes (usually DVDs).
Yep. Find us rolling around and get a prize.

— Warner Archive (@WarnerArchive) July 12, 2018
Team Coco announced via their Instagram Feed that the host of their nightly show broadcast live from SDCC will be comedian Moses Storm. Check out their post, where you can meet Storm as well as all the correspondents.
https://www.instagram.com/p/BlJa8ZbFCFu/
Writer/artist David Baron announced via Twitter he will be at the CBCS Booth #507 at SDCC on Thursday only, where he will be holding two signings. See his tweet below for his schedule.
Come see me THURSDAY ONLY at #SDCC2018 at the @CBCScomics booth #507. I'll have two Thursday signings, 10am-Noon & 4pm-6pm. Will have a special #SDCC print available as well and doing a limited amount of sketching. #STAINED #BATMAN #BLOODSHOT pic.twitter.com/UvrojB7K18

— David Baron has a #Kickstarter (@DavidBaronCMX) July 12, 2018
Design by Hümans teased their Twitter followers with some of the awesome merch they're bringing to Booth #2913.
We can't wait to show you what we have in store for #SDCC2018! Here's a little sneak peak of some of the @StarWars designs we'll have available for purchase. #StarWars #SDCC pic.twitter.com/Rgmnar4FfI

— DesignByHümans (@DesignByHumans) July 12, 2018
If you're looking forward to Syfy's Z Nation panel on Thursday, July 19 from 5PM-5:50PM PT in the Indigo Ballroom, you'll be thrilled to see that Lydia Hearst and DJ Qualls have been added to the list of panelists who will be there.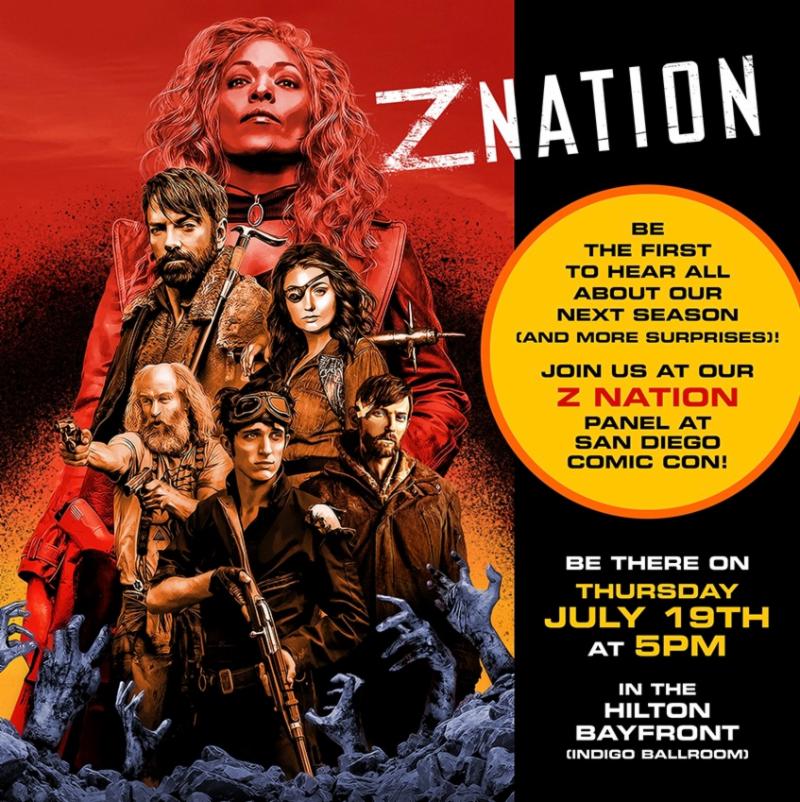 Also at Action Lab's Booth #2006 will be an SDCC exclusive sneak peek at the latest issue of Spencer and Locke signed by author David Pepose.
It's the #comics showdown of the century: SPENCER & LOCKE versus ROACH RILEY! @monkeys_robots has the latest SPENCER & LOCKE 2 #preview—don't miss the #ComicCon-exclusive sneak peek at #SDCC Booth 2006, signed by writer @Peposed! https://t.co/CAKc5PvC53 #sdcc2018 #sdccexclusive pic.twitter.com/cbn6EtmAsY

— Spencer & Locke (@SpencerAndLocke) July 13, 2018
Every Earper issued a collective gasp when IDW revealed via Instagram this year's Wynonna Earp poster to be given away during SDCC.
https://www.instagram.com/p/BlJtcCVHf62/
Anything we missed? Let us know in the comments, drop us a line, or tweet us at @SD_Comic_Con.