Don't panic. Those wise words made famous by Douglas Adams are certainly sage advice for any SDCC attendee. You don't panic, though; you read Under the Tents for all the best SDCC news. This edition has announcements from Scott C., Monkey Minion Press, Symbiote Studios, and a lot more.
Here's a look at what you might have missed:
Cosplayer Ivy Doomkitty will be at Booth #4016 Thursday through Sunday of SDCC, where you can stop by and ask her to sign something for you.
Ill be signing all 4 days at SDCC @Comic_Con next week! Seeya atbooth 4016 with @OodonPop pic.twitter.com/FEQwIK3wAX

— ❄️☃️Ivy Doomkitty☃️❄️ (@IvyDoomkitty) July 11, 2018
Team APS is offering one lucky follower the opportunity to win an Ultimate Comic-Con Prize Pack. Click here for the chance to win items such as:

1 SDCC 2018 Exclusive Game Mat
1 Yu-Gi-Oh! Starter Deck: Codebreaker
2 Battles of Legend: Relentless Revenge Booster Packs
2 Dark Saviors Booster Packs

You can meet Karan Ashley, best known as Aisha Campbell (the second Yellow Ranger), at Power Morphicon's Booth #A-09 at SDCC this year. See her flyer below for details on when she'll be available.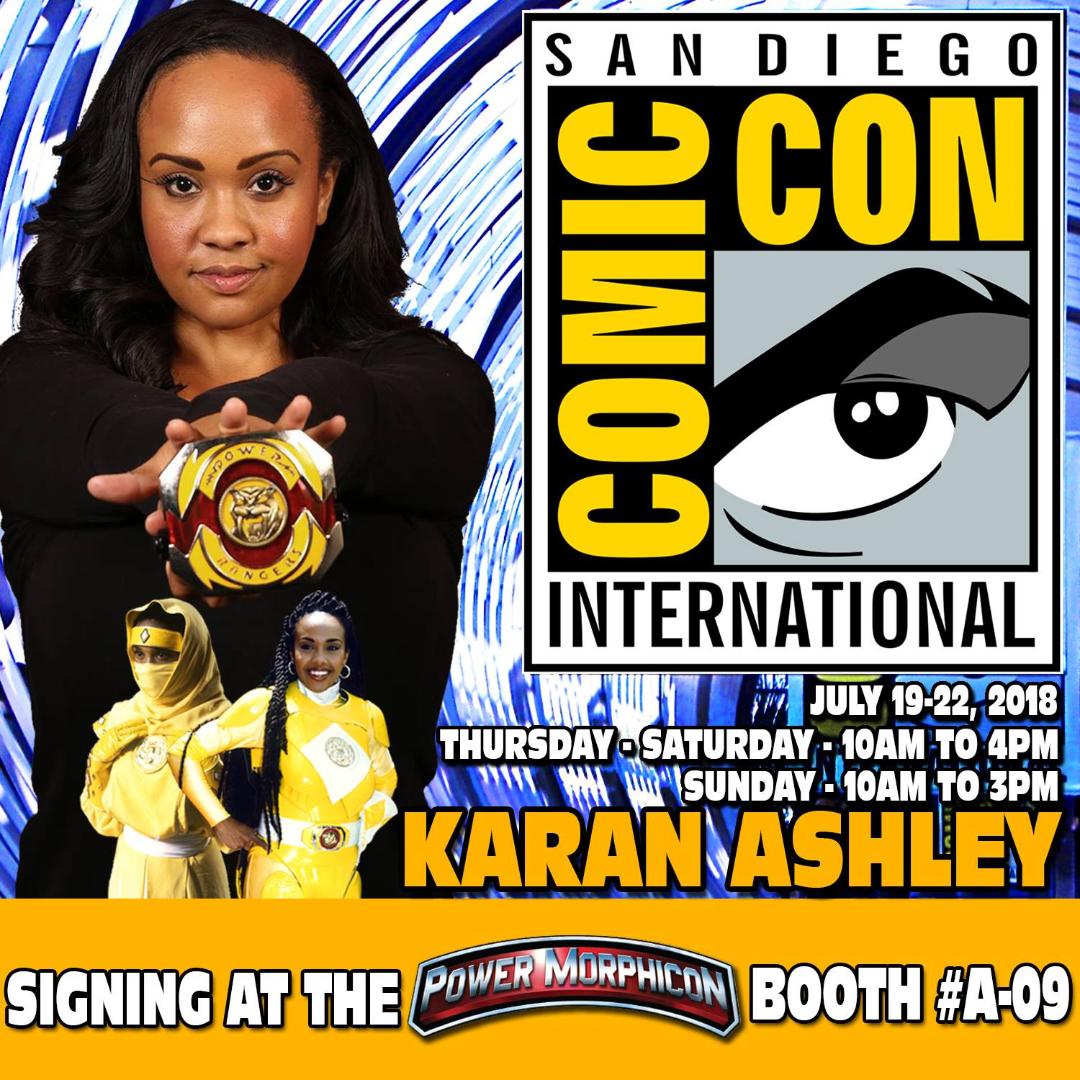 Mark Brooks announced via Facebook and Twitter that he will have some of his Amazing Spider-Man #1 (cover E) variant that was previously sold out available at Booth #4505 along with the D variant cover.
My secret Amazing Spider-man #1 covers revealed today with the release of the issue. We'll have them both at #SDCC as exclusives. #Spiderman #marvel #MarkBrooks #Maryjane #Peterparker #Comics pic.twitter.com/6O3whe6dBe

— The Dread pirate Mark Brooks (@MarkBrooksArt) July 11, 2018
Not only will comic book illustrator be signing at Action Lab's and IDW's booths, he will also have this exclusive print for Twelve Devils Dancing available at the Action Lab's Booth #2006. He's also offering free head sketches to the first 10 fans (or so) in line.
https://www.instagram.com/p/BlGfJGkn3G8/
Artist Scott C. is bringing quite a bit of work to Gallery Nucleus' Booth #2643 at SDCC this year. In order to see everything he's bringing, such as the "Infinity" print below, you can read through our previous Under the Tents, or he's consolidated them very nicely in an announcement on his website.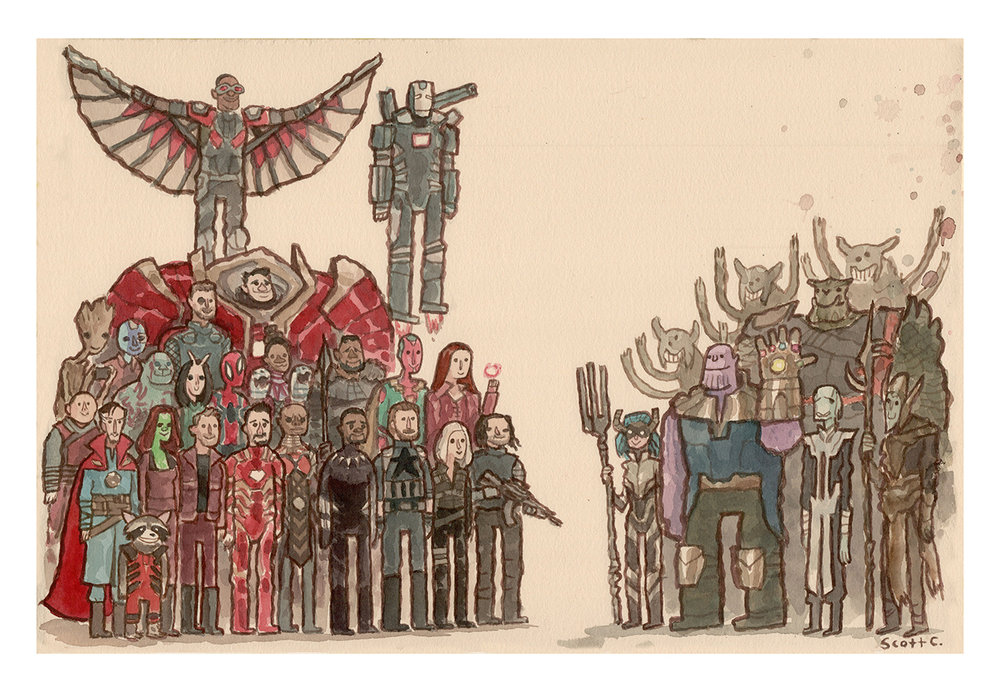 Fans of Todd James were happy to see this tweet from Chris Erb, announcing James' coloring book will drop a week early at BAIT, where James will be on hand on Friday, July 20 to meet with fans.
As a surprise for Comic Con fans, D&D is dropping @ToddJamesREAS coloring book at @BaitMeCom (a month early) for SDCC weekend only! Todd James will be hanging out on Friday, July 20th. Come ask him to color a few pages…or just sign your book. Either way. #DndSDCC #DnD #Bait pic.twitter.com/d9wMD9yzJh

— Chris Erb (@ChrisErb) July 11, 2018
Camilla d'Errico is being very generous in celebrating her 20th anniversary at Comic-Con. Not only will she include one of her brooches when you buy one of her 20 handbags, but she'll also throw in one of her "Lovers Eyes" pins.
Eye see you @comic_con 👁👁 I adore #loverseyes so I hand painted these with acrylic paint and I'm slipping them randomly into 5 #sdcc #conniversary bags!! 😍 Only 20 bags per day (each has a hand made brooch by @thecamillastore ) at #Sdcc2018 so swing by & grab one at Booth 4723 pic.twitter.com/0y6Gx7nG7K

— helmetgirl (@Helmetgirl) July 11, 2018
In a previous edition of Under the Tents, we reported on Elizabeth Bickford's SDCC giveaway contest. Since then, she has posted the full prize and sponsor details on her blog as well as a video explaining how to enter on her Instagram.

According to Nerdist, you can visit Mondo's Booth #435 for a first-look at their new game, Jurassic Park: The Chaos Gene during SDCC, where they will also be handing out patches featuring the four factions from the game (while supplies last).
Artist Val Hochberg tweeted some new Critical Role drawings she's bringing with her to Small Press Table #N-12.
I am also coming to #SDCC prepared with a full arsenal of cute #CriticalRole drawings! Last I counted I have at least 15 of them! Here's a little sneak peek! 🙂
Find me at Small Press Table N-12. Stop by early for the biggest selection because they are one-of-a-kind drawings! pic.twitter.com/0EdwYifmB6

— Valvalchu 💖 (@kickgirl) July 12, 2018
Make your way to Booth #1535, where you'll find Night Cake Press's assortment of pins, including four SDCC exclusives.
Here all the pins in the summer collection (some old favorites return revamped) along with the four SDCC exclusives which will be available starting Preview Night, July 18.

Any leftover exclusives stock will be put online after the show. #sdcc2018 pic.twitter.com/JNct4JOmCI

— Night Cake Press (@nightcakepress) July 12, 2018
Our good friend Dane Ault from Monkey Minion Press let his Instagram followers know that his SDCC 2018 postcards are here and will be at Booth #2007.
https://www.instagram.com/p/BlJUdlKn15U/
Symbiote Studios tweeted a look at this year's booth design at Booth #5636.
In case you are searching for our booth during #SDCC here is what it will look like. We are on the back wall near Funko and @super7store at 5636. pic.twitter.com/DmiqyecmwG

— Symbiote Studios® | Toy Manufacturer (@symbiotestudios) July 12, 2018
Anything we missed? Let us know in the comments, drop us a line, or tweet us at @SD_Comic_Con.