Every year seems to bring with it talk about expanding the San Diego Convention Center – and while the latest initiative might not be eligible to be on the ballot for 2018, it was recently determined that it is eligible to qualify for the ballot sometime in the future.
One of the best cases for such a project is that it continues to attract some huge names (including not only San Diego Comic-Con, but also a slew of medical conferences in 2018), which bring with them money, jobs, and a huge tourism boost to San Diego.
The San Diego Convention Center Corporation has posted their economic impact for Fiscal Year 2018 (July 1, 2017 – June 30, 2018) for conventions that the San Diego Convention Center hosted, generating $1.1 billion in total regional impact for the period.
Of the 133 events scheduled for FY 2018 – San Diego Comic-Con is by far the biggest performer, with a regional impact of $147.1 million alone (up $4 million from the FY 2017 forecast – though it's worth noting that because of how the fiscal year falls, the FY 2017 actually covers the 2016 convention, and the FY 2018 actually covers the 2017 convention).
The next biggest regional economic performer was the American Association for Clinical Chemistry, with $60.4 million in regional economic impact.
That $147.1 million is shy of the San Diego Workforce Partnership's $160,000 – $180,000 million economic impact estimation from November 2014, but it's still a huge boost for the city. It's also possible that this study isn't taking into account the few thousand people who flock to the city every year during the convention for other, offsite events, even without a Comic-Con badge.
Here's a look at the Top Economic Generators, from the FY 2018 results: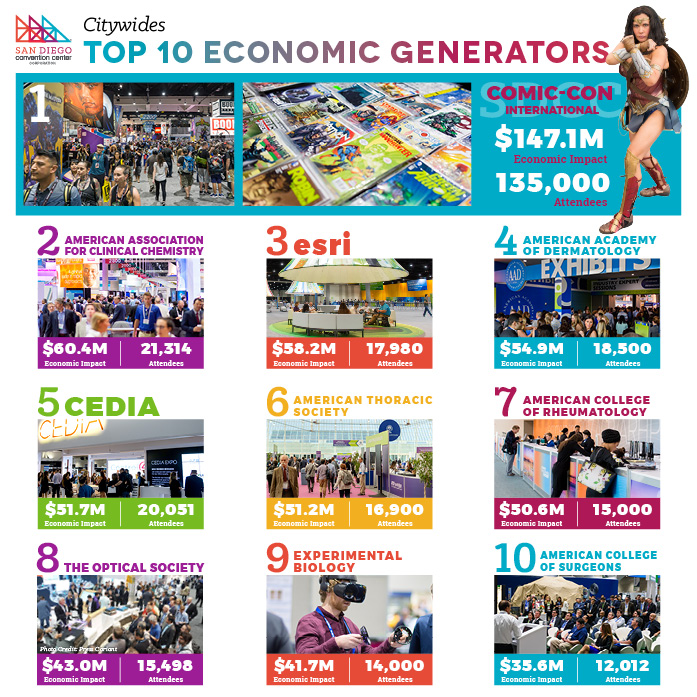 With SDCC's current contract with the San Diego Convention Center only set through 2021, and lots of recent setbacks in any expansion plan, findings like this one are important for helping to prove to San Diego at large that Comic-Con is worth fighting for.
You can read the full study on the San Diego Convention Center's site.
Are you surprised by any of this information? Let us know in the comments.