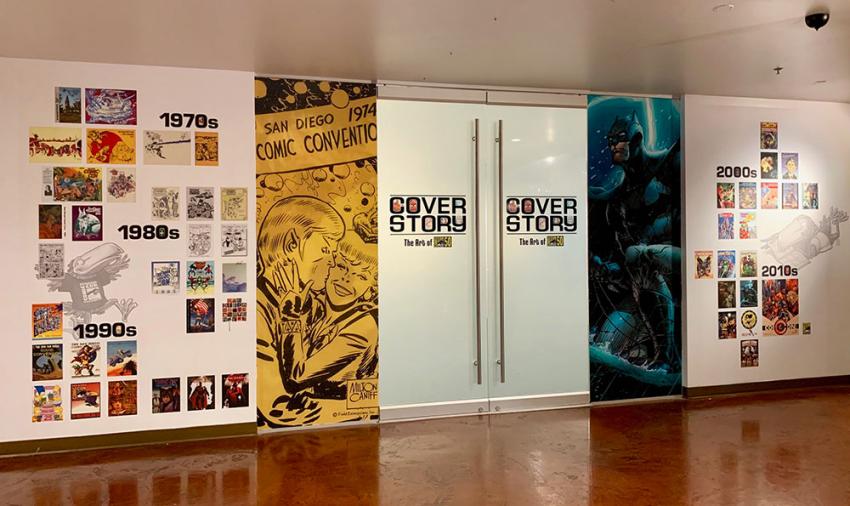 Charter members of the Comic-Con Museum got a taste of their first exhibition on March 6, with the opening reception of "Cover Story: The Art of Comic-Con 50," located at the museum's Balboa Park location. For those who couldn't make the opening night reception, you'll get plenty of additional chances, as the exhibit will be open on Saturday March 16 and Saturday March 23 from 10AM-4PM (with free admission). Additional select dates will run through August 4, 2019 and will (eventually) be posted on the museum's Facebook page.
The exhibition celebrates Comic-Con's five decades of producing not just their event, but also their Souvenir Book, given free each year to each attendee. Over the years the covers of the books have showcased celebrated and esteemed artists including Rick Geary, Jack Kirby, Bruce Timm, Babs Tarr, and 46 other acclaimed illustrators.
"Cover Story: The Art of Comic-Con 50" explores the creation of the souvenir book covers from inception to original art to the finished piece. In addition, Comic-Con International will be displaying previously "lost" art selections from the 1970s and 1980s. This collection will include artists and newspaper cartoonists from those decades, including Carl Barks and Marie Severin. It appears to be an expanded version of the "Art of Comic-Con" exhibition presented in 2015 at the San Diego Public Library.
Kids of all ages can enjoy creating their own Comic-Con Souvenir Book cover using a provided template. Select covers will be displayed at the museum during the show.
"Cover Story: The Art of Comic-Con 50" can be found at the Comic Con Museum, 2131 Pan American Plaza, Balboa Park, San Diego. You can find more information on the Toucan Blog.