The Masquerade is one of San Diego Comic-Con's most anticipated events, and for cosplayers hoping to be able to walk the stage in their finest, Comic-Con International today revealed details on the 45th Annual Masquerade. You can find the official rules and entry form on their site.
The event, to be held on Saturday, July 21 in Ballroom 20 at 8:30PM, draws a crowd of 3,900 attendees (with 2,000 more watching in Sails Pavilion and other rooms, which act as overflow). Just as in previous years, the Masquerade is free to participate in for anyone with a Saturday badge.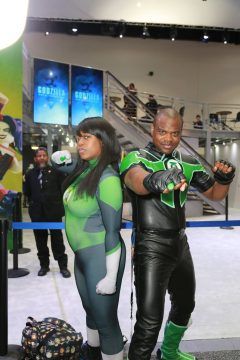 Contestants can enter as a single participant or in a group, and medallions will be given to the winners in the following categories:
Best In Show
Judges' Choice
Best Re-Creation
Best Original Design
Best Workmanship
Most Humorous

Most Beautiful
Best Presentation
Best Young Fan
Winners in the above categories will also receive a free 4-day badge to San Diego Comic-Con 2020 – which is a big prize in and of itself. In the event that a group wins, up to five memberships (up from four in 2017) will be given.
Frank And Son Collectible Show, of the City of Industry, California, "Your one-stop show for ALL your collectible needs" will take a break from their bi-weekly mini-cons to present to the entry their representatives deem the audience favorite a $1,000 cash prize, plus a very impressive trophy!
The David C. Copley Award for Most Innovative Costume: UCLA's David C. Copley Center for The Study of Costume Design will bestow on their favorite entry the UCLA/TFT Copley Center Design Award of a $1,000 gift card to Amazon.com, plus a copy of Hollywood Costume, (cover price $39.99) by Copley Center Director Deborah Nadoolman Landis, PhD.
Costumer's Guild West (CGW) will present a one-year membership to CGW, as well as a full scholarship and two night's hotel stay (valued at $500) to their weekend conference, Costume College®, held the last weekend in July at the Warner Center Marriott in Woodland Hills, CA, to the entry their representatives select as showing the most promise. Costume College provides educational lectures and workshops in every aspect of costuming.
DC Comics representatives will once again present a special limited edition DC Collectibles statuette from their ShopDCEntertainment.com website store to the finest costumed entry portraying a DC Comics character or characters from the DC Universe of publications, movies, and television shows.
The Will Eisner Spirit of Storytelling Award reminds us that the costume and the story are often equally important. Costumes can inspire the story or the story can dictate the costume, and this award commemorates Will Eisner's contributions to the comics medium and his imaginative storytelling skills as exemplified by his iconic character, The Spirit, and his many graphic novels. 2017 marked the centennial of Will Eisner's birth and this award is bestowed by Will Eisner Studios on the entry they deem best showcases that all-important "art of storytelling" in
their presentation. At its peak, The Spirit Sunday comic newspaper section reached 5 million readers and was known for its imaginative stories, creative artwork, and eye-catching splash pages. The winning entrant act will receive $250 in Amazon gift cards plus 5 limited-edition Will Eisner giclée lithographs.
The Art Directors Guild (IATSE Local 800). The ADG, which has presented panels at Comic-Con for a dozen years, has among its members art directors, graphic artists, illustrators, matte artists, model makers, production designers, scenic artists, set designers and title artists of the motion picture, theater, and TV industries, is presenting two awards: The Art Directors Guild Cosplay Award for Original Concept Design, presented to the entry most exemplifying a wholly original concept. The "Idea" is paramount in this category, the implementation and craftwork
are secondary to the original notion; and, The Art Directors Guild Cosplay Award for Best Graphic Design, presented to the entry whose printed, painted or sculpted graphics are superior. Each award comes with a $500 prize.
 The Motion Picture Costumers, Local 705 is pleased to once again present TWO awards: "Best Technical Costume Construction", and "Costumer of Tomorrow". Both awards will be a beautiful custom trophy and a generous prize sure to delight any Cosplayer. Their technical awards are for entries whose skillful execution, creativity, and attention to detail most highlights an imaginative adaptation of the source or a custom design. Local 705 is the Labor Union supplying movie and TV studio costume departments, costume rental houses, and made-toorder costume houses with artists and craftsmen, and are part of the International Alliance of Theatrical Stage Employees, AFL-CIO.
Sideshow: Do you think your costume entry into this year's contest will elicit lots of oooh's and ahhhh's from the crowd? If that's the case, you'll be in the running to win a $350 gift card from Sideshow for use on their web site full of great collectibles! Bring your best costume creation to Comic-Con's Masquerade contest and you might walk (or strut) away with Sideshow's generously donated prize.
You can find more information about the Masquerade on Comic-Con International's website.
What do you think about the new rules? Let us know in the comments.