It's no secret that tickets to San Diego Comic-Con are hard to get. There are hurdles to jump and luck to conjure up and in the end, only thousands out of the millions who attempt for badges are successful. For artists and creators, that number is even smaller, and the hurdles even higher. To many, a booth on the exhibit floor is just a dream with the waiting list extending literally years, but one non-profit organization has been helping to make artists' dreams come true.
Since 2014, the Kevin Workman Foundation has been offering a scholarship of sorts, granting one talented individual each year the opportunity of a lifetime to showcase, promote, and sell their work at San Diego Comic-Con. Recipients get an entire booth to themselves, plus a myriad of opportunities for networking with professionals, peers, and fans.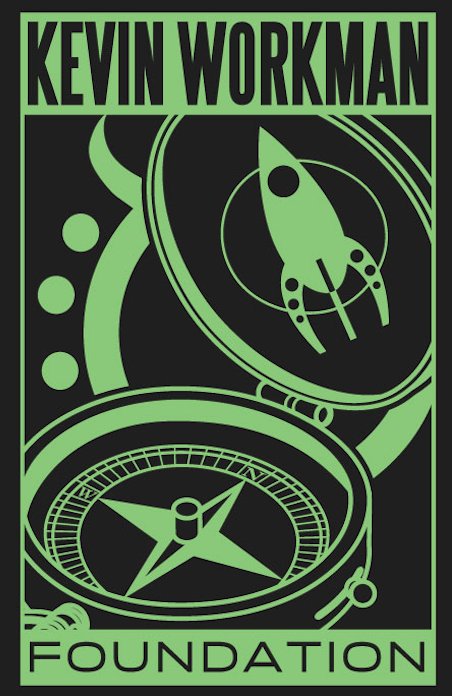 A long-time patron of the pop culture arts, Kevin Workman was a force of nature in the local San Diego arts scene. His passion and enthusiasm helped him build a following at his "X-Sanguin" booth at San Diego Comic-Con, where emerging artists were as welcome as established ones. You may not have known Kevin, but you have likely enjoyed the fruits of his labor. Kevin's annual after-hours costume party was the precursor to the zombie marches, the street gatherings and the Mardi Gras atmosphere enjoyed around the Gaslamp today. Drawing together people from all corners of fandom, ever the host with the most.
The Kevin Workman Foundation has sought to sustain Kevin's zeal for the arts with their grass-roots methods, including local comic book educational programs like a local K-12 campus in East Village which focuses on teaching homeless children.
"There's nothing quite like Comic-Con in the world. The sheer size, scale, and history of the event is a treasure to communities of fans in San Diego and around the world," Paul Wynns, president and co-founder of the Kevin Workman Foundation, said. "It's a place to make connections, be inspired, and find your 'tribe' — those fellow nerds who share your passion."
Wynns recognizes that the process of awarding the scholarship can be arduous for the artist and for the Foundation. It starts with the recruitment of applicants followed by portfolio reviews by industry professionals and ending with long-form interviews.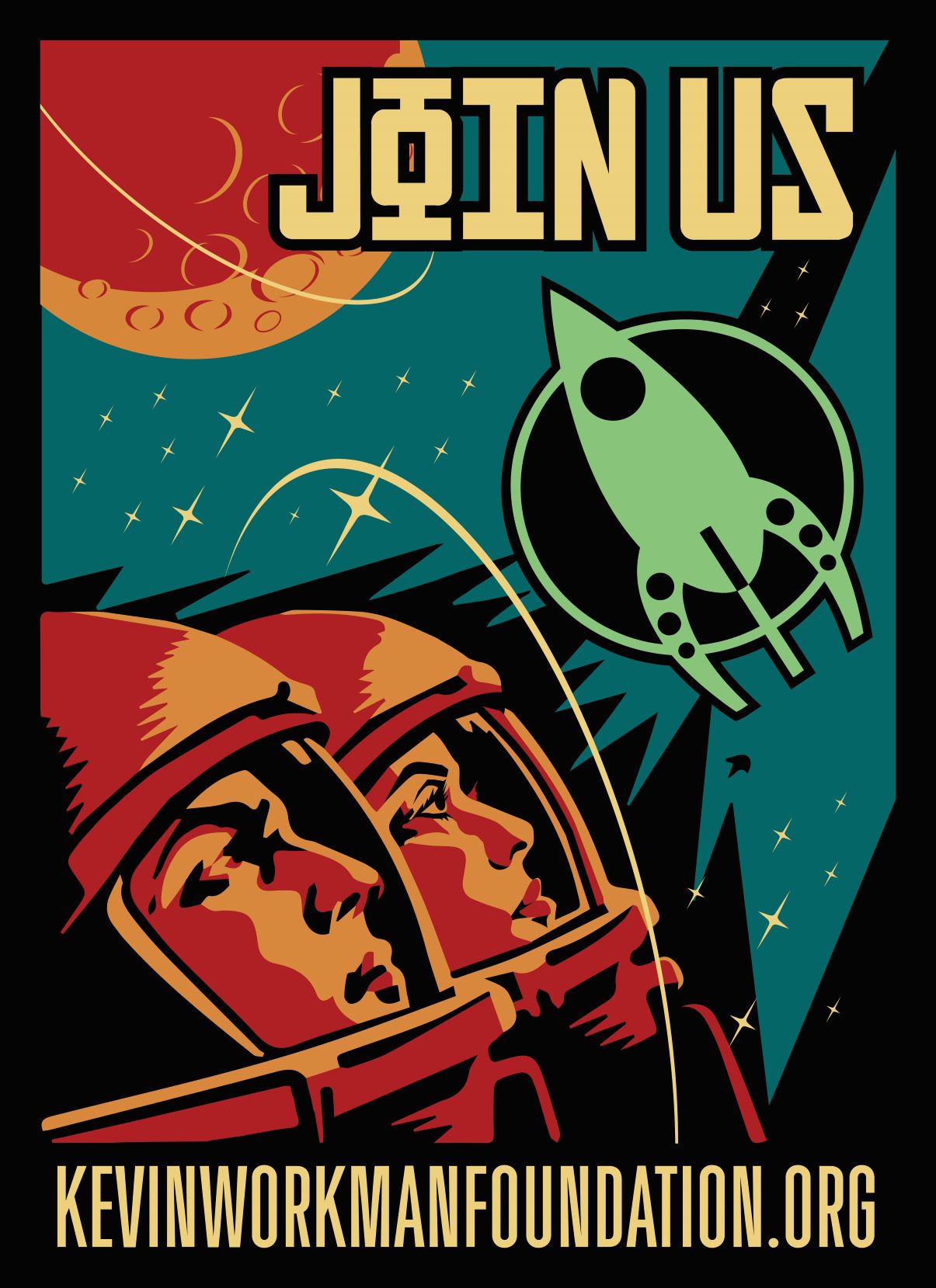 "We select one or more artist applicants or nominees that best fit the Foundation's mission to inspire or advance the fields of popular arts, videography, photography, game design, writing, and social media," Wynns said. "Our sponsored artists are fully responsible for booth setup, marketing, fan outreach, and sales during Con. Afterward, they're typically exhausted, and look as if they've run a marathon. In many ways, they have. Sponsorship is a life-changing event for our artists. Many go on to forge relationships with major animation and collectible studios due to connections made at con."
In February, Peter Santa-Maria was announced as their 2019 recipient. Santa-Maria is a teacher by day and printmaker by night, but a creative soul 24-hours a day.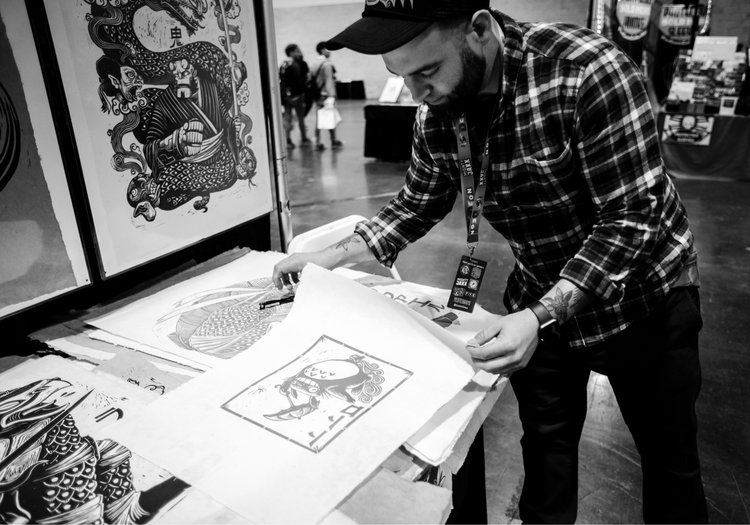 "I teach all week and all day on Tuesday. I actually teach a few sections of printmaking. My teaching philosophy has always been based around developing independence," Santa-Maria said. "I am extremely hands on when the semester begins and try to impart an understanding of the medium. As the semester goes on, I am able to work alongside my students as a studio atmosphere develops. At this point, I taper off my involvement and call on the best students to help the ones who are struggling and only step in when that doesn't work or if I am introducing a new concept or technique."
Santa-Maria specializes in linoleum block printing — a unique art form that caught the eye of a KWF member at Designer-Con in Anaheim in 2018.
"I draw a design on a piece of material called linoleum, which has a leathery feel," Santa-Maria said. "The image has to be drawn in reverse because after I carve out the design, apply the ink and press the paper onto it, it prints a mirror image. It's a lot like making a stamp."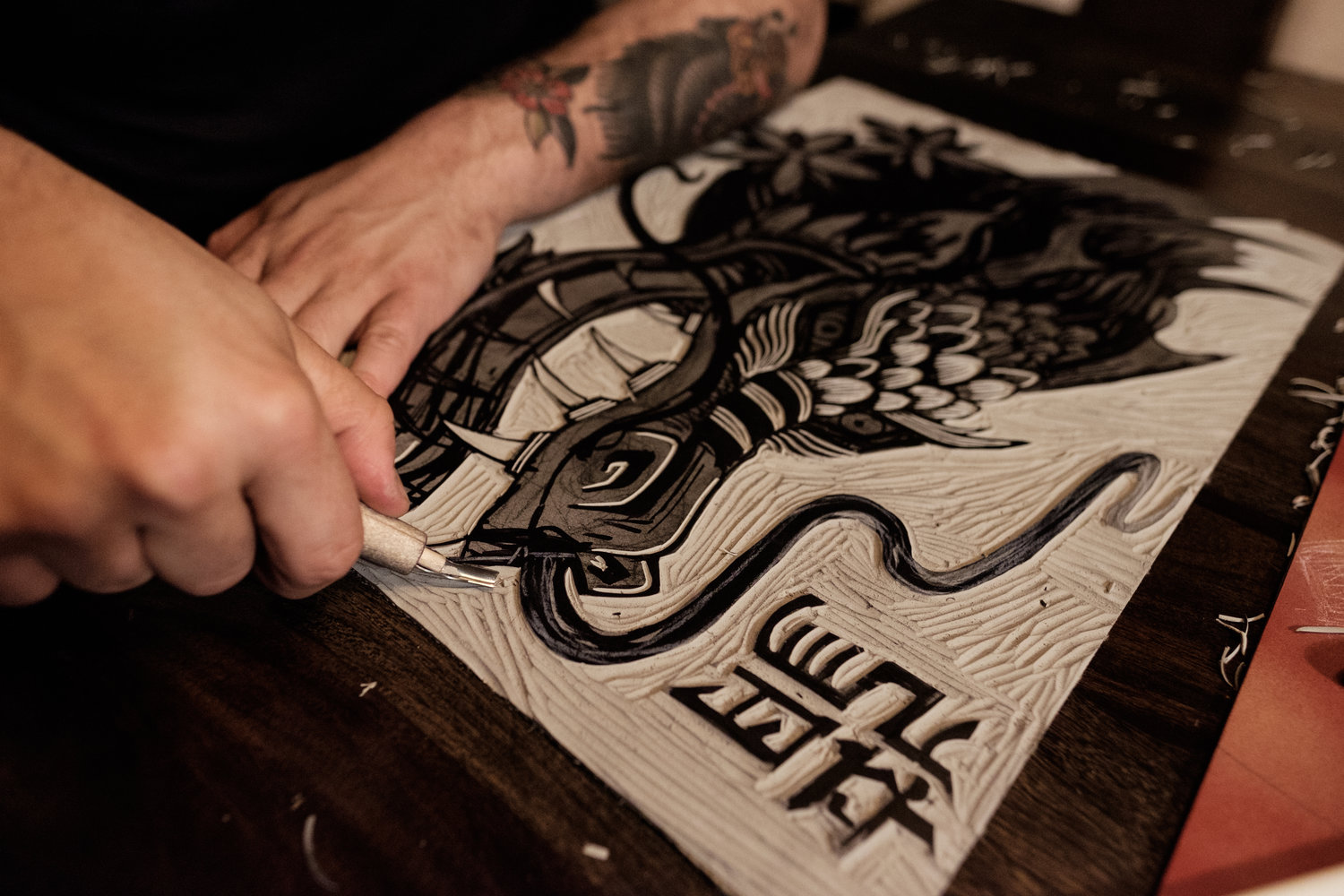 Santa-Maria melds modern pop culture and traditional motifs across a wide variety of subject matters, from traditional Japanese koi fish to Disney's The Little Mermaid.
"I look very closely at the artwork of Mike Mignola, Frank Miller, Scott Morse, Moebius, and Jack Kirby, as well as a lot of ancient Thai and Japanese artwork," Santa-Maria said. "That is where the majority of my design is derived. The medium of printmaking has a storied tradition when it comes to design aesthetic as well. I am always looking at contemporary printmakers online to see how they are pushing the medium and where I could in turn push harder to emphasize it."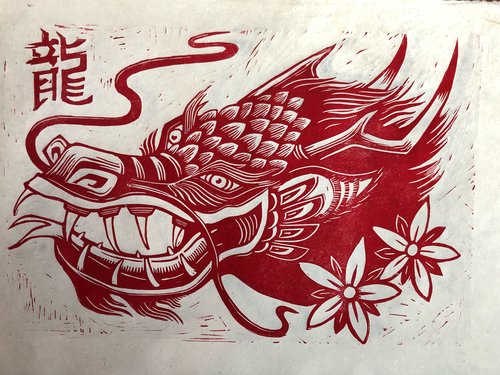 Santa-Maria isn't a complete stranger to SDCC, having attended in the past, as well as exhibiting in Small Press for a Miami based arts magazine. However, this year will be the first time Santa-Maria is exhibiting his own work.
"I just want to let people know I am here and working hard," Santa-Maria said. "With San Diego being a hub for literally everything, I am just crossing my fingers that some new connections will be made and that I'll be able to contribute on more and bigger projects. I have a blast doing what I do. People have fun discovering the medium I work in, which is not that common. So I'd be ecstatic to keep sharing it and having fun doing so!"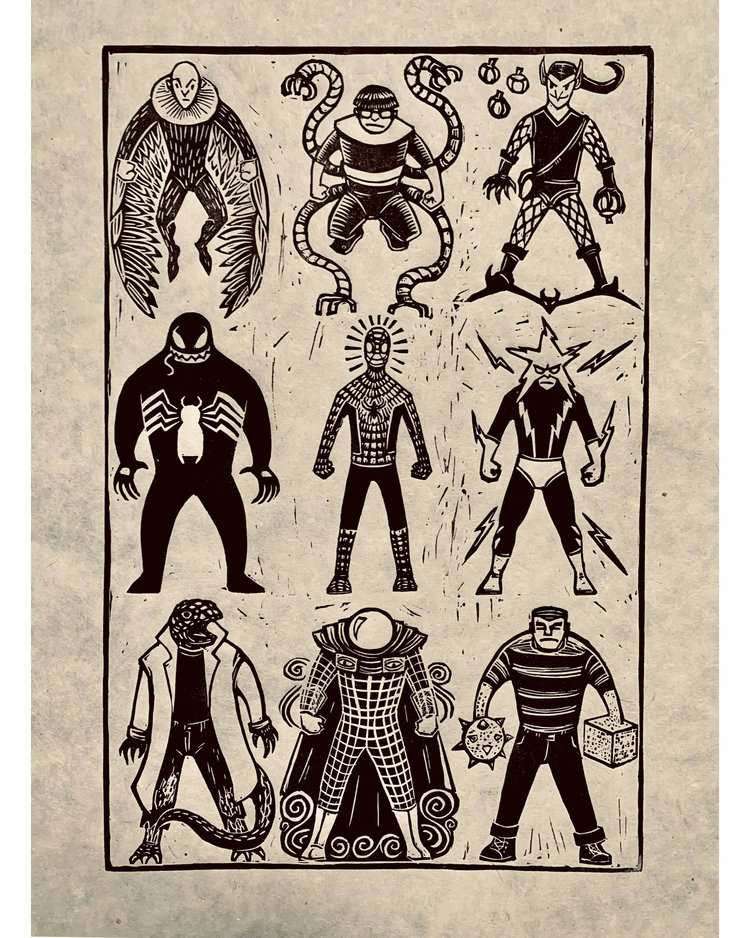 According to the KWF, the craftsmanship and delightful nature of Santa-Maria's prints are only a part of the reason why he was selected for this scholarship.
"Whether he's working as a schoolteacher by day or on his art at night, Santa-Maria is in humble service to his creative calling. And we at KWF wanted to honor that commitment and share it with the Comic-Con community," Wynns said.
For Santa-Maria, returning to San Diego Comic-Con as an exhibitor fulfills a decade old promise.
"I told myself over 10 years ago that I would never return to Comic Con until I had the work that was respectful of the culture and up to the standard that I would expect to see as an attendee," Santa-Maria said. "The Kevin Workman Foundation believes I am there and I have never been more proud of the hard work I have put in to these pieces. Now my goal is to make them proud for selecting me."
You can find more about the Kevin Workman Foundation and their efforts to inspire communities and individuals on their website. You can follow Peter Santa-Maria as he prepares for San Diego Comic-Con on Instagram.