It hardly seems fair to be planning for July when WonderCon is still a week away, yet here we are, less than 120 days from the start of San Diego Comic-Con 2019 and news just keeps filtering in. Today we have announcements from Symbiote Studios, cosmic teases from the Geeky Hooker, promises from Walter Simonson, and so much more.
Let's take a look at what you might have missed:
Comic book artist and Eisner Hall of Fame inductee Jim Steranko revealed that he'll be an invited guest at Comic-Con this year.
Hey, Scott! Have what I hope is some good news for you—I've been officially invited to SDCC this year and have accepted their gracious invitation! So, am counting on you being there and maybe helping me keep the mob under control! Possible?

— Jim Steranko (@iamsteranko) March 11, 2019
Another year, another San Diego @Comic_Con! We'll be in our usual spot, standing on chairs watching the @WarnerBrosEnt stars enter the hall from their not so secret entrance. Come by and say hi! https://t.co/GFKGOl07Ml #SDCC2019 #SDCC50 pic.twitter.com/Is4zN9CUn5

— Monster Elementary (@MonsterElem) March 11, 2019
J. Michael Straczynski has confirmed that Harper Collins will indeed have copies of his new book, Becoming Superman: My Journey From Poverty to Hollywood, a few days before it's July 23rd release date.
Yes, a bookseller will have special advance copies for sale at SDCC, and there will be a book and convention tour which is still being finalized. https://t.co/qQZhzyqnPj

— J. Michael Straczynski (@straczynski) March 13, 2019
We had to read between the lines to decode this one, but it looks like Mouse Guard creator David Petersen and Strangers in Paradise creator Terry Moore will both be at Comic-Con. David will be bringing his newest sketchbook. Isn't it fun to know that we're not the one ones already planning  what we're going to buy?
https://twitter.com/TerryMooreArt/status/1106745713101361152
https://twitter.com/TerryMooreArt/status/1106951976418533376
That noise you heard was the collective "awwwwww" when we all got a look at this new Geeky Hooker piece, Captain Marvel and Goose. These pieces aren't for sale, but they will be available to find at San Diego Comic-Con. You'll want to follow her on Twitter for all the details.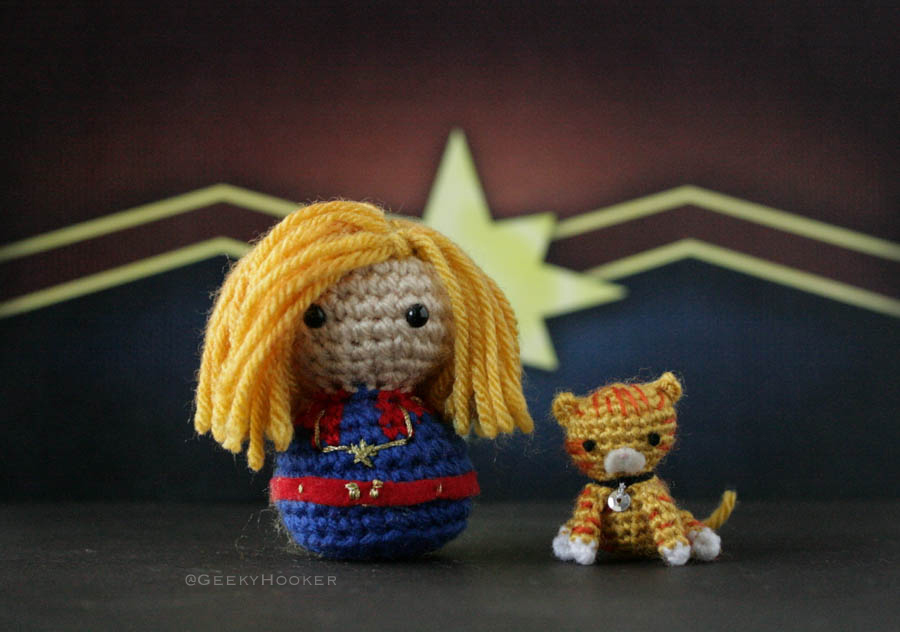 You'll be able to catch artist, writer, and bellydancer (!) Jessica Chrysler this year at SDCC. Presumably one of those talents won't be on display but you never know, it is SDCC, after all.
Next week is @WonderCon and I can't wait to share with everyone my new stories and artwork! I'll be at Artists' Alley booth C-15. And if you're lucky enough to attend SDCC 2019 you can find me there too: https://t.co/qZcx1aOlbk #wondercon2019 #sandiegocomiccon #artistsontwitter pic.twitter.com/LUHOwEUcBW

— Jess Chrysler (@jesschrysler) March 21, 2019
Symbiote Studios also has clever and creative exclusives, and here is an itsy bitsy preview of one of them. They will also have a special collaboration up their sleeve. Todd? A land? Gee, that sounds familiar…
#SDCC Exclusive first tease. FYI we will have great exclusives this year. Time to get rickety wrecked. We also brought in a tag team partner named Todd. True fact. He has his own land. pic.twitter.com/Wjcs0tDhsK

— Symbiote Studios® | Toy Manufacturer (@symbiotestudios) March 19, 2019
Comic creator Val Hochberg as a full convention schedule, and we are thankful that SDCC is on it.
omg i wish so bad!!! *sobs forever* 😭

I'll be at WonderCon, Phoenix Fan Fusion, Denver Pop Culture Con, and San Diego Comic-Con tho!

— Valvalchu 💖 (@kickgirl) March 19, 2019
This good news/bad news Tweet is brought to you by GeekCalligraphy, who announces that their work will be on display at the San Diego Comic-Con art show. We're happy the snafu got fixed and they will be able to participate.
Just received a good news, bad news email.

Good news, your business will be showing in the @Comic_Con #SDCC2019 Art Show. Bad news is that you mistyped credit card information on your application, so it didn't process.

Thankfully it's the sort of bad news that can be fixed.

— T Ash (@crewgrrl) March 19, 2019
So I should have announced this months ago when I recieved the acceptance email 😅. Well better late then never, I'm happy to announce I'll be tabling in the Artist Alley at SDCC 2019, and I am beyond excited 😁!#sdcc #sdcc2019 #sandiego #lenzations #illustration #artistalley pic.twitter.com/yaWmDSiHOi

— Lenny Romero (@Lenzations) March 20, 2019
Though it has yet to be officially announced, creator Walter Simonson has shown a bit of his new Ragnarok: Twilight of the Gods artwork, and promised we'll see issue #1 at SDCC. We wouldn't say no to an SDCC exclusive cover, if you ask us.
Skoll and Hati devouring the Moon and the Sun during Ragnarök, the Twilight of the Gods, from the Norse myths.

Inks. Pen and India ink. 20.4 x 15.9. 2019. pic.twitter.com/hYsYqjCR5x

— Walter Simonson (@WalterSimonson) March 18, 2019
While showing off some art for other conventions, Image and Dark Horse comic artist Andrew MacLean dropped a little nugget of information; he'll be attending his first San Diego Comic-Con this year. We'll be on the lookout for him to open his commission spots. And if you haven't already, check out his Head Lopper book from Image, it's stellar!
https://twitter.com/Andrew_MacLean/status/1103012464654987264
Although he can't confirm any SyFy Nightbreed announcements, writer and director Josh Stolberg will be at SDCC this year.
Thank you, Stephen. My finger is better and I look forward to seeing you at #SDCC. Although not sure if there will be any Nightbreed news.

— Josh Stolberg (@joshstolberg) March 19, 2019
If you were wondering where exactly to bring Camilla d'Ericco her chai latte, she has posted her booth location as #4723.
18-21 @sdcc_2019 Booth 4723
💓Pasadena LightBox Expo September 6-8@lightboxexpo
❣Saskatchewan Entertainment Expo September 14-15 @saskexpo
🧡NYCC October 3-6 @newyorkcomiccon
–
–#totoro #miyazaki #myneighbortotoro #anime #rainbowart #itssofluffy #emeraldcitycomiccon #eccc pic.twitter.com/0VC4bDbM4e

— helmetgirl (@Helmetgirl) March 9, 2019
Skull Girls creators have announced that San Diego Comic-Con is on their regular summer convention tour this year. Let's hope they bring that book of commissions they were working on!
Some I'm still signing up for / seeing if I can make it in, but here are the ones I generally regularly attend / have tables for:
Wonder Con
Anime Expo
San Diego Comic Con
I will probably have a table at Designer Con as well, I think

— o_8 Alex Ahad (@o___8) March 12, 2019
Artist Amy Chu is busy busy busy (have you seen all the comics she's on right now?) but will make time for SDCC in July.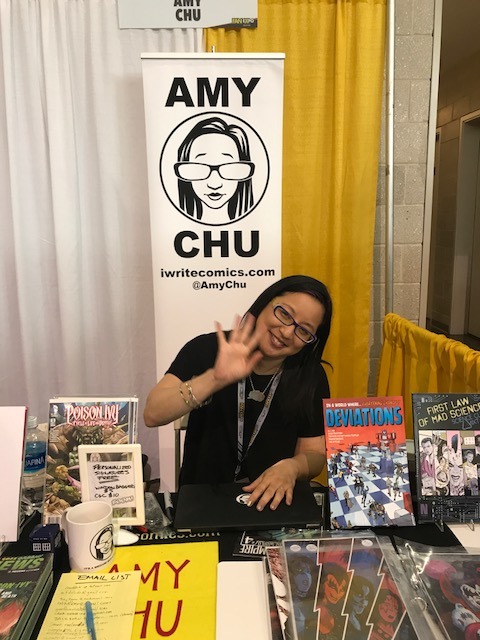 Anything we missed? Let us know in the comments, drop us a line, or tweet us at @SD_Comic_Con.