Stop checking your email for hotel confirmations – that doesn't start until tomorrow. Until then, we have a great Under the Tents issue to tide you over with some SDCC news from Zachary Levi on the future of NerdHQ, Felicia Day, commission openings, and a lot more.
Here's a look at what you might have missed:
Many of us have missed Zachary Levi's NerdHQ over the past two years. Sadly, it looks like Levi's charity event benefiting Operation Smile will not be returning to SDCC for the foreseeable future. But it may yet find a home somewhere else — Austin, perhaps? #IWantMyNerdHQ
I'm not typically one to use the word "never", but #NerdHQ will most likely never be in San Diego again. That said, I'm very much looking forward to bringing it to many other awesome cities and markets around the world if I can make it happen. 🙏 https://t.co/kdjytMbSkV

— Zachary Levi (@ZacharyLevi) March 26, 2019
Call up your ride-or-die buddy. Supernatural superfan collective Supernatural Wiki is hard at work planning this year's Wayward Cocktails party for SDCC.
Definitely. Wayward Cocktails planning underway for both!

— TheWinchestersWiki (@SuperWiki) March 25, 2019
In more sad news, SDCC mainstay Felicia Day tweeted that she may not have a reason to go to SDCC this year. Of course, it's still early, so nothing is definite yet. But do you actually need a reason to go to SDCC?
There's a real possibility I won't have a reason to go to #SDCC this year and I'm at once kind of excited and incredibly sad. We will seeeeee! pic.twitter.com/MlQvtn96sn

— Felicia Day🇺🇸 (@feliciaday) April 2, 2019
Enough bad news. Our good friend Patrick Ballesteros showed off an RBG commission from WonderCon on his Twitter feed, in which he announced he'll be opening his SDCC commissions later this month.
A little RBG commission from @WonderCon last week requested by a fellow geek in the law field. Always cool learning about the people who follow my art, it's so interesting! Also, keep a lookout as I will be opening commission spots for #SDCC later this month! pic.twitter.com/d6dm8u42fa

— Patrick Ballesteros SDCC DD-08 (@PatrickBallest) April 2, 2019
Speaking of Ballesteros, his mini originals were a hit at WonderCon this year, so he plans to bring at least 100 of them to SDCC this year. While that may seem ambitious, Ballesteros's table in Artists' Alley (DD-08 this year) always draws a crowd (and often line management).
Have a "Jolli" good Monday!

Mini framed original from @emeraldcitycomiccon. Don't worry folks working on my next wave of minis as I type. I'll have at least 100 for #SDCC so stay tuned for sneak peeks!#minioriginals #patrickballesterosart #jollibee pic.twitter.com/OYKdPvngGT

— Patrick Ballesteros SDCC DD-08 (@PatrickBallest) April 8, 2019
Air, wind, water, fire….no problem I got this! The little bender may be all set for #SDCC2019 but I got a long way to go. I better get back to planning but just wanted to say thanks for all the suggestions and comments so far. You all gave me some good ones to think about👍🏽! pic.twitter.com/fdbHs7TXZM

— Patrick Ballesteros SDCC DD-08 (@PatrickBallest) April 9, 2019
The moose is once again loose at SDCC when Hanging Chad Entertainment brings two new comic issues to Small Press Table #L-09. Not only that, but you can join the Moose Mafia when you get a free button with any purchase at their table.
2 brand new comics for #ComicCon '19! AofMM issue 15 and our kid's book, Justice Squad, issue 2, featuring @BillBryanArt 's WATCHDOG!#SDCC #sdcc19 pic.twitter.com/fWzSrI7DMc

— J. Lynn Warner (@josh_L_warner) April 2, 2019
All Comic-Con-goers! Free button with any purchase at Small Press L-09! Comics! Prints! Original art! Action Plushes! #SDCC #sdcc2019 #ComicCon #indiecomic pic.twitter.com/pIdAZQyXvv

— J. Lynn Warner (@josh_L_warner) April 8, 2019
If you enjoy Sean Forney's Scarlet Huntress series, he'll have new Scarlet Huntress Cryptid Club buttons at Table #BB-05 in Artists' Alley.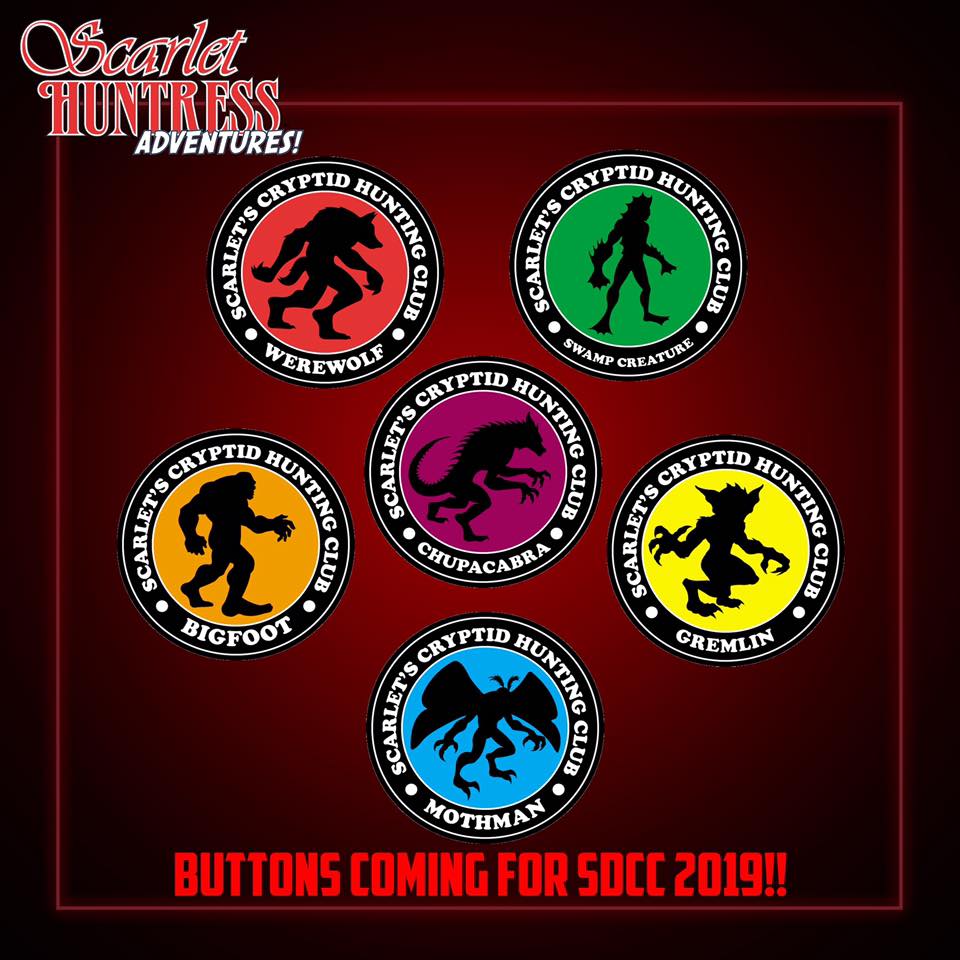 Or, if you'd rather have something a little more custom from Sean Forney, he's also opened his SDCC commissions. His prices start at $50 for a black and white 8.5 x 11 or blank sketch cover, $75 for a color 8.5 x 11 or blank sketch cover, and $100 for an 11 x 17 pencil sketch. Message Forney on Facebook if you'd like to order something.
New York Times bestselling author Rachel Caine announced via Twitter thread that SDCC is among her convention appearances this year.
I'm not, sadly. SDCC, DragonCon, SoonerCon, Thrillerfest & more though.

— Rachel Caine Books (@rachelcaine) March 31, 2019
Another New York Times bestseller coming back to SDCC is comics artist Gene Ha. Look for him in Artists' Alley.
Yes, I'll be at #SDCC @Comic_Con! #SDCC2019 Hope I see you there. If you see me in Artist Alley and I look busy, make some noise and wave your Kickstarter copy of Mae at me! https://t.co/ZLkDA48yPH pic.twitter.com/oq6z13kXdp

— Gene Ha (@GeneHa) April 3, 2019
Invader Zim artist Warren Wucinich showed his fans the convention exclusive cover for the Invader Zim Hardcover Volume 03 Deluxe Edition. Since it has a June release date, we're confident SDCC will be one of those conventions. Look for it at Oni Press's booth.
Thanks! I think it's out in June? It's a special edition and, I believe, only available at conventions.

— warren wucinich (@warrenwucinich) April 4, 2019
Good fandoms don't die when their show is in trouble; they just get louder (looking at all the Earpers and ClockBlockers out there). Team #SaveDaredevil wants to get all the fans of the late Netflix show together at SDCC with members of #FandomWithoutFear. They haven't published too many details yet, so we'll update with more as they come.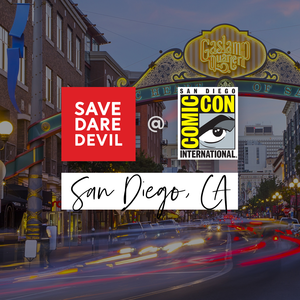 Another good friend of ours, Arnel Baluyot, better known as the Ninjabot, has some exciting SDCC news. First, he'll be opening his SDCC commission pre-orders on Monday, May 6. Spots are limited and go fast, so if you're interested, email him at hi@theninjabot.com as soon as his pre-orders open.
On May 6th at 12pm EST I will start taking Commission Pre-Orders for #SDCC. I will have limited spots, so please don't hesitate to reserve your spot by emailing me at hi@theninjabot.com

It has begun. #sdccmadness

— Arnel Baluyot (@theninjabot) April 11, 2019
When you pick up that commission (or anything else) from Ninjabot, you'll be taking it home in his fancy new bags with his new logo. That's a bag worth keeping.
Excited for my spiffy new bags with updated branding! Getting ready for #SDCC just got more exciting! pic.twitter.com/WeiEgcAGTw

— Arnel Baluyot (@theninjabot) April 9, 2019
Stranger Things/Star Wars writer Adam Christopher mentioned he will be at SDCC this year during a Twitter exchange. In what capacity still remains to be seen.
Bah! But yep, I'm at SDCC.

— Adam Christopher (@ghostfinder) April 10, 2019
Writer-illustrator Kaz Windness is thrilled that the art for Mother Goth Rhymes is finished and going to press. Teal cover and color illustration will be for her limited edition SDCC copies, so you'll want to pick one up at the con.
I just finished all the art for Mother Goth Rhymes!!! Teal cover and color illustration is for the #sdcc2019 limited edition copies. Demon babies made it onto the copyright page. Preorders at https://t.co/7V5MRVrgVp. We're going to press! 🖤Kaz #goth #book #mothergothrhymes pic.twitter.com/dNcNlqsbJ0

— Kaz BITSY BAT Windness (@KWindness) April 14, 2019
SHAZAM! I've got a new critter ready for SDCC! I saw Shazam last week and I was pleasantly surprised by how much I liked it! My thoughts on the movie and details on how to snag this little stinker here: https://t.co/JIHgkoWE7q pic.twitter.com/MIxApyes1a

— Geeky Hooker (@GeekyHooker) April 15, 2019
Anything you're really excited about? Anything we missed? Let us know in the comments, drop us a line, or tweet us at @SD_Comic_Con.