Every week from now until San Diego Comic-Con, we're celebrating you: our readers! So let's meet this week's Attendee of the Week: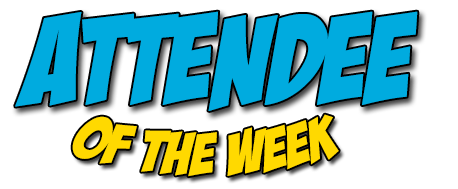 Kimberly Lujan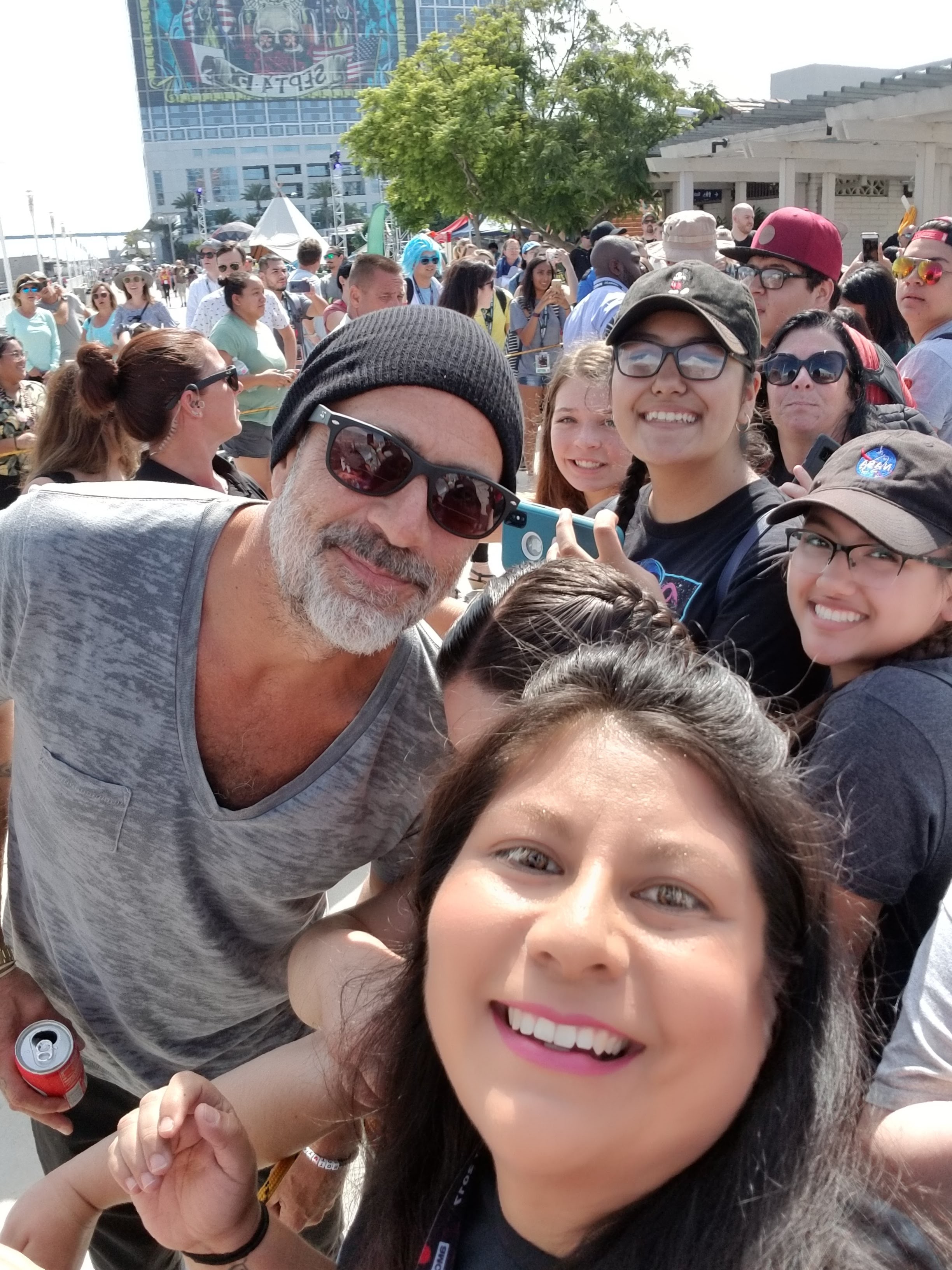 Where are you traveling from?
I am only about an hour north of San Diego. From Lake Elsinore, CA! We love taking the coaster down from Oceanside.
How many years have you been attending?
2019 marks my 5th consecutive year. The Comic Con Gods blessed me on my first attempt during Open Registration in 2015.
What was your favorite panel and why?
I live and breathe The Walking Dead! I look forward to every The Walking Dead panel for the next season's trailer premiere! I also love Fear the Walking Dead and all my TWD/FTWD family because that is exactly what we are…FAMILY!
What is your favorite exhibitor or artist booth and why?
Of course my #1 booth would be the AMC's booth. I am always eager to see what they will come up with. I love being able to interact and take pictures with the set displays and Walkers lurking all around. As far as my favorite artist? It would have to be Erik Arreaga. He's a very talented local artist who has been an exhibitor for 22 years! Everyone needs to check out his work, especially his Zombie Last Supper! AMAZING!
What's your favorite item you've ever taken home from the convention (swag, exclusive, merch, etc.)?
It would have to have been last year when my son Jake and I won Leeana Vamp's #VAMPHUNT! We truly had so much fun! I won a ton of free swag sponsored by Skybound, Hot Topic, Funko, T.U.K., Loungefly, and more! I went home with two HUGE bags of free stuff including the official The Walking Dead Lucille Bat! I can't wait for this year!
What was your favorite autograph session and why?
Except for my first year attending (2015), I have been blessed with being able to attend The Walking Dead signing 3 consecutive years and the Fear the Walking Dead signing for two consecutive years. But my favorite year attending each signing was last year because it was held upstairs in  a private room as opposed to the chaos from the the exhibit hall years prior. It was more intimate and less distracting!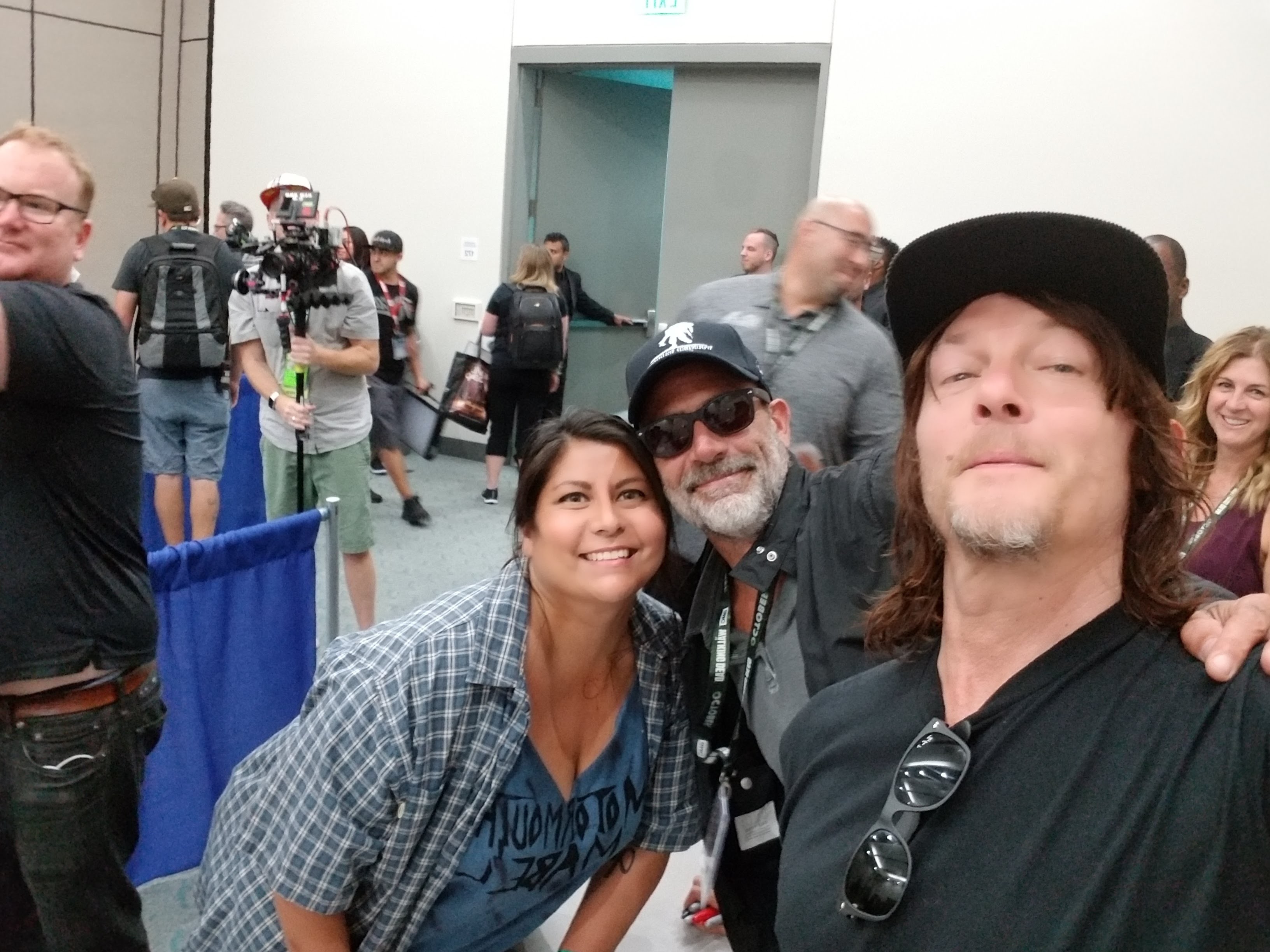 What is your favorite con snack?
To be completely honest, I am not a heavy snacker.  I mean I am heavy, lol, but I don't really snack throughout the day. You see, I figure snacking leads to thirst. Thirst leads to drinking. Drinking leads to having to pee. Having to constantly run to the restroom while waiting for Hall H wristbands is a Comic-Con attendee's worst nightmare! But if I had to choose a snack…BEEF JERKY!
Tell us about your most memorable celebrity encounter?
Beside meeting The Walking Dead / Fear the Walking Dead cast several times, my most memorable celebrity encounter was also my most embarrassing one. Ready? Here it goes! In 2016, I was headed back to Hall H line for my Thursday overnight accommodations for Friday's panels. We exit our Uber and notice a crowd taking pictures with a couple of celebrities. I right away recognized Liam Cunningham (Ser Davos) from Game of Thrones. We take our picture. I move on to the next celebrity and take a picture with him as well. They were both very gracious and patient with all their fans but had to leave soon after. As my son and I were heading towards Hall H line, I was obviously fangirling over having met Ser Davos! I then proceed to tell my son that I got a picture with the other guy, that I recognized him from somewhere but couldn't place it. My son responded, "Really, mom? You seriously didn't know who he was? Bran mom! Brandon Stark? Game of Thrones? Ugh!" Well, the last time I saw Bran he was still little Bran! Remember he skipped season 5.
Yeah…I have a picture with Isaac Hempstead-Wright not knowing it was Isaac Hempstead- Wright but I am ALL SMILES and now I will never forget it!
What is (or was) your favorite offsite and why?
It is always cool to see what AMC's Deadquarters has in store for us every year! Last year's slide was so much fun! That and ConanCon!
What is your favorite restaurant in downtown San Diego?
With the crowds and SDCC pricing, I try to steer clear of restaurants during the con but since we are there for the full week, we make sure we hit Hodad's and Bub's at the Ballpark before the chaos.
What is your favorite Comic-Con memory/moment?
Beside my previous stated Game of Thrones fiasco from question #9, it would have to be all the people that I have met and are now part of my extended fandom family! We keep in touch and help each other out because that is exactly what family does.
Do you have any advice on how for a first time attendee?
PATIENCE!! Know that all things SDCC never come easy and are not guaranteed. SDCC is in essence, one square mile of chaotic happiness and bliss. Ask questions and LISTEN to the answers given. No one knows SDCC until they attend SDCC. Prepare, prepare, prepare, and when you think that you are done, prepare some more. Always have a backup plan (hotel, parking, food, etc). Be prepared for disappointment. You will NOT be able to see EVERYTHING you want so, prioritize the things that are the most important to you. Comfort and cleanliness (shoes and deodorant) are a must. Be prepared to wait in line to get to a line to wait in another line for the line to your panel or event. Be aware that the events, signings, off-sites, exclusives, hotels, parking, etc. are mostly all lottery bast now or will sell out within minutes of going up.
I know that all this may sound stressful but underneath all that stress that is SDCC, it is pure JOY and I would not change a tear, chest pain, sleepless night, or early morning for the world! You are going to the Holy Grail of cons! Congrats, have fun and enjoy! Welcome to the SDCC Family!