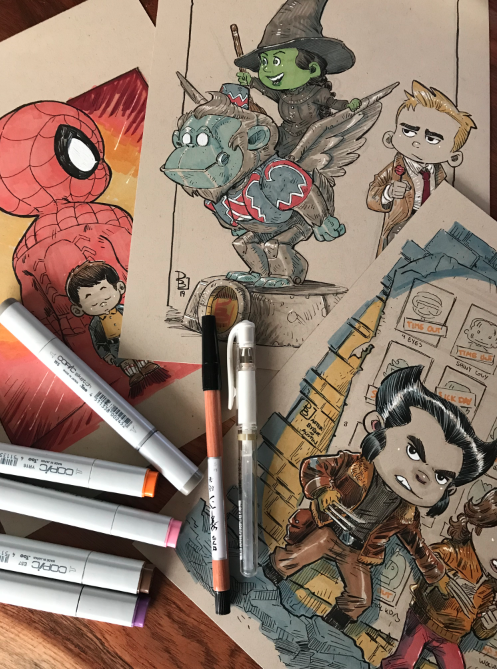 If you follow The San Diego Comic-Con Unofficial Blog even casually, odds are pretty high you know we're big fans of artist Patrick Ballesteros (odds are also pretty high that he's the only artist we write about with his own dedicated tag). There are few artists at the convention more prolific (did you know he's currently working on creating 100 mini-originals for the con, on top of his exclusives and commissions?), or who create more adorable inked pieces of pure nostalgia. His 25 Cent Wonders and kid-ified style are popular for a reason.
If you've ever wondered what your favorite characters would look like in his unique style, you don't want to miss his San Diego Comic-Con pre-convention commissions list — which opens today.
All of Ballesteros' commissions are pen and ink on 8.5″x11″ toned paper, with some grayscale markers tones and color accents — and all commissions must be picked-up at the convention. He won't take any on-site commissions, so make sure you get on his pre-convention list. In order to do that, and for more information on rates, you'll need to e-mail him at iwantyourart@gmail.com with the subject line "SDCC COMMISSION".
Here are some things to keep in mind:
1) Please choose an established pop culture/comic book/movie/etc. character(s) (NO PORTRAITS).
2) Let Ballesteros know if you would like your commission in his kids style or just stylized version of how they exist in their world.
3) What days will you be at the show for pickup.
4) Let Ballesteros know if it is OK to post your commission on social media before the con.
5) Sketchbooks or Sketch covers are allowed, however, please email to make arrangements.
6) Payment methods will be emailed once your commission is confirmed.
So what are you waiting for?