Every week from now until San Diego Comic-Con, we're celebrating you: our readers! So let's meet this week's Attendee of the Week: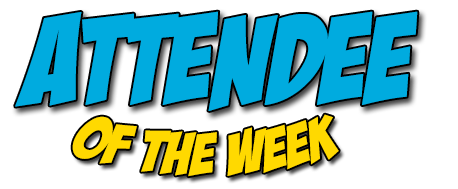 Jeremy Harrison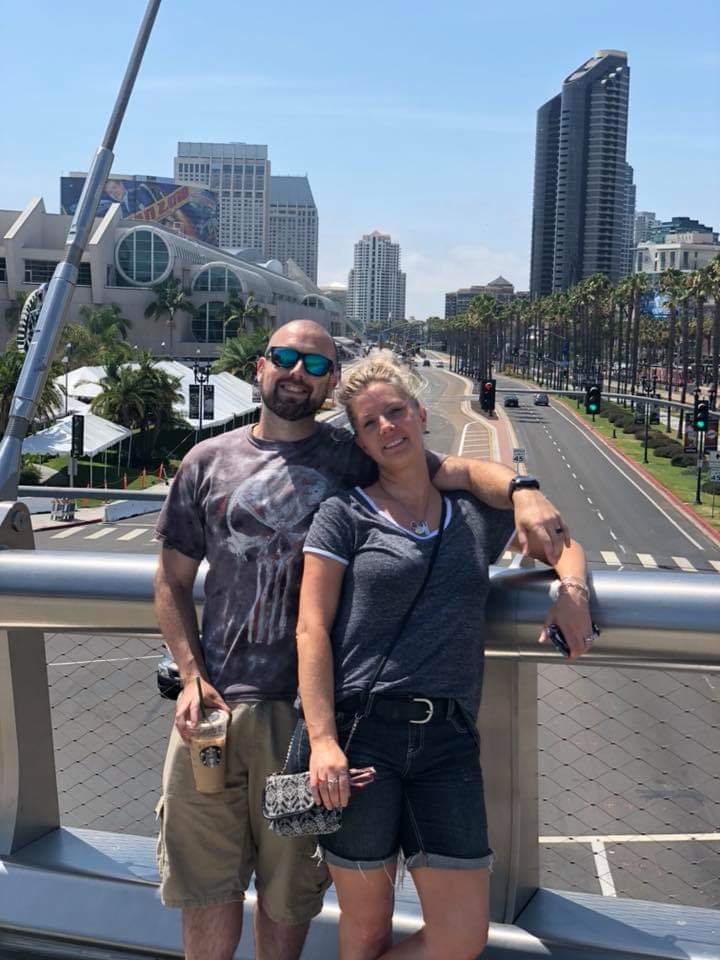 Where are you traveling from?
Simsbury, CT near Hartford, CT
How many years have you been attending?
This will be my 13th year flying out.
What was your favorite panel and why?
The Iron Man panel, at the start of the Marvel wave, was my favorite mostly because it was one of the first Hall H panels I attended. Being my first time in Hall H line I wasn't ready for the wait and got one nice sunburn (pre-canopies) and had just gotten a new tattoo, and even though it was covered, it was on fire for hours as I waited. The panel itself was totally worth it, and the energy of the cast and crowd got me hooked.
What is your favorite exhibitor or artist booth and why?
Mondo is one of my favorites, as I am a big fan of the poster work/vinyl work their artists produce. They have become so popular it is a juggle to get the works I want, but I always try and get one good piece from them every year as a standard.
What's your favorite item you've ever taken home from the convention (swag, exclusive, merch, etc.)?
Mondo had a limited The Dark Tower series poster they released, and I was able to get it hand signed by the artist. It was the print used in the movie The Mist he was painting before the storm. My wife knew it was important to me, so she just had it framed for Father's Day.
What was your favorite autograph session and why?
I got to meet Stan Lee one year during a signing, and it will always stick with me. He looked exhausted, but he still respected and gave everyone he met a smile knowing what he meant to them.
What is your favorite con snack?
Granola bars are my go-to in my backpack as I walk around
Tell us about your most memorable celebrity encounter?
There was a year I got into Nerd HQ party at Petco Park and it was invite only. At first, I was too nervous to introduce myself to any of the celebrities in attendance but after a few cups of liquid courage I started to dance and chat with everyone. It is tough to break out everyone I met that night on my Want to Meet List, but Nathan Fillion and Alan Tudyk were huge for me. They were very nice and it was amazing to have a casual chat about everyday things with them over a beer. I would love to do that again someday!
What is (or was) your favorite offsite and why?
Nerd HQ used to always be my favorite attraction and sanctuary every year.  It was never so crowed you couldn't move, but always had fun activities and events. The panels were tough to get into but so close quarters you felt like you were having a one-on-one with the talent. The best part was everything they did benefitted Operation Smile which I think should be more of a regular thing with SDCC. It saddens me they no longer will be the staple they have always been.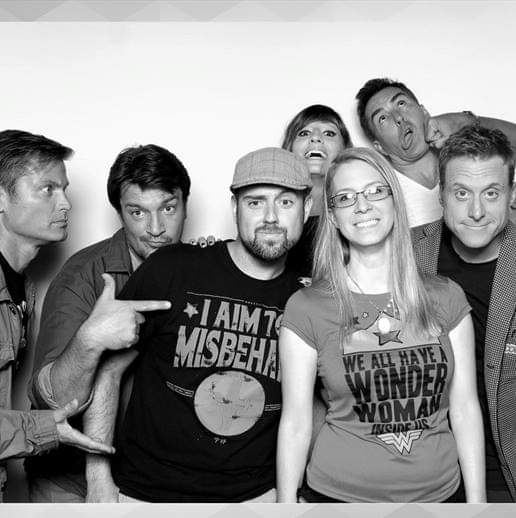 What is your favorite restaurant in downtown San Diego?
The restaurant SYFY used to take over, maryjane's, over in Gaslamp is a regular for my group. Their food is amazing and affordable, and it is right downtown on the closed off section of street so you can sit outside and just take it all in.
What is your favorite Comic-Con memory/moment?
In 2017, my fiancée and I were slated to be married two weeks after Comic Con and decided to go anyways to unwind after all the planning that goes into a wedding. Two weeks before the con I hear Orlando Jones was doing marriage renewals for SYFY, and looked at my wife and asked if I could get him to elope us while there would she? She agreed, since SDCC has always been a special place for us so I worked to get in touch with Orlando and arranged for us to be married by him with 100's watching in Gaslamp. We had Star Wars themed outfits for our cosplay that year so just wore those. It was almost fate since I had even proposed to her in front of the entire theater at The Force Awakens opening day. We had our actual wedding which was for everyone else, but the nerd wedding will always be for us.
Hoping to try and find a way to go into Star Wars: The Rise of Skywalker red carpet premiere in December, somehow, to continue the theme of our relationship. So pass it on! 🙂
Second place would go to getting into the Star Trek Beyond Red Carpet Premiere held at SDCC. The whole event was amazingly organized, with food, fireworks, live orchestra band throughout the entire movie, etc.  I hope someday I can experience something like that again!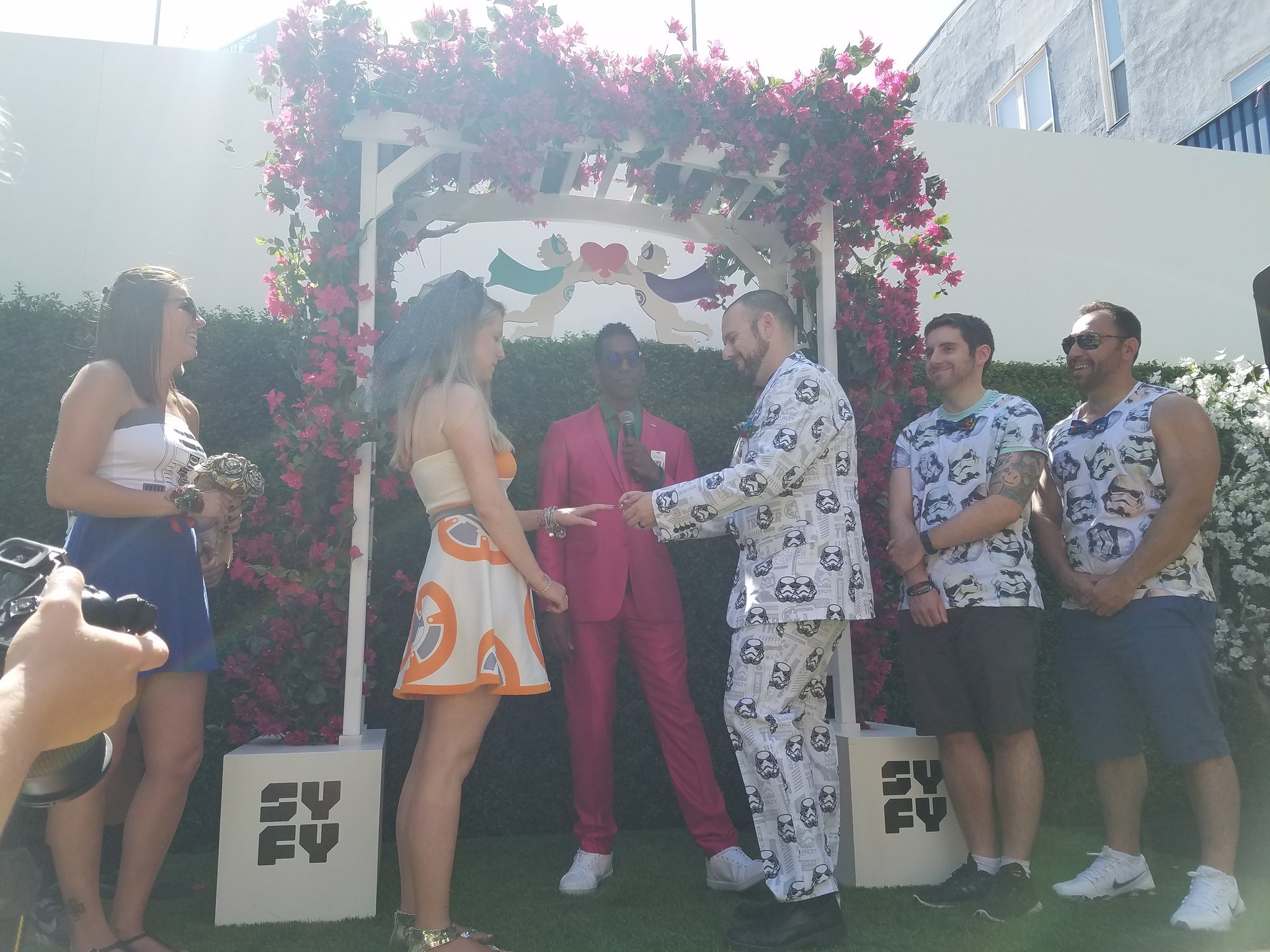 Do you have any advice on how for a first time attendee?
The best advice I can give is, the more pre-planning you do, the more enjoyable your trip will be. Use social media, blogs, podcasts, etc. to help plan your must do/have's, wants, and nice to see's.
Want to be featured as our Attendee of the Week?  Find out how!