[UPDATE June 25]
Conan O'Brien has confirmed what we all knew – that ConanCon is returning to the convention. He also confirms that we'll get more Conan Funko Pop!. The most important part of this announcement, of course, is that now that he's made it – tickets can go on sale at any time.
Watch the full announcement below.
https://www.instagram.com/p/BzJFJ42gsEk/
[UPDATE May 30]
It truly may be business as usual for Team Coco at San Diego Comic-Con this year — as Final Space creator Olan Rogers confirmed both that Team Coco House is returning, and that Final Space will be doing something there again. Last year, the popular pop-up comedy club brought fans a pizza party, a table read with the cast of Final Space, stand-up shows with the writers of Conan, and more — so we're expecting big things.
Yea! Final Space is doing something at the Team Coco House like last year 😊 https://t.co/LQCbS36HeT

— Olan Rogers (@OlanRogers) May 30, 2019
[UPDATE May 23]
Well, well, well — what have we here? As first spotted by Cool San Diego Sights, the Spreckles Theatre — annual home of ConanCon — now sports a marquee with Conan listed as Wednesday, July 17 – Saturday, July 20, which would seem to imply that Conan will still be filming his usual four dates in San Diego. Now, we should add that the Spreckles marquee has had Conan's dates wrong in the past, so this isn't confirmed. But it's a very positive sign.
Our own Outside Comic-Con snapped a photo: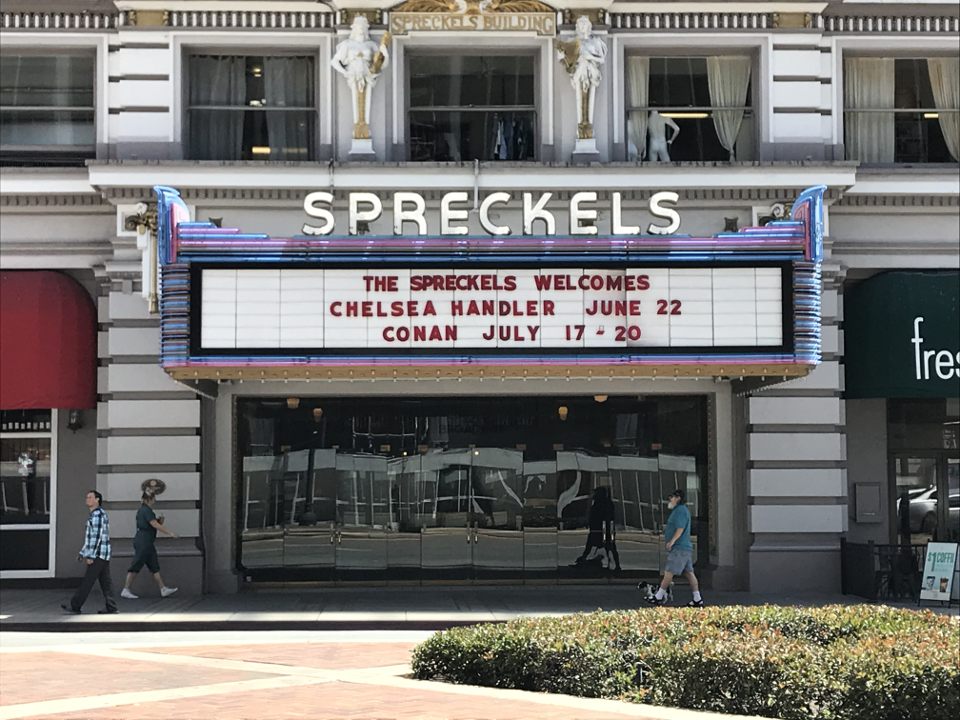 [PREVIOUS]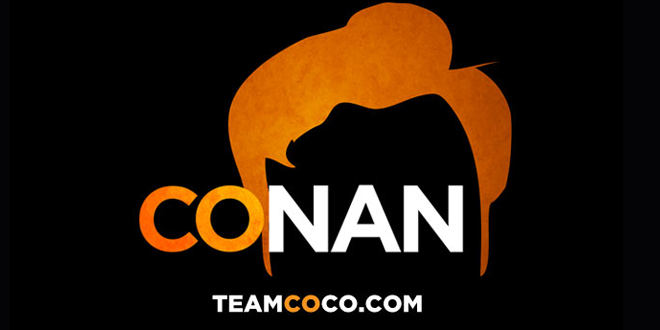 The #1 question on attendees' minds has been: Is Conan returning to the convention this year? And now, thanks to an interview with Howard Stern this morning, we know that he will be. But there's still a lot of questions about the how, and when.
In his upcoming book, Howard Stern Comes Again, Stern names Conan O'Brien as the single best interview he's ever had. He revealed this on today's show, and O'Brien called in to discuss that iconic interview, today's comedy landscape, and Conan's new format — but in the midst of all that, he let slip that he will be returning to San Diego Comic-Con 2019.
"I had the best band in television," Conan said. "I love those guys, and I still do gigs with them. I just did something in Australia and I brought a couple of guys with the band. We're bringing them back. We're going to do a week in Comic-Con."
What you can take from that is that obviously O'Brien is returning to San Diego Comic-Con this year — in what sounds like a format more similar to his old shows, considering the band is returning. But there are still a lot of questions. Will the shows be 30 minutes like the new format on TBS, or will they be longer specials, similar to his Conan Without Borders in Australia and Italy? It sounds like it's more likely to be the second, but then that takes us into the next question: "When?"
We'd take the "week" comment with a hefty grain of salt. Currently, the Team Coco website for tickets lists LA filming dates for both Wednesday, July 17 and Thursday, July 18 — and in the past, Conan has shot in San Diego during the con on Wednesday – Saturday. Now, those LA dates haven't gone live yet for tickets, so there's still time for them to change the schedule and replace those dates with San Diego, but it's certainly more murky than in previous years. We wouldn't be surprised at all to see Conan shift to Friday and Saturday nights only, in one-hour segments. There are more high-profile guests in town those days, and with the new format, doing four shows may not make sense any more. Or they could just as easily cancel the LA shows, and do four thirty-minute shows. Again: A lot of questions here.
At this point, the only thing we know for sure is Conan O'Brien will be back for 2019. And that's still reason to celebrate.