One of the biggest changes to San Diego Comic-Con last year — the Harbor Drive closure to all traffic and to anyone except those with a valid San Diego Comic-Con badge — is back again for 2019.
The San Diego Convention Center, Comic-Con International, and the City of San Diego announced today that once again, Harbor Drive will be closed to vehicle traffic (including bikes, scooters, and skateboards) between First Avenue and Park Boulevard during Comic-Con during the following hours:
Wednesday, July 18 3PM – 10PM
Thursday, July 19 7AM – 10PM
Friday, July 20 7AM – 10PM
Saturday, July 21 7AM – 10PM
Sunday, July 22 7AM – 8PM
The three main exceptions to this rule are again emergency vehicles, the official Comic-Con shuttle buses which will still be allowed through, ADA drop-off and pick-up, and those who purchased parking for the convention center. Those individuals will need to show their permit from the First Avenue side when entering after 7AM.
This should make things a bit easier for those on foot.
Here's a look at the planned road closures (click for larger):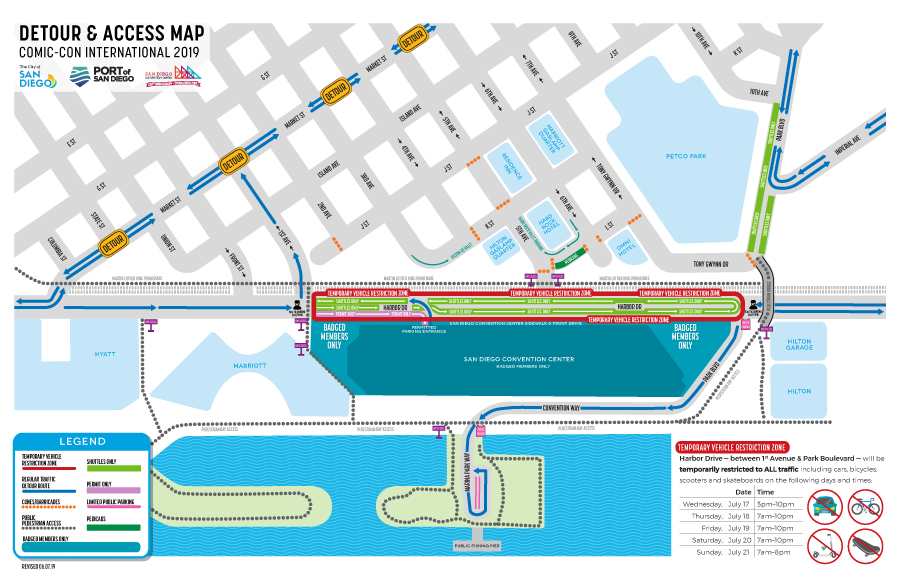 Here's a look at the Shared Mobility Device Zone Map: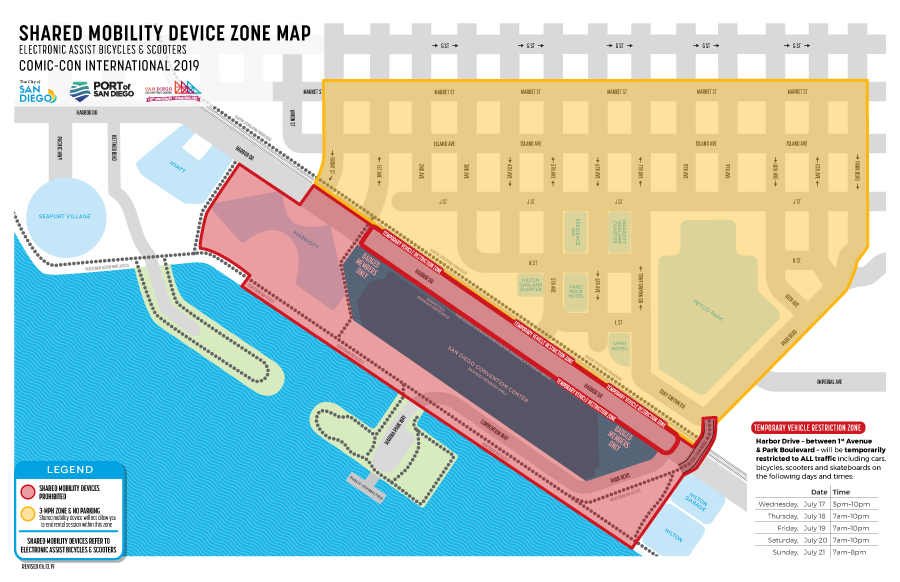 Only badged members of San Diego Comic-Con 2019 may access the area surrounding the convention center, which will be marked off. If you arrive at the convention center and need to pick up your badge, you will still be allowed to access the Sails Pavilion through the Hall C Lobby. Have proof of your registration with you.
For those non-badged members of the public who are looking to access the waterfront behind the convention center, you'll need to utilize either Marina Walk between the Manchester Grand Hyatt and Marriott Marquis San Diego Marina hotels, Canyon Path between the Marriott hotel and the convention center, the public Pedestrian Bridge along Park Boulevard, and/or the sidewalk along the southside of the Convention Way next to the Hilton hotel.
The shuttle routes will continue to operate for attendees, and you'll still board your shuttle stop along Harbor Drive. Here's a look at the shuttle map: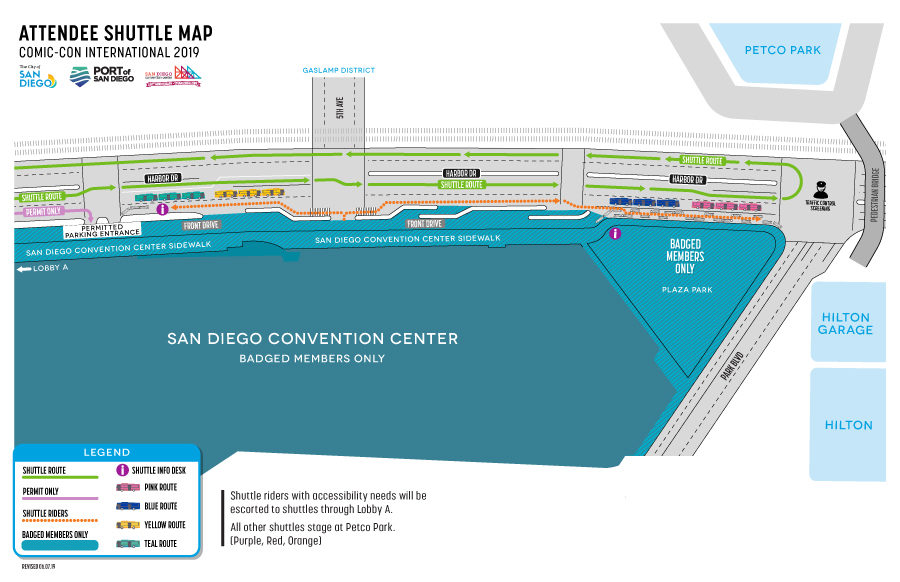 You can read the full announcement here.
What do you think of these changes? Let us know in the comments.