The official San Diego Comic-Con t-shirt has been revealed and pre-orders are once again happening online before the convention. The pre-order and pickup process that has been used for the last couple years is continuing with no changes. Note that there is a limit of one order per Member ID, so make sure you grab everything you want in the first order.
Just like last year, you'll actually need to login to your Member ID in order to purchase – once you do that, there is a "Merch" tab.
There are five t-shirts available for ordering, as well as tote bags, hats, and tiki mugs.
Here's a look at this year's designs:
Comic-Con 2019 Batman T-shirt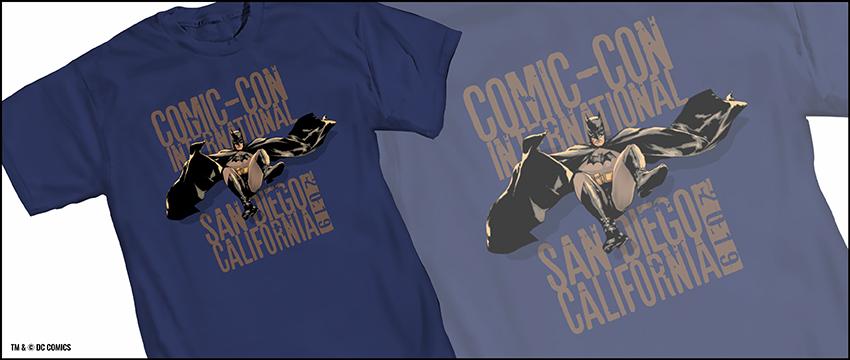 Comic-Con International Logo Design #1: The 1970's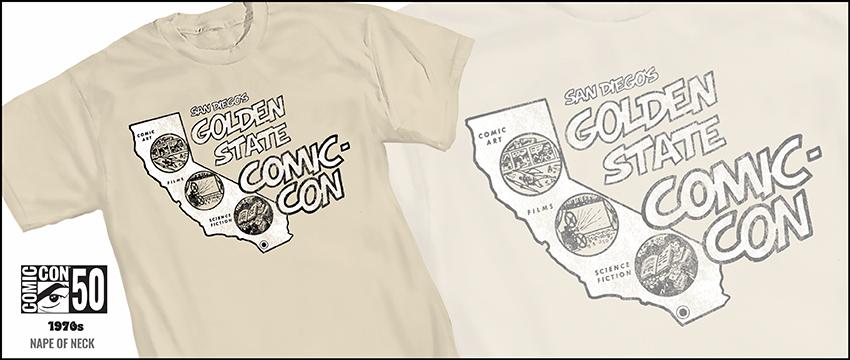 Comic-Con International Logo Design #2: The 1980's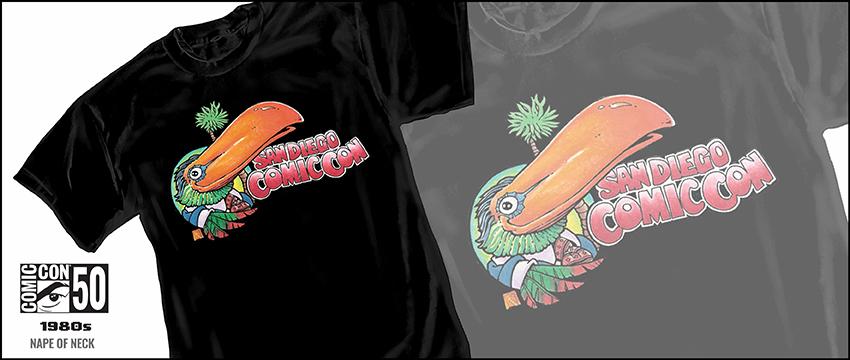 Comic-Con International Logo Design #3: The 1990's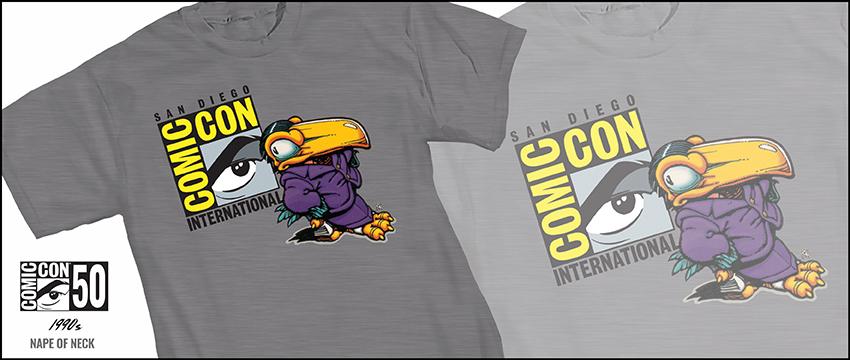 Comic-Con International Logo Design #1: The 2000's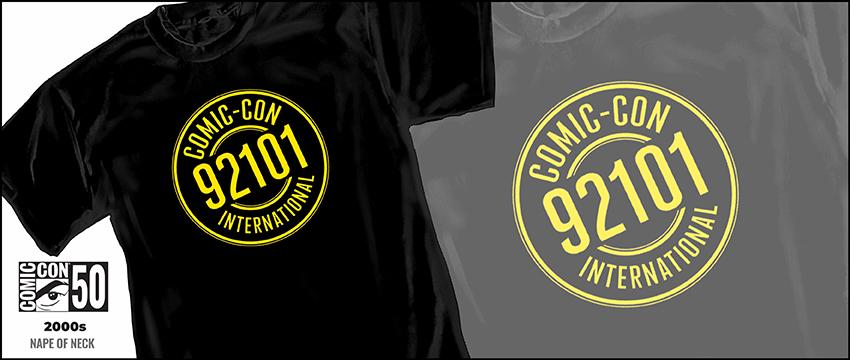 Comic-Con International Logo Design #1: The 2010's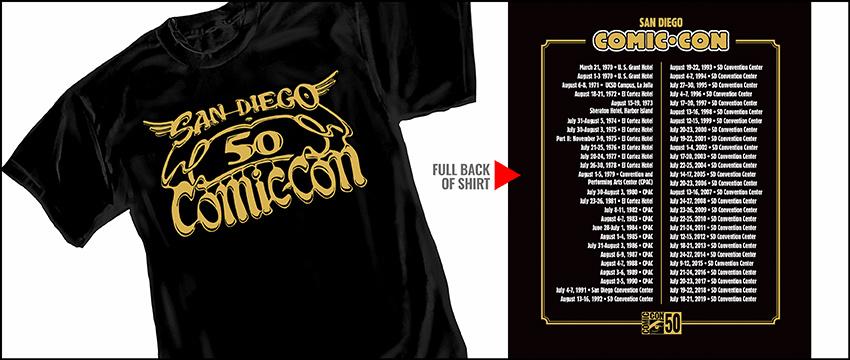 Comic-Con Toucan 50 T-Shirt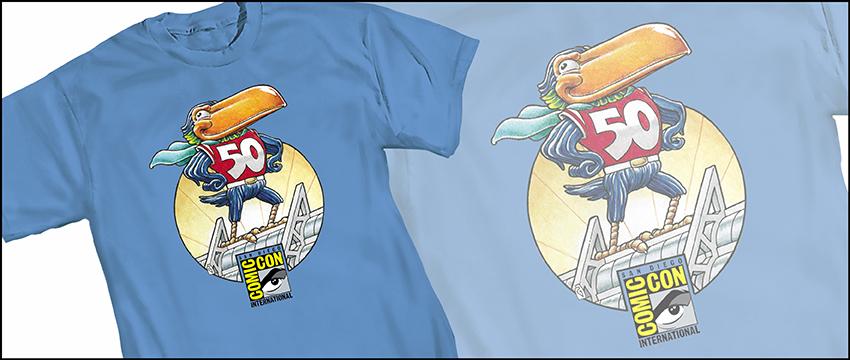 Comic-Con Women's V-Neck Logo T-Shirt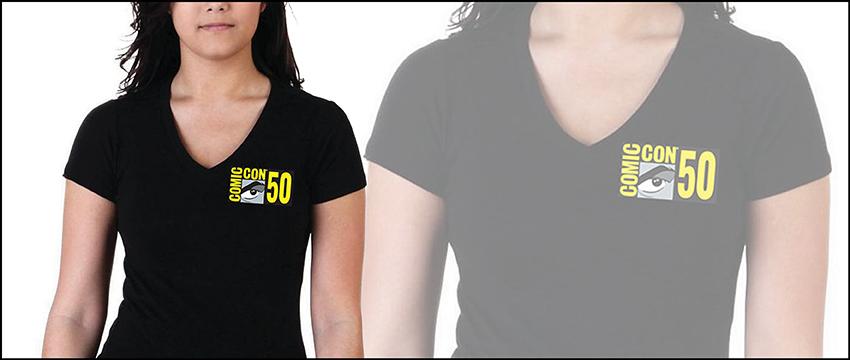 All t-shirts are available for the following prices (sales tax included) and sizes:
ADULT S-XL: $22.57
ADULT XXL: $25.81
ADULT XXXL: $29.04
WOMEN'S S-XL: $22.57
WOMEN'S XXL: $25.81
WOMEN'S XXXL: $29.04
YOUTH S-L: $19.34
PRICES INCLUDE SALES TAX
Comic-Con 50 Hoodie (Adult S-XL: $51.67 / Adult XXL: $54.90 / Adult XXXL: $58.13): First-ever Hoodie features the retro Comic-Con 50 winged logo design and is a pullover, charcoal grey, Champion brand, 50% cotton and 50% polyester hoodie, with pockets in the front. It's available in an Adult/Unisex style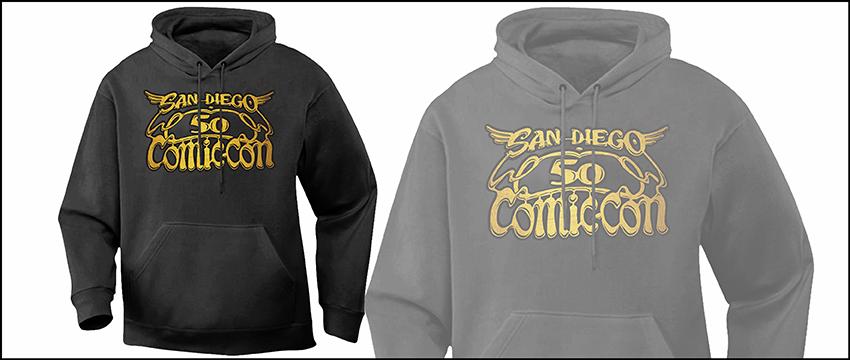 Comic-Con 50 Premium Tech Hoodie (Adult X-XL: $107.70 / Adult XXL: $113.08 / Adult XXXL: $118.47): It's a special year and we've come up with an extra special piece of apparel to celebrate Comic-Con 50! This Premium Tech Hoodie is produced exclusively for Comic-Con by Hero Within, a lifestyle fashion brand that celebrates the heroism found in all of us. An extremely limited number of these will be available for pre-order and pick-up through Comic-Con Merch; more will be available at Comic-Con at the Hero Within booth (#2047). This high-performance, technical fleece (13.5 oz) includes the following high-tech features like a badge holder clip, separate sleeve pockets for pen and tickets/cash/business cards, an embroidered CCI 50 logo, and more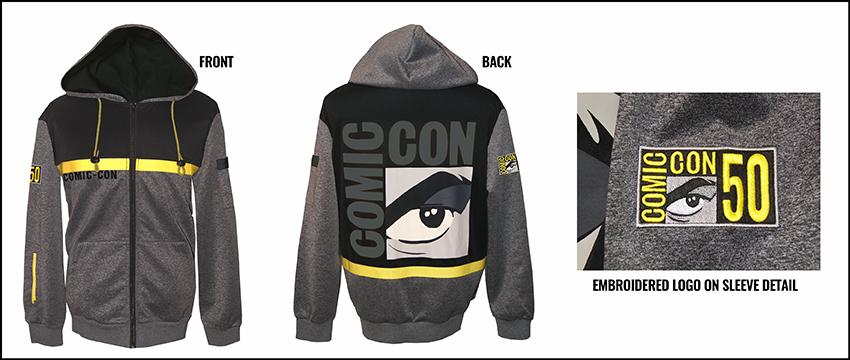 Comic-Con 50 Embroidered Cap – 50 Retro Logo Embroidered Black and 50 Modern Logo Embroidered Cap Charcoal Grey ($27.96 each)
Our caps this year feature both of our special Comic-Con 50 logos! Offered in two colors (black and charcoal grey), the embroidered logo is featured on a 100% cotton twill, unstructured, low-profile cap with adjustable slide closure with brass buckle and grommet. The retro winged logo is featured on a black cap; the modern Comic-Con logo is on a grey cap. You'll want both to wear, depending on your mood: Retro or Modern!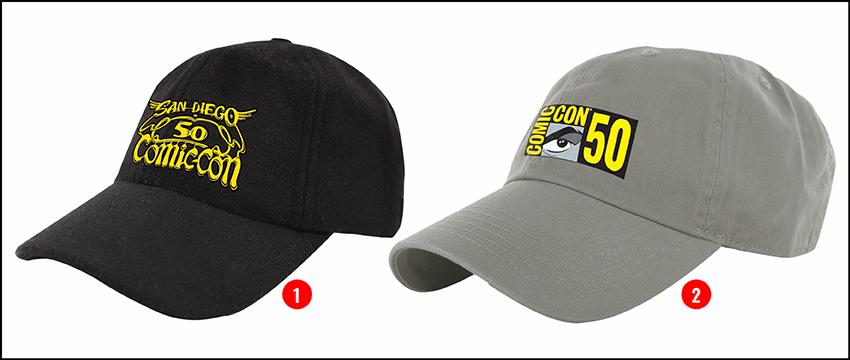 Comic-Con 50 Boat Totel Bag with Retro Winged Logo ($27.96)
This tote bag is a classic Boat Tote in grey with hand-sewn handles an the retro Comic-Con 50 winged logo imprinted on an outside pocket in gold and black. It's 18" wide x 14" tall, with a 4" gusset and 25" handles.
Comic-Con Clear Plastic Zippered Tote Bag ($22.57)
This clear plastic Tote Bag features the traditional Comic-Con "eye" logo, with black trim and handles. It measures 12" wide x 12" tall and has a 6" gusset, with 25" straps and a zippered-top. Get back to the future with the new wave of clear plastic tote bags that some stadiums and auditoriums are now demanding attendees use.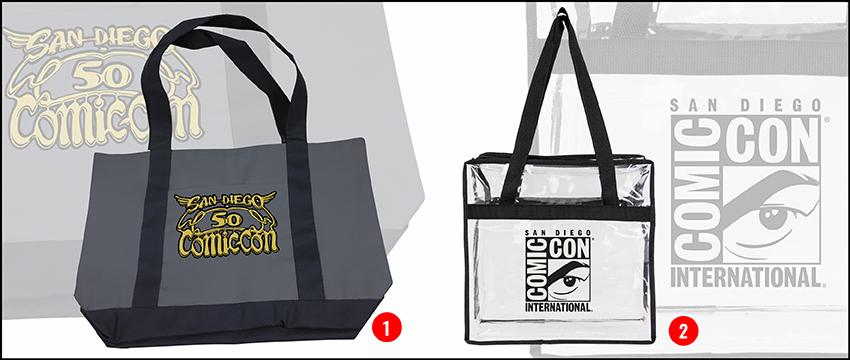 Comic-Con Enamel Pins ($10.78 each)
Remember that spiffy enamel pin you got with your badge in this year's badge box? Well, there's actually FOUR different pins, and you can pre-order the ones you didn't get to complete the set (while supplies last) or get some for your friends … they make the perfect Comic-Con souvenir!
1: Comic-Con Original Logo Enamel Pin (1 3/4″ wide)
2: Comic-Con 50 Winged Logo Enamel Pin (1 1/2″ wide)
3: Comic-Con Toucan Logo Enamel Pin (1 3/4″ wide)
4: Comic-Con 50 Modern Logo Enamel Pin (1 1/2″ wide)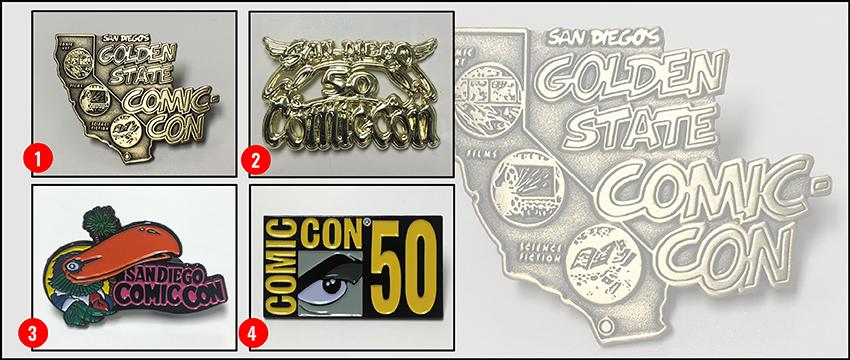 Comic-Con Water Bottle ($22.57)
We all know how important it is to stay hydrated, especially during a long day of panels and shopping at Comic-Con, so we're offering this insulated water bottle to help you keep on keepin' on! It's a 16-ounce, 10 1/8", hydro-soul insulated, stainless steel water bottle, and features the classic Comic-Con "eye" logo imprinted in multi-color on the side. The double-wall construction enables it to hold hot liquids for 12 hours and cold liquids up to 24 hours, and features a no-drip insulated lid and wide, drip-free mouth.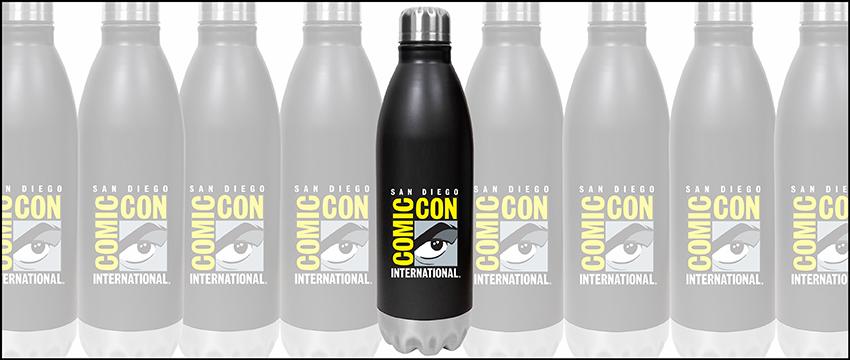 Comic-Con 40th Anniversary Book ($43.10)
Want the whole story? The most complete archive of the history of Comic-Con is the gorgeous hardcover book we created with Chronicle Books back in 2009. We have an extremely limited number of these books left. Get the whole story—including WonderCon, APE, Comic Book Expo, and more—in this full-color, 208-page, 9×12" hardcover with an exclusive wraparound cover by the amazing Sergio Aragonés. Comic-Con: 40 Years of Artists, Writers, Fans & Friends includes exclusive art and photos from the first four decades of the world's premier comics and pop culture event. Get one while you can!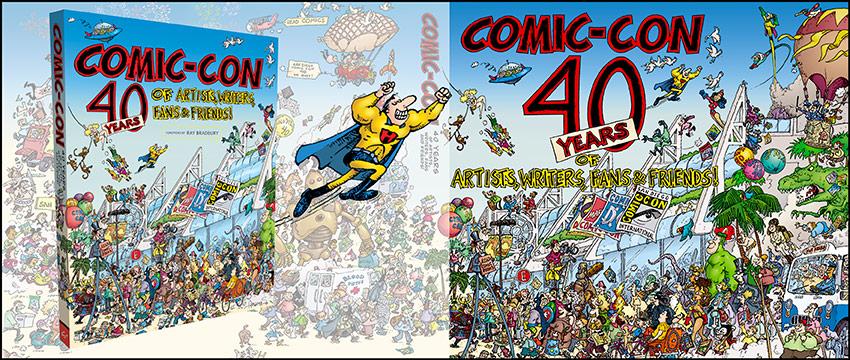 Comic-Con 50 Toucan Tiki Mug ($33.40)
It's our 50th and what better way to celebrate than with this limited edition Toucan Tiki Mug, brand new for Comic-Con 50! It has Comic-Con on the back and "50" on the front and cast with an iron matte green glaze. It's 7.5" tall, and holds 17 fluid ounces (your favorite beverage NOT included!). Get this special commemorative collectible Tiki Mug to celebrate Comic-Con 50!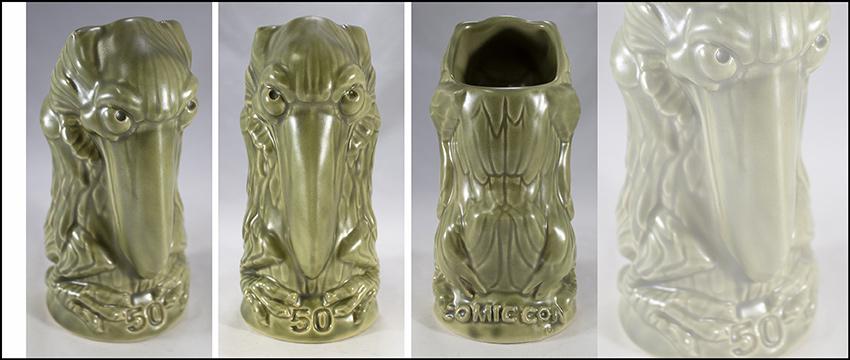 T-shirts that are pre-ordered can be picked up in the Marriott Marquis & Marina in the Comic-Con International merch area – in Pacific Ballroom, which is located in the new Marriott expansion. – between the hours of 9:30AM-7PM on Thursday-Saturday, or 9:30AM-3PM on Sunday. They are also opening early on Wednesday, July 17, from 12PM-5PM for pick-up of pre-ordered shirts only, and then re-open from 6PM-9PM for both on-site sales and pick-up orders.
Here's the location: