Cheers to the freakin' weekend, and to an action-packed edition of Under the Tents, which features updates on artists like J. Scott Campbell and Dan Veesenmeyer, a free promo from Cryptozoic, some cool Marvel-themed locks, and the hottest punch bowl this side of the galaxy.
Here's a look at the things you missed:
Artist J. Scott Campbell will be at Booth #4601 on the show floor, where he'll have exclusives like this Black Cat #1.
🐾💎💕 Well, The Cat got outta the Bag a bit early for one of our San Diego @Comic_Con , Booth #4601 EXCLUSIVES! This is our BLACK CAT #1 cover "E"!, featuring a GLAMOROUS Felicia and her first love… Diamonds of course!! W/colors by @ulamosart pic.twitter.com/euKBgT5Q9N

— J. Scott Campbell♠️🎨 (@JScottCampbell) June 28, 2019
Locks have never been more fun than with these Performa Marvel locks, which will be available at San Diego Comic-Con Booth #1122.
Do you use a gym lock and locker OR just bring in your keys and shaker? Let us know below!👇👇

Shop our #Deadpool #CaptainAmerica, #Punisher and #Spiderman locks at San Diego Comic Con July 18 to July 21. Will you be attending?! | #SDCC #sandeigo #comiccon2019 #PerformaNation pic.twitter.com/ar5PqQNM9A

— PERFORMA (@PerformaNation) June 28, 2019
LEGO artist Dan Veesenmeyer has another brand new print heading to San Diego Comic-Con, that's perfect for Reylo fans — or even just folks who love amazing LEGO Star Wars. And, if you need a reminder of all the fun LEGO goodness Veesenmeyer is bringing to the con, he also posted a handy guide.
My final newly created art print for San Diego Comic-Con 2019: LEGO REYLO! ✌️

Rey & Kylo REN from STAR WARS: THE LAST JEDI#SDCC #STARWARS #reylo pic.twitter.com/DNyOYCTAMO

— Dan Veesenmeyer (@dveese) June 28, 2019
https://www.instagram.com/p/BzRgKd0pYYx/
Sideshow Collectibles have teamed up with Cinema Makeup School to create a character from Court of the Dead, which will be on display at Comic-Con this year.
https://www.instagram.com/p/BzRGXpRjKPx/
Quilling artist Kimi E. Crafts has a few more of her amazing paper crafts ready to be dropped at the convention, including Hello Kitty herself and this Zelda piece. Make sure you're following along during the con to find these amazing pieces.
https://www.instagram.com/p/BzRe0oqpvHN/
https://www.instagram.com/p/BzO-sPnJscm/
Speaking of drops during the convention, PopCult Plushies has the most adorable Flerken and Tesseract box you'll find this side of the galaxy. To score Goose, you'll need to follow along on social media to catch him.
https://www.instagram.com/p/BzQ4w3ogI6d/
https://www.instagram.com/p/BzQ4WwPBfHF/
In addition to their regular SDCC exclusives, Cryptozoic will also have a few giveaways at their booth — like this Steven Universe trading card by artist Maly Flores.
Here's the art I did that will be part of the Steven Universe Trading Cards made by @Cryptozoic!!
I'm so SO grateful for being given the opportunity to work wih them
This promo card will be available at San Diego Comic-Con at the Cryptozoic booth! go get yours!!🌟 pic.twitter.com/g7zcd19HiJ

— Maly Flores ✨COMMS OPEN✨ (@malyfl0res) June 27, 2019
Michael Dooney has been busy working on sketchcards for the convention. Stop by
https://www.instagram.com/p/BzNwOkRgc0r/
https://www.instagram.com/p/BzObvzpgmgu/
Beeline Creative's next item for San Diego Comic-Con is definitely no hunk of junk. If you love this Millennium Falcon Punch Bowl as much as we do, you can preorder it at Beeline Creative Booth #2913-M.
https://www.instagram.com/p/BzOCKLgAM13/
Sometimes, when a unicorn and a cat love each other very much, they create a Stormy Mewnicorn plush toy. You can snag one of these mystical creatures for yourself at Ash Evans' Booth #4816.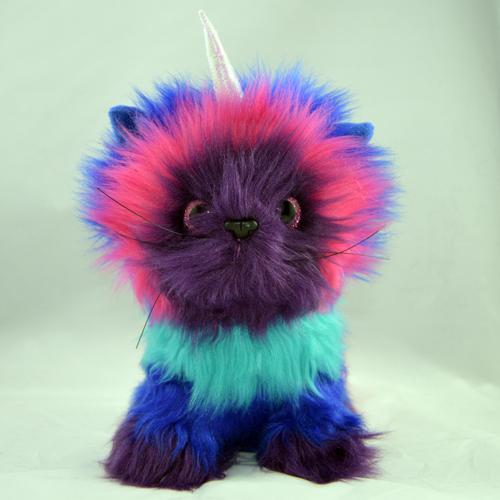 Artist Jin Yung Kim has been killing it lately with his Transformers and other mecha exclusives, like this Super Mini Bots Scavenger illustration heading to SDCC at Artists' Alley CC-08.
https://www.instagram.com/p/BzQ3g-Cnf6X/
Artist Camilla d'Errico has a few one-of-a-kind paint palette necklaces which she's bringing to Both #4723 this year.
https://www.instagram.com/p/BzO8ARXgS7Z/
Crate Monster showed off a new piece by artist Derek Yaniger, which will be part of Crate Monster's tiki-themed mystery box at SDCC.
https://www.instagram.com/p/BzOZ0qvlUpe/
If custom toys are your thing, then you already know DKE Toys. What you might not know is that Danny Wicked, Virva Peikko, and Buzzard Guts all showed off teases for their upcoming DKE SDCC exclusives.
https://www.instagram.com/p/BzO3NeHnqKz/
https://www.instagram.com/p/BzMNSLsnCM0/
https://www.instagram.com/p/BzQ3xUjnD0W/
https://www.instagram.com/p/BzOHniHAf8o/
Anything we missed? Let us know in the comments, drop us a line, or tweet us at @SD_Comic_Con.