Just how much SDCC news do you want in a day? You want it all, of course, and we're here to give it to you (as much as we can, anyway). This edition of Under the Tents has some cool SDCC news from the California Browncoats, Gentle Giant, Monkey Minion Press, and even free stuff from Hanging Chad Entertainment.
Here's a look at what you might have missed:
Artist Jessica Chrysler feels Eartha Kitt was the purrfect Catwoman, and it's difficult to argue that. You can discuss Catwomen when you visit Chrysler to pick up one of her sketch covers honoring the amazing performer in one of her signature roles.
https://www.instagram.com/p/Bylx696gp4r/
Graphic artist Dan Bois just received the new vinyl stickers he's planning to bring with him to SDCC 2019, and judging by the looks of them, they'll go fast.
https://www.instagram.com/p/BylvYvsn67I/
Gunning for Hits is having a unique SDCC competition. There's a modified song lyric title in each issue of Image Comics' Backmatter. When you pick up Issue #6 today (Wednesday), you can visit Gunning for Hits' website and enter your guess for the correct lyric. The winner will be chosen during SDCC.
@ImageComics Gunning For Hits competition! Every issue's Backmatter has a modified song lyric title. When issue 6 goes on sale WEDNESDAY you can enter your guesses via a form on https://t.co/lJ9Tflzejn. We'll pick a random winner from correct entries during SDCC. Win cool prizes! pic.twitter.com/z2khcEXiGj

— JEFF ROUGVIE wrapping @rykobook (@JeffRougvie) June 12, 2019
Yesterday, we got to show you the beginnings of what looks like Monkey Minion Press's SDCC 2019 print. He's making good progress, as shown in his Instagram feed. We're very anxious to see the finished product.
https://www.instagram.com/p/Byl89_3hdbb/
Were you able to score one of Gentle Giant's Star Wars: Rebels Hera figure? If not, don't panic (hey, that would look good on a book). They're bringing limited quantities with them to their booth at SDCC. Get there early; this figure is sure to go fast.
"Star Wars Rebels "Hera" is officially SOLD OUT on our web store!! Not to worry, as there will be a limited quantity at this year's SDCC, so don't miss out! pic.twitter.com/BHixLFAYk5

— Gentle Giant Ltd (@GentleGiantLTD) June 12, 2019
The California Browncoats always have an awesome SDCC presence. If you're a Firefly cosplayer, they'd love to see you enter their Firefly cosplay contest being judged by the show's costume designer herself.
#Browncoats – do you like to dress up in tight pants or fluffy pink dresses? Get your Firefly #cosplay out for our contest at #sdcc this year! The prizes are pretty shiny, and the judges include @trpcic herself – costume designer for the show! Date and location tba! pic.twitter.com/SCHM9bVyhx

— California Browncoats – WonderCon Booth 889 (@CABrowncoats) June 12, 2019
Actor/producer/director Frazer Brown is finalizing his SDCC plans, which appear to be a lot. Still, you'll have plenty of opportunities to see him, including at the Troma Team booth as well as two panels.
https://twitter.com/FrazerBrown/status/1138793495718768640
Marcus Collar was very excited when he tweeted that he'll be bringing his collaboration with Michael Aushenker, Ghost Pirate, with him to SDCC this year.
TheGHOSTPIRATE by @CartoonFlophous art by myself! Will be at SDCC and Modesto! 😊 pic.twitter.com/XFQjLvB6Qg

— MC COMICS Cola Armcurls (@marcuscollar) June 12, 2019
It looks like Cat Staggs and Sandy King Carpenter will be on-hand signing at SDCC with their latest work: John Carpenter's Tales of Science Fiction: Surviving Nuclear Attack #1.
In Stores TODAY!! #newcomicday

From @stormkingcomics and @TheHorrorMaster

John Carpenter's Tales of Science Fiction: Surviving Nuclear Attack #1
Written by @joeharris, Letters @TheJaniceChiang Art by Me! pic.twitter.com/YnEaGmBXPc

— Cat Staggs (@CatStaggs) June 12, 2019
We'll be at SDCC and NYCC.

— Sandy King Carpenter (@stormkingskc) June 12, 2019
Here he comes to save the day? Hanging Chad Entertainment has their Free Preview mini comics packed and ready to go for SDCC. The moose will be loose at Table #L-09 in Small Press.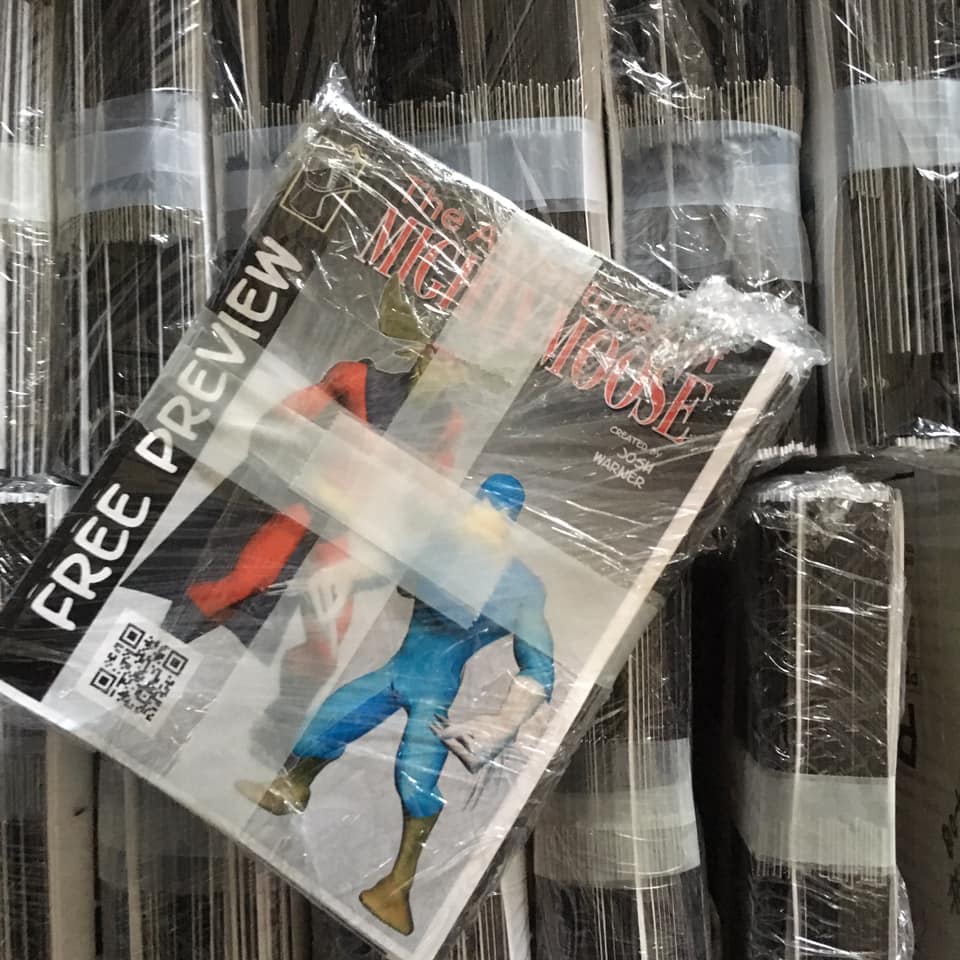 Did we miss anything? Are you super excited about anything you saw? You should let us know! You can leave us a note in the comments, drop us a line, or tweet us at @SD_Comic_Con.