You deserve a weekend edition of Under the Tents because you've been through a lot. You survived badge registration, you slayed Hotelpocalypse, you waited out badge shipping…you deserve a medal, or at least some delightfully fresh San Diego Comic-Con news. Commissions are opening soon for Terry Dodson, Super 7 is teasing us, Diana Leto is conjuring Mojo Jojo and so much more.
Let's take a look at the news and announcements you might have missed:
Legendary creator Marv Wolfman will be setting up camp in Artists Alley this year, table number coming soon.
I should be at COMICON. I'll have a table in artists alley but don't know it's number yet. I'll post when I find out.

— Marv Wolfman (@marvwolfman) June 14, 2019
Game developer Rykrsmith will be bringing the new game Words: Dungeon Adventure to show off at Comic-Con.
About 30 days till I travel to San Diego Comic Con, Looking forward to having "Words: Dungeon Adventure" A Sight Word Learning Game complete and ready to show off at the Con. I'll be bringing the @GAEMS_PGE Guardian Pro to help demo the #Xbox Game. pic.twitter.com/chDJTyVybX

— TheRykrsmith (@TheRykrsmith) June 14, 2019
Fans of Bill Walko will want to watch his Twitter for his commission announcement, which he promises is not far away.
https://twitter.com/TheHeroBiz/status/1139644545191297024
Night Circus writer Erin Morgenstern plans to be in attendance at SDCC, possibly to promote her new book, Starless Sea, out November 5. Note to self: bring gin to bribe for an advanced copy!
Highly likely, since I'm going to be at SDCC this year and I should probably do book things and not just drink gin with @ChuckWendig. https://t.co/uPGa4Y3B3a

— erin morgenstern (@erinmorgenstern) June 14, 2019
Christopher Uminga  has just finished up his own Justice League print, available next month at Comic-Con.
Just finished up a new print for @comic_con next month. So here is my version of the Justice League ! @sdccblog @procreate #batman #wonderwoman #superman #aquaman #greenlantern #martianmanhunter #cyborg #greenarrow #art #artist #comics #sdcc #sdcc2019 #uminga pic.twitter.com/d1fVQyk7zX

— Chris Uminga (@Uminga720) June 14, 2019
Nerdy Novelty Design is crafting up a bunch of great stuff to stock their booth. You can find them at #1949.
https://www.instagram.com/p/BytDoVxgEZK/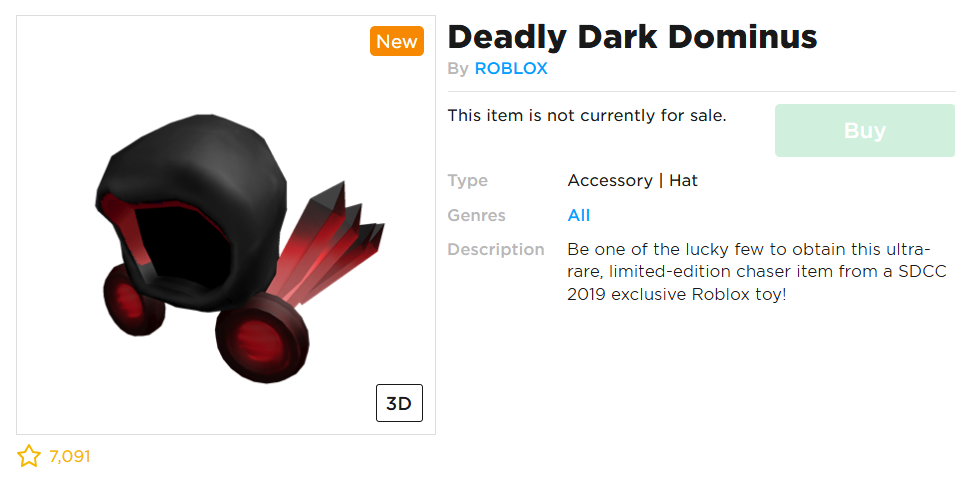 Another digital bonus Roblox item will be the Frosted Hero Helmet, also presumably available with an SDCC exclusive toy.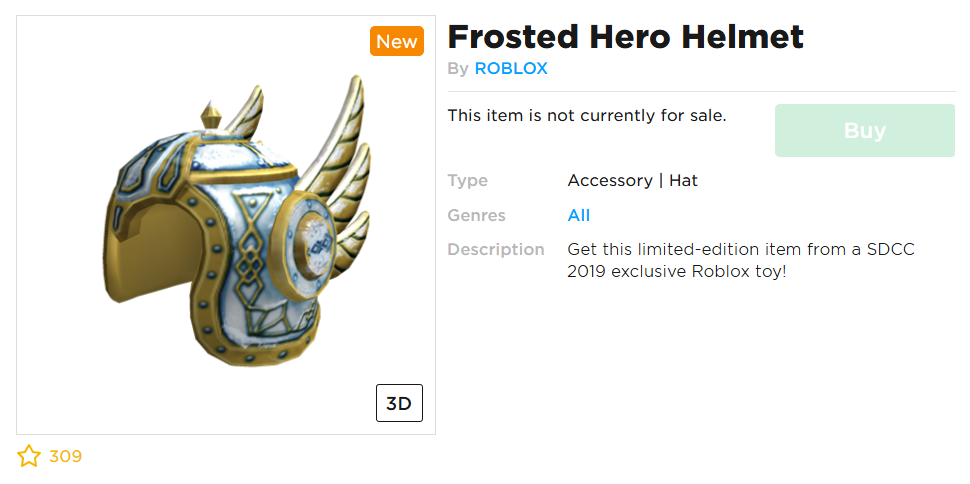 Artist Terry Dodson has laid out all the details about how he will be accepting his SDCC commissions. Limited to 20 and opening on July 3, you'll need to have fast fingers to e-mail him your request. Be sure to read over all the details on his website.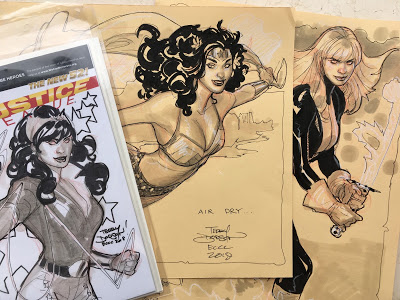 Unforunately, Mitch Gerads cover for Batman #74 has been scrapped due to story changes. Fortunately, it will remain as one of the prints he'll be offering at SDCC. You take the good, you take the bad, you take them both and there you have…the facts of corporate publishing?
So some bummer news…

I just got word that my BATMAN #74 cover will not be used. @DCComics has been very apologetic. The story that takes place in the issue has changed considerably from when I first did the cover, a few months ago now… (1/2) pic.twitter.com/bu9yei4ZtB

— Mitch Gerads (@MitchGerads) June 14, 2019
Teases from Super 7 are starting to trickle in…from very different ends of the pop culture spectrum. Interesting how the phrase '"You blockhead!" could refer to either one. Super 7 reveals will start next week.
https://www.instagram.com/p/BytkNqgAWoM/
https://www.instagram.com/p/BytZlGxA1pu/
Sugar, spice….and everything nice! Artist Diana Leto posted a fantastic process video of a Powerpuff Girls piece that will be at Comic-Con. Later she showed some more finished work and promises to share the final product soon.
https://www.instagram.com/p/Byts5ljh25z/?igshid=1xdpoyt7ozlu
https://www.instagram.com/p/ByuR6rOhxiu/
The California Browncoats are readying their merchandise for SDCC, including these enamel pins by Prophecy Girl. This may be one of your last chances to pick up some shiny Prophecy Girl items so don't delay.
https://www.instagram.com/p/BytrPC5h-oZ/
Kneady Bakery of Thousand Oaks, is once again offering pre-ordered bungles of nerdy goodies (including Beam Me Up Biscotti and Robert Brownie Jrs.) to help get you though the worst of line-waiting. Place your order now for pick up on Saturday July 20. Please note they will have a new pick-up location and times.
I'm opening a limited comission list for delivery at #SDCC2019 . Anyone interested, just let me know, we'll talk. #artcomissionsopen #alien #ellenripley #sigourneyweaver #Xenomorph #penandink #traditionalart #darkhorse pic.twitter.com/Ms5DOgCVNQ

— Axel Medellin (@AxelMedellin) June 15, 2019
Producer of collectible and designer toys and apparel Nsurgo will be at Booth # 5601 this year. Be sure to stop by and check out their high quality licensed items, including skate decks.
https://twitter.com/nsurgo/status/1139600453908533248
Sean Forney posted a look at his Scarlet Huntress Cryptid Hunting Club pin sets which he'll have at Comic-Con. I  love seeing that SDCC 50th Anniversary logo on items!
https://www.instagram.com/p/Byt-Fp9BzUE/
And finally, raise a glass, or a slice of cake, to Batman, celebrating his 80th anniversary in 2019. He doesn't look a day over…well, it's hard to tell under that cowl. Anyway, Jin Yung Kim made this adorable cake-centric piece and we can't wait to see it in person. We are very hungry for SDCC…and cake.
https://www.instagram.com/p/Byt97uCDX7j/
Anything we missed? Anything catch your eye? What's your favorite kind of cake? Let us know in the comments, drop us a line, or tweet us at @SD_Comic_Con.