In addition to their Star Trek offerings, CBS is also bringing along several new series, including Evil and Nancy Drew – as well as offsites, carpool karaoke (yes, really!), and more.
Here's a look at the panel schedule:
THURSDAY, JULY 18
"EVIL" EXCLUSIVE SCREENING AND PANEL 12:45-2:00 PM – EVIL is a psychological mystery that examines the origins of evil along the dividing line between science and religion. The series focuses on a skeptical female psychologist who joins a priest-in-training and a carpenter as they investigate the church's backlog of unexplained mysteries, including supposed miracles, demonic possessions and hauntings. Their job is to assess if there's a logical explanation or if something truly supernatural is at work. Please join series stars Katja Herbers, Mike Colter, Aasif Mandvi and Michael Emerson along with co-creators and executive producers Robert King and Michelle King for an exclusive sneak peek of the first episode followed by a panel discussion. Moderated by Lynette Rice from Entertainment Weekly. EVIL will air Thursdays this fall on CBS. Ballroom 20
"NANCY DREW" EXCLUSIVE SCREENING AND PANEL 2:00-3:15 PM – Nancy Drew is a brilliant teenaged detective whose sense of self had come from solving mysteries in her hometown of Horseshoe Bay, Maine – until her mother's untimely death derails Nancy's college plans. Devastated by her mother's passing, Nancy swears off crime-solving, but when a socialite is murdered, Nancy finds herself embroiled in a ghostly murder investigation. A supernatural presence begins to haunt Nancy's investigation, and she discovers that the current crime has an astonishing connection to the unsolved murder of a local girl. Whether the ghost is here to help or hinder Nancy remains to be seen, but one thing's for sure: Nancy's going to have to unravel the clues from both the living and the dead to solve the crimes. Please join series stars Kennedy McMann, Leah Lewis, Maddison Jaizani, Alex Saxon and Tunji Kasim, along with executive producers Noga Landau, Melinda Hsu-Taylor and Stephanie Savage for an exclusive sneak peek of the first episode followed by a panel discussion. Moderated by Damian Holbrook of TV Guide magazine. NANCY DREW will air Wednesdays this fall on The CW. Ballroom 20
Additionally, you can find CBS in the Gaslamp with free, complimentary rides in branded shuttles. They'll also be offering free, complimentary "Frightseeing Tours" in the evenings in Old Town, with trailers of Evil screened for passengers, and giveaways, on Thursday and Friday nights.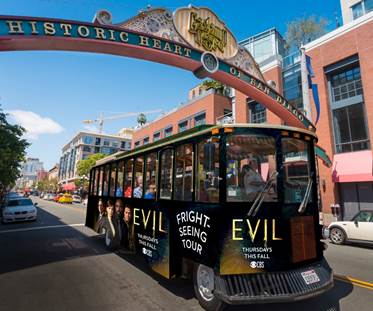 On Thursday, July 18 – Sunday, July 21, you can hop on over to the Interactive Zone at Petco Park for the "Step Into the Twilight Zone Experience", an immerce experience not only of sight and sound, but of mind. Pre-reg tickets are gone, but you can join the general admission line.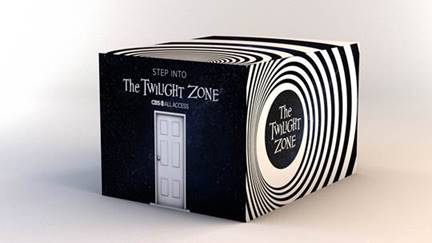 And, perhaps most excitingly, CBS is bringing Carpool Karaoke The Mic to Comic-Con daily from 10AM-6PM. Located in space "J" at the Interactive Zone at Petco Park, fans will be able to recreate the fun of James Corden's wildly popular "Carpool Karaoke" segment and become the star of the car as they hop inside a branded Range Rover to sing along to their favorite songs. There will also be daily giveaways for fans who share their performance on social media.