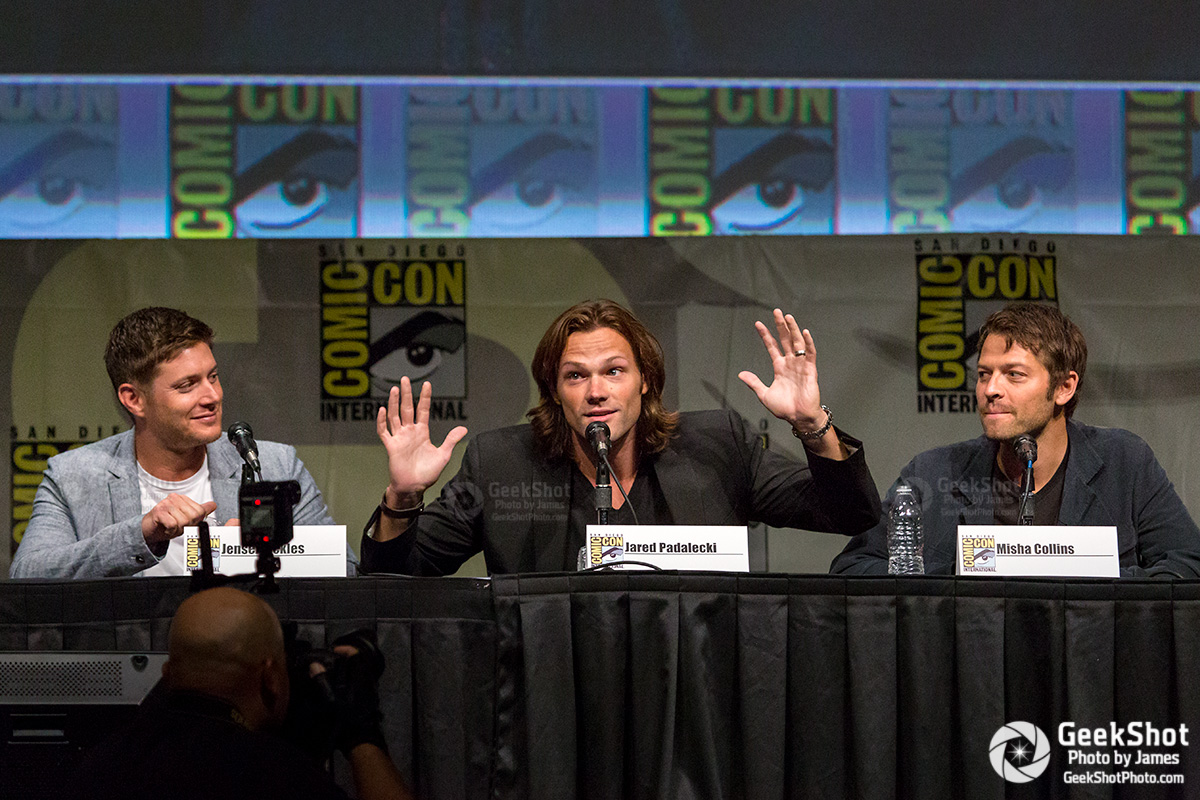 Baring any last minute schedule changes, we now have the full San Diego Comic-Con 2019 programming schedule.
We'll also be discussing our thoughts on this year's lineup, including our top picks and room flow, in a special series of live podcasts this weekend. The first of which covered Preview Night, Thursday's and Friday's lineup, and the second segment — in which we break down Saturday and Sunday — will be on Sunday, July 7 at 3PM PT / 6PM ET (that's today!) .
With that said, let's dive right into Sunday.
As always, TV and comics are king at Comic-Con on Sunday, with the former once again taking over Hall H all day. The day kicks off with Supernatural again this year, for its final season (but something tells us we'll definitely be seeing a Supernatural reunion at Comic-Con at some point). Then Riverdale is back to present a look at season four — followed by your first look into FX's season two of Mayans M.C. There's also a random Trailer Park at 2:15 because we guess they didn't have enough content to even fill a half day, so there's that.
Outside of Hall H, it's all about the kids, for the annual Kid's Day. You can catch a first look at DreamWorks Animation TV's new Netflix season of Harvey Girls at 10:30AM in 6A, followed by the second Cartoon Voices panel of the week at 11:45AM. Over in 6BCF, you'll find the world premiere of Scooby Doo! Return to Zombie Island, Teen Titans Go! vs. Teen Titans, and LEGO DC: Batman: Family Matters. Your kids can even build a paper dragon in the Paper Toys panel at 3PM in Room 11 (and you can too!).
Sunday is also a great day for jumpstarting your kid into a love for comics, or fanning the flames that are already there. Our picks include Doctor Who Thirteen comics at 10AM in 25ABC, the annual Emily the Strange panel at 10AM in 32AB, and a look at the graphic novel The Nightmare Before Christmas: Zero's Journey at 4PM in 29AB.
There are plenty of other amazing comics panels to attend all day, including The Annual Jack Kirby Tribute Panel at 10AM in 5AB, Making Comics the Marvel Way at 11:15AM in 5AB, a spotlight on Scott Snyder at 11:15AM in 6DE, and a SPAWN retrospective with Todd McFarlane at 1:45PM in 5AB. You'll find Jock, Shawn Martinbrough, and more discussing what it's like to make comics at 1PM in 29AB.
The Comic-Con 50th anniversary panels wind down on Sunday, but some highlights include Comic-Con in the 2000's and Beyond (with Kevin Smith!) at 11AM in 25ABC, a peek inside the Comic-Con Museum at 12PM in 24ABC, and what is essentially this year's Talkback panel — Comic-Con Now, featuring many of the folks who help put on Comic-Con, and who you probably haven't heard from live before. Don't miss this 2:30PM panel in 23ABC for a peek behind the curtain. In lieu of actual Talkback, as expected, Comic-Con is presenting a John Rogers Memorial at 3:30PM in 23ABC — a tribute to the face of Comic-Con International for many, who passed away late last year.
Other standouts on the schedule include a look into disability representation in comics at 3PM, followed by mental health representation in comics at 4PM in Room 4. Want chocolate? Come answer trivia in the aptly named "Trivia for Chocolate" panel at 3:30PM in 26AB — or find more trivia (but NO chocolate!) at the I'll Take Muggles for $500: A Fan Game Show at 2PM at the Marriott Marquis Grand 10 & 11. I know which one I'd pick.
There's also a Q&A with the always hilarious author Sam Sykes at 1PM in 24ABC, and this year's NASA panel at 2PM in 32AB.
There's plenty of other things on the panel schedule we're excited about, including Chef Duff Goldman back for his annual panel at 10AM at the Marriott Marquis Grand 10 & 11, legendary Disney artist and animator Floyd Norman discussing the periods of his life when he wasn't working for the House of Mouse at 11AM in Room 4, a spotlight on the great artist William Stout at 11AM in 29AB, and the McElroy family presenting The Adventure Zone: Murder on the Rockport Limited! Graphic Novel at 11AM in 7AB. The annual Starship Smackdown is also always a highlight, at 2:45PM in 6A, as nerds battle it out in this great debate.
About the closest thing you'll find to a non-animated movie panel on the Sunday schedule is Sketch to Screen: Dark Phoenix, Men in Black, and Beyond at 12PM in 7AB — but if you like concept art, it sounds amazing. Love theme parks? Find former Walt Disney Imagineer and Evermore Park CCO Josh Shipley and more on hand to discuss the process of creating a living experience theme park at 11:30AM in Room 8.
You can view the full Saturday programming schedule on the MySched website.
What will you be lining up for at Comic-Con? Let us know in the comments.