We have rounded a corner in our journey towards San Diego Comic-Con. Independence Day is over and we have to use only our fingers and a few toes to count the number of days left. Are you ready? Of course you are, because you follow us and you know we'll never steer you wrong! Now let's get to some of the fun things recently announced. Fantagraphics has huge plans for SDCC, we've got crochet up the wazoo, Ahsoka being a back seat driver, and so much more.
Let's take a look at the news you might have missed:
Genevieve Santos really wowed attendees last year with her hand made ceramics, and is preparing to do it again. Find a few select pieces each day at her Le Petite Elefant table, Small Press L-07
https://www.instagram.com/p/Bzfxa7NBL-V/?igshid=9b27chye7n05
https://www.instagram.com/p/BzgOaHnJmLe/?igshid=1794mgcp4f2y3
https://www.instagram.com/p/BzgIqVeBU4r/?igshid=d4qifs7301j6
This little Mysterio, crafted by U.K. based artist Gina, will be joining the crocheted critters by the Geeky Hooker in their free critter drops. Don't forget to follow along for your chance to find him!
https://www.instagram.com/p/BzfvtCfnfIq/
Wizyakuza has revealed their first SDCC exclusive, a metal print for Power Rangers. This piece is limited to 30 and will be available at their booth, #1632.
https://www.instagram.com/p/BzgZJ4FHcTw/
Fan Wraps will help you ride in style with their car passenger decals. This one features Ahsoka Tano and comes with a bonus Ahsoka Lives decal and air freshener. They are limited to 400 pieces, find them at booth #2913-A.
https://www.instagram.com/p/Bzf9ZBfghSZ/
One of the hottest independent comics of the season, White Widow #1, will have an SDCC exclusive available from Planet Awesome at booth #817. This one is designed by BossLogic.
White Widow #1 SDCC 2019 Exclusive Limited Edition Variants by @bosslogic !

These will be available for purchase during San Diego Comic Con 2019 at our booth, Planet Awesome Collectibles Booth #817!#bosslogic #sdcc2019 #planetawesomecollectibles #igcomicfamily #whitewidow pic.twitter.com/wxJ4Qgw9kh

— Planet Awesome (@PAcollectibles) July 4, 2019
Walking Dead actor Pollyanna McIntosh will be at Comic-Con to promote the upcoming film Darlin'. If you're lucky you might snag a signed poster.
I'll be at Comic Con San Diego signing Darlin' posters and meeting folks. Come say hi! #TWDFamily

— Pollyanna McIntosh (@PollyAMcIntosh) July 4, 2019
The Red 5 Comics booth will be the place to be on Thursday, July 18, to get Butcher Queen exclusives and meet the creative team, Jim Ousley and Benjamin Sawyer.
Come say HI to me & @sketchsawyer at the @red5comics booth at San Diego Comic Con on Thursday July 18th and pick up some amazing Butcher Queen exclusives! #SDCC50 #SDCC2019 #comics pic.twitter.com/sNqvmCRX2s

— Jim Ousley – The Atonement Bell is out now! 🔔🎃 (@JimOusley) July 3, 2019
https://twitter.com/cavanscott/status/1146791259866095617
Truly, crocheters shall inherit the earth. Here's another piece destined for a new home, maybe it could be yours. This Pachimari from Overwatch is by Morgan Clark.
Finally got my third #critterdrop creation finished for #SDCC2019: An @PlayOverwatch pachimari! #OverwatchFanart pic.twitter.com/lsUE3SRLJi

— Morgan le Fey (@TheDrode) July 2, 2019
We've got a real Marvel vs DC situation here. Here's another pair of chibi robots that you'll be able to purchase prints of from Jeff Pina. You can find them and all of Jeff's amazing robots at Small Press Q-06.
https://www.instagram.com/p/BzhLhU7B4Lg/?igshid=1wzhivmp96j3b
https://www.instagram.com/p/Bzez-koBlZr/?igshid=1y1jl4xr5f6bk
We are entranced by Mexican comic book artist Adalisa Zárate's intricate and beautiful stickers. She'll have all these and more at her Artists' Alley table AA-15.
Artist Christine Knopp of Kikidoodle created this serene tiger with water color pencil and will be bringing it to Comic-Con to find a home.
Lovely tiger
Original will be for sale at SDCC. pic.twitter.com/6VV6PvqKUw

— Kikidoodle & Purrmaids & Cat Friend (@KikiDoodleTweet) July 3, 2019
Comic fans and curious readers are invited to stop by the Sit Comics booth, Small Press K-04, and check out some of their new work, including Barbara Macabre's Morbid Museum.
To both twitter users who still go to #SDCC to buy #comics please do pop by Small Press table K-04 & buy our full line of Binge Book titles including The Blue Baron #3 and our first official #SDCC2019 exclusive perfect for lovers of #horror #comedy and @eccomics and only $3.99! pic.twitter.com/KUcG0CpT8Q

— Sitcomics (@Sitcomics) July 3, 2019
Amber Harris will have a new adult coloring book out just in time for SDCC. You can pick up a copy of Envisage at her Artists' Alley table, CC-09. Inside you'll find 18 illustrations to color, several of them brand new.
https://twitter.com/AmberHarrisArt/status/1146585267542712320
At Comic-Con, even the paper bags are works of art. Melissa Pagluica is screenprinting her paper bags for SDCC to advertise her graphic novel, Above the Clouds.
How many can I do before the ink runs out? You might getting one of these if you stop by my table at SDCC… pic.twitter.com/HVBWc4ERx6

— Melissa Pagluica (@TeacupBee) July 4, 2019
And finally, publishers of the world's greatest cartoonists, Fantagraphics, will have a full slate of creators and debuts at their booth, #1721. You'll be able to find new books from Jaime Hernandez and Gilbert Hernandez plus signings with Dame Darcy and several more Fantagraphics has not one, not two, but THREE Comic-Con Special Guests this year, including one of my personal favorite humans, Mary Fleener, who will be debuting her first graphic novel, Billie the Bee. See their website for more details.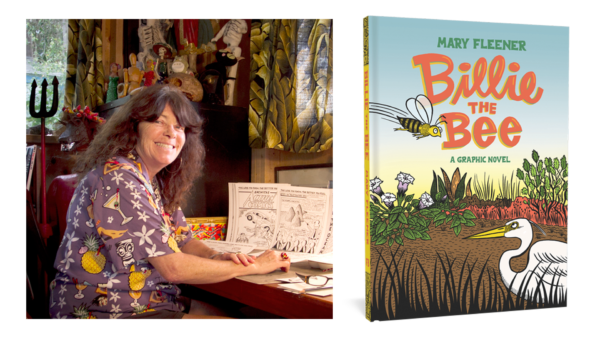 Anything we missed? Let us know in the comments, drop us a line, or tweet us at @SD_Comic_Con.