We are just six short (or long!) days away from San Diego Comic-Con 2019, and we've got a HUGE edition of Under the Tents for you this morning, featuring updates on David Petersen and Mouse Guard, a life-size LEGO Sith Trooper, a cool Scott Pilgrim set, an exclusive dog figure which helps raise money for charity, and more.
Here's a look at the news you might have missed:
Mouse Guard creator David Petersen returns to San Diego Comic-Con this year, at Booth #4901 and GG-09, where he'll have "lots of stuff", new t-shirts (which you can see below), hardcover books, his The Swords & Strongholds Board Game, enamel pins, limited edition prints, Mondo posters, original artwork, bookplates, and be taking on-site commissions. Find more information on his blog.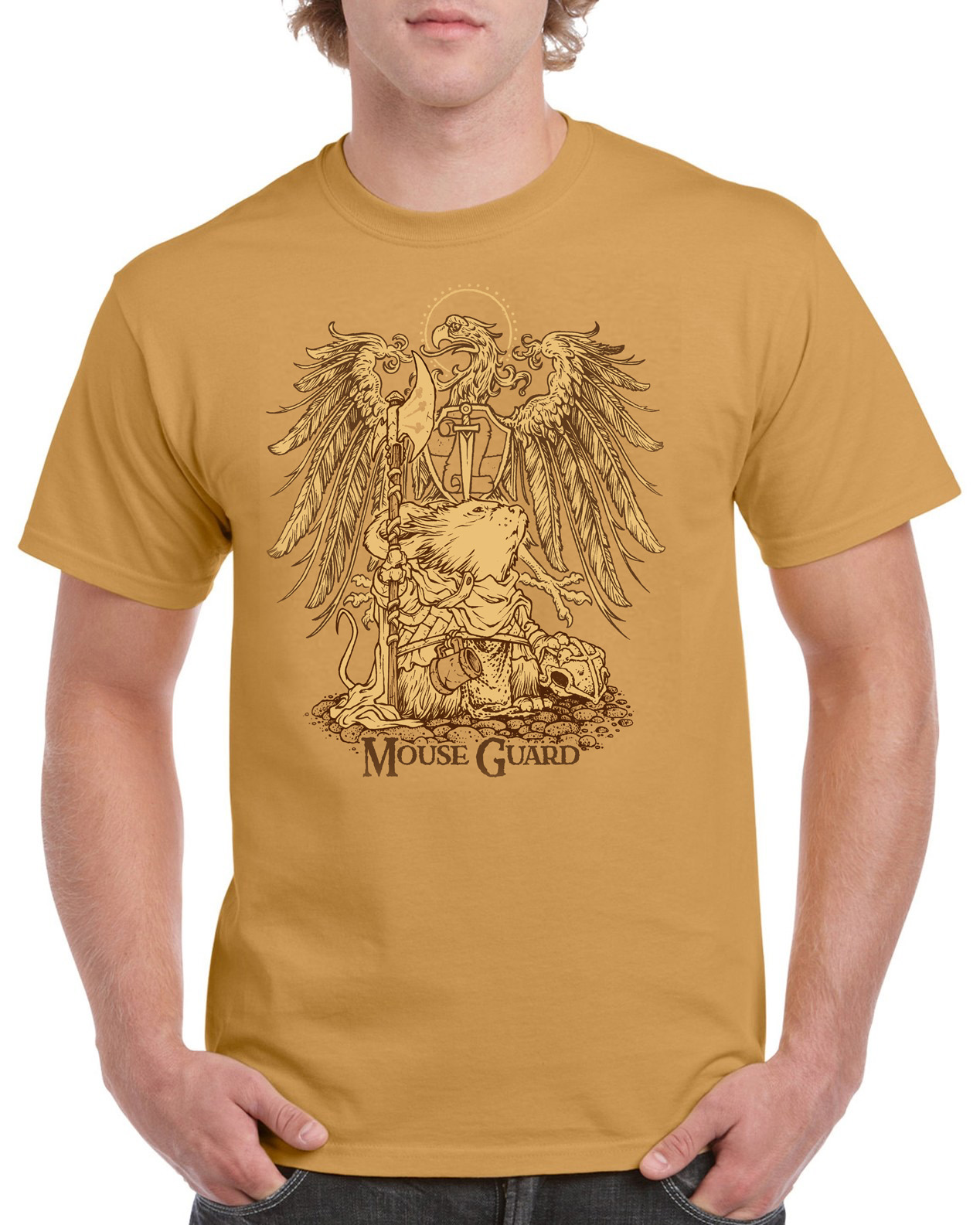 If you couldn't tell, it's the year of the Sith Trooper at Comic-Con this year — and LEGO will even be featuring a life-size model LEGO Sith Trooper at their booth.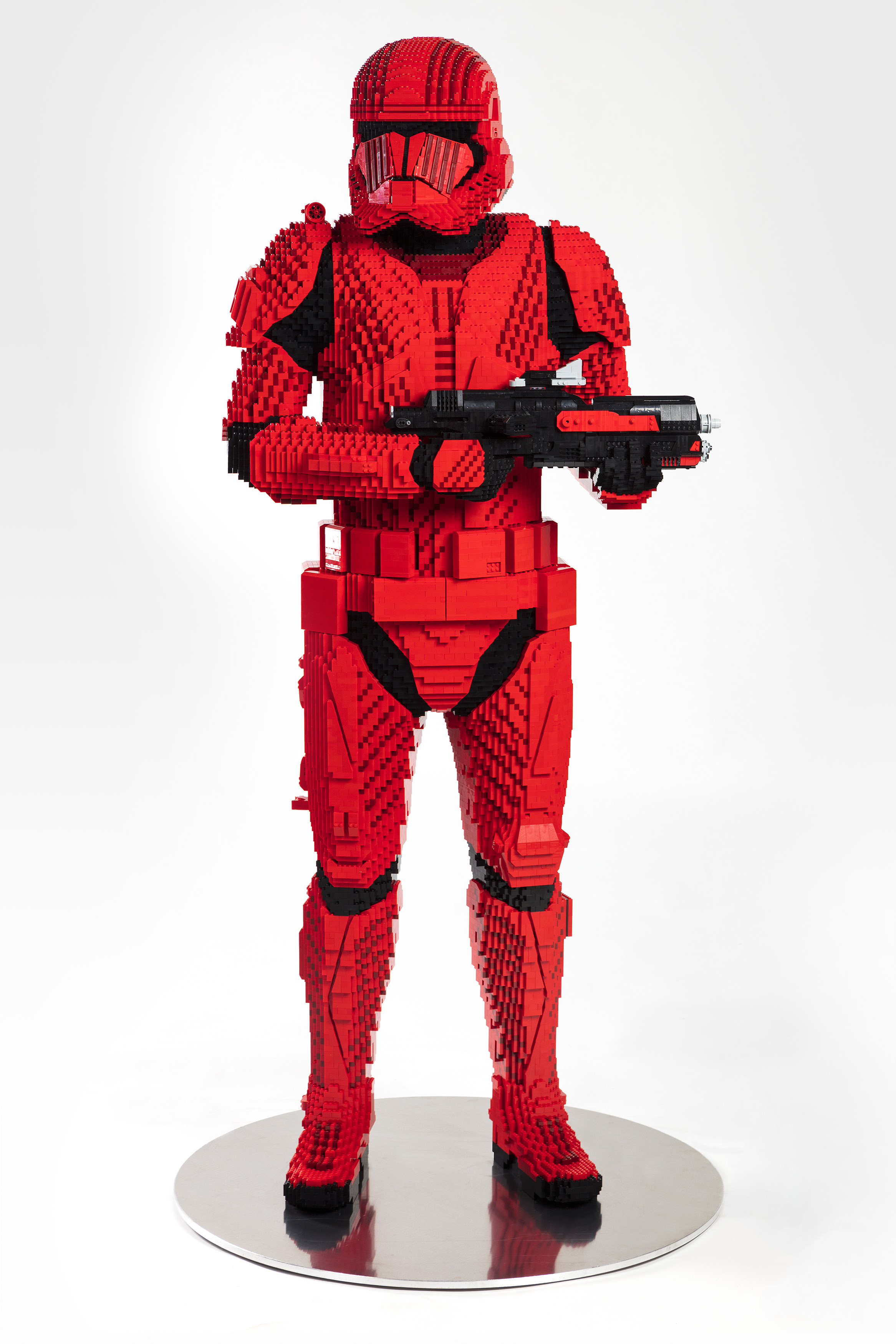 Artist Alan Davis will be appearing at the Big WOW! Art Booth #4903, where he'll have original pages for sale, as well as original full figures featuring an assortment of characters lie Captain Britain and Kitty Pryde. There will also be a limited supply of a collector's stamp he created for Royal Mail in Great Britain.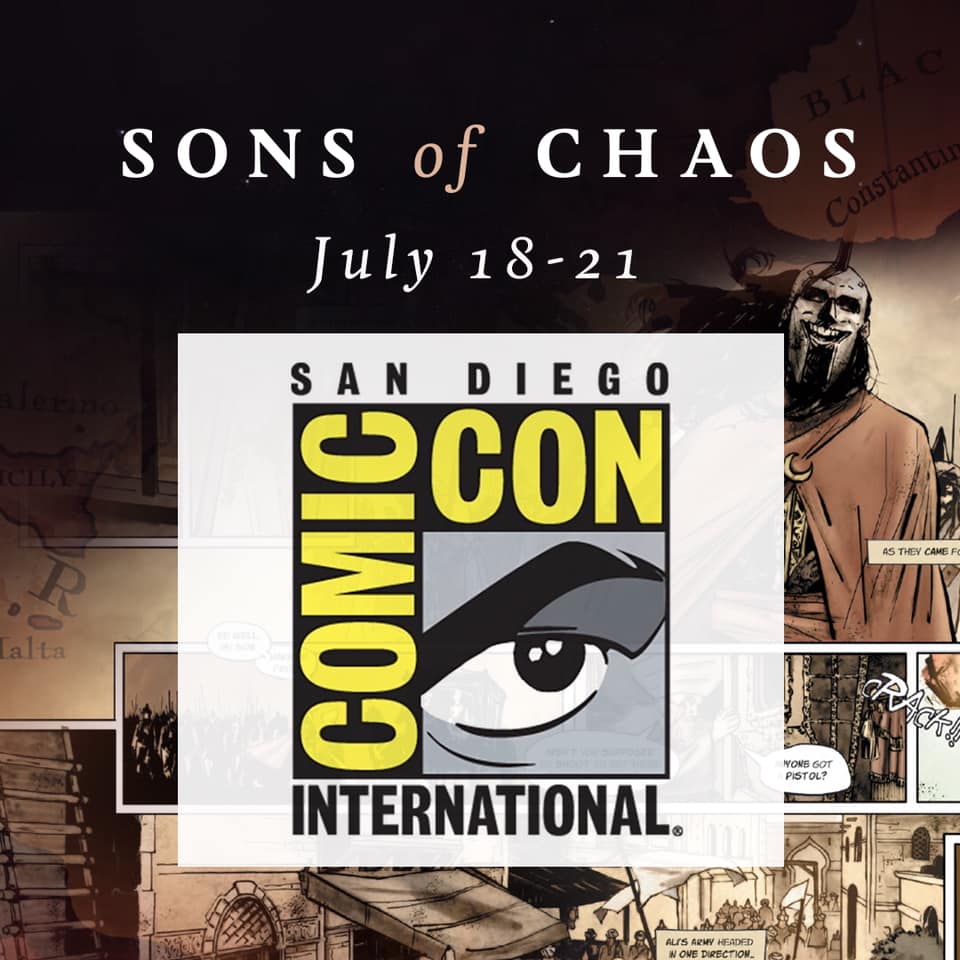 Scott Pilgrim creator Bryan Lee O'Malley showed off a new Scott Pilgrim Color Collecton deluxe paperbacks set from Oni Press, which will be heading to San Diego Comic-Con.
https://www.instagram.com/p/BztXsroHQNq/
Camilla d'Errico should already be one of your first stops on the show floor, but if she's not, write down Booth #4723 so you can pick up this and other zodiac paintings.
https://www.instagram.com/p/BztQX-Vphz7/
Artist James Silvani has been hard at work creating more original headshot pieces for the con, which you can pick up at Booth #5555. Helloooooo, nurse!
https://www.instagram.com/p/BztJ7JTAqkb/
Chris Maze unveiled the second of his Comic-Con 5″x" prints, this time for Woody from Toy Story.
https://www.instagram.com/p/BzsxeBuBhgF/
Le Petit Elefant will have some of the cutest merch on the show floor, including this "Kain Tayo" rice cooker tote bag. Adorbs. It's limited to just 200 pieces.
https://www.instagram.com/p/BzsvgvaBCBs/
Badali Jewelry are putting the final touches on this year's items for San Diego Comic-Con, including this Darker Shade of Magic piece.
https://www.instagram.com/p/Bzssv0Rgdei/
QMx have created "Super Ollie", an exclusive based on the real-life Certified Pet Therapy Dog. And, this limited edition piece will also raise money for the Children's Hospital LA.
He's handsome, he's heroic, and now he's a limited edition #QFig, raising money for @ChildrensLA! Check out the announcement of our ultra-exclusive @ollieishandsome collectible here: https://t.co/fsRq4TxPaa pic.twitter.com/SLEnPEWlA1

— QMx (@QMxInsider) July 10, 2019
This witch cat is ready for the holiday — the Comic-Con holiday, that is. Pick it up from Ash Evans at Comic-Con, limited to only 100 pieces.
https://www.instagram.com/p/BzssLKJFw9m/
https://www.instagram.com/p/BzsqeWiD-3t/
https://www.instagram.com/p/Bzr2ZasjM_L/
https://www.instagram.com/p/Bzui1FaD_2K/
https://www.instagram.com/p/Bzw0QMHj3dj/
Josh L. Warner of Hanging Chad entertainment showed off a new batch of sketch cards he'll have at Small Press L-09.
https://www.instagram.com/p/Bzrx7Voh1N4/
Candlewick Press will have daily giveaways at Booth #5532, so be sure to stop by.
Visit booth #5532 at San Diego @Comic_Con! Follow us on Twitter for details about daily booth giveaways. Here's a sneak peek! #CandlewickSDCC #SDCC50 pic.twitter.com/HWyCrrLEIL

— Candlewick Press (@Candlewick) July 10, 2019
Sneak peeks of the inks for my latest piece debuting at La Bodega Gallery's Comic Book Art Show in the heart of Barrio Logan, San Diego.

Saturday July 20th 5-10pm. Come check it out if you're in town for Comicon! pic.twitter.com/iMQ9mvzR5I

— SEAN KEETON 🔥💀🔥 (@SeanKeetonArt) July 9, 2019
The California Browncoats have added a new signing to their schedule, with Shawna Trpcic, the costume designer for Firefly, Angel, and more. Catch her at the CA Browncoats booth on Saturday, July 20 before their 3:30PM panel.
Also!! We've added an in booth signing with Shawna @trpcic, costume designer of all the best #whedonverse shows, Saturday before the #sdcc2019 Meeting Room panel – 3:30 to 4:30!! This is a fantastic opportunity meet her in person, Browncoat cosplayers! @BrowncoatWS #sdcc #firefly

— California Browncoats – WonderCon Booth 889 (@CABrowncoats) July 9, 2019
Artist Kerry Callen will also be signing at the con, and you can catch him at Atomic Toybox Entertainment Booth #3921 on Thursday, July 18.
If you're going to the San Diego Comic-Con this year, you can pick up the exclusive, signed, Captain Action Card Game with new package art by me! It will be available at the Atomic Toybox Entertainment booth (#3921). (If you're there on Thursday, you might see me signing 'em.) pic.twitter.com/IAt6ZyKsde

— Kerry Callen (@KerryCallen) July 10, 2019
Entertainment Weekly will once again be distributing free "Comic-Con Bonus Issue" magazines throughout the week in the Gaslamp, and you can get your first look at the It: Chapter 2 cover below.
You'll float too.🎈 The Losers are back to battle Pennywise — but who will get the last laugh? Get an exclusive look at 'IT Chapter Two' in our special #ComicCon bonus issue, distributed throughout the weekend in San Diego: https://t.co/QuNFo2jevd #ITMovie Story by @clarkcollis pic.twitter.com/Qo55k18nZE

— Entertainment Weekly (@EW) July 10, 2019
You definitely want to find author Leigh Bardugo's signings at Comic-Con next week, as if you do, you'll get this awesome Kevin Wada Shadow and Bone, Six of Crows, and King of Scars poster.
We'll have these for everyone in my signing lines at #SDCC2019 next week. Hope to see you there 🖤

— Leigh Bardugo (away for a while) (@LBardugo) July 10, 2019
Take aim with the cast of #Vikings for some ax throwing adventure at #ThrowIt a new #SDCC offsite venue https://t.co/5dxgVQLycY pic.twitter.com/mSYVHN6ara

— Heather Maffioli (@GeekHeather) July 10, 2019
Eric Powell of Albatross Funnybooks will be at Booth #2207, where he'll have this exclusive 15″x20″ Goon block print created by artist Peter Santa-Maria. It's limited to just 20 pieces a day, for 100 pieces total.
#SDCC2019 Exclusive! Goon 15"x20" block print by artist @AttackPeter limited to only 100! (20 available per day of the convention) Eric Powell/Albatross Funnybooks booth no.2207 pic.twitter.com/K3ayaPL2YR

— Albatross Funnybooks (@AlbatrossEFB) July 10, 2019
Bleeding Cool has the details on Heavy Metals Booth #1529, which will feature a signing with Dave Mustaine and his new Megadeath graphic novel from 2PM-4PM on Sunday, July 21. They'll also have two new Iron Maiden exclusives.
Tyler Kirkham revealed some art which will be available at J. Scott Campbell Booth #4601.
Prepping prints for San Diego comic con! These will only be available at booth # 4601 (J Scott Campbell booth) pic.twitter.com/nTKw946E0S

— Tyler Kirkham (@TylerKirkhamArt) July 10, 2019
Anything we missed? Anyone you're really excited to see? Let us know in the comments, drop us a line, or tweet us at @SD_Comic_Con.