Unless you've been in a social media black hole today, you're well aware that SDCC is this month. This is it. This is what we've prepared for. Now, don't get soft on me yet; we still have some more SDCC news to tell you about, including some great Ripley's Believe It or Not! free stuff as well as some mini-originals inspired by the greatest sci-fi movie ever made.
Here's a look at what you might have missed:
If you follow artist Sean Forney on Facebook, you got a peek at his Scarlet Huntress items he'll have at Table #BB-05 in Artists' Alley.
https://www.facebook.com/SeanForneyIllustration/videos/10157490829898223/
Are you going to the Miraculous Ladybug panel at SDCC this year? If you are, you'll be treated to some exclusive season three footage, an audience Q&A, special giveaways, and a pretty big announcement.
https://www.instagram.com/p/BzWtYmBgXWJ/
Freelance artist and creator of the Little Vampires webcomic Rebecca Hicks wants you to "get kräken" to Booth #5535, where she'll have this SDCC 2019 exclusive Happy Sea Monster wood pin. The hand-painted pin was designed by Hicks herself, who only made 50 of them (for 50 years of SDCC). Each pin is signed by Hicks and will retail for $15 each. You'd better get there fast, too, because once she sells out of them, they're gone.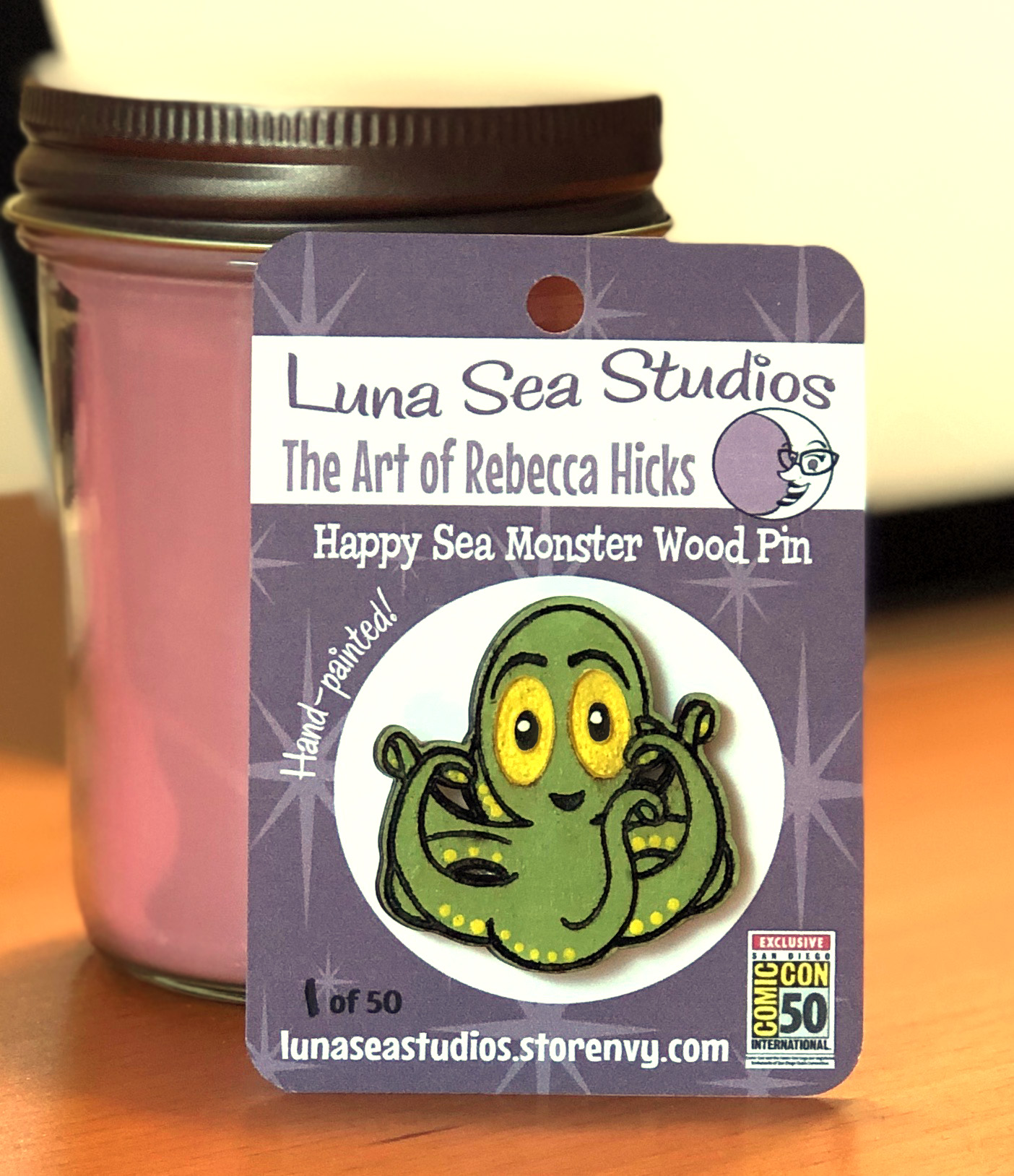 You'll feel like a real high roller (especially when you're baking) with these D&D-themed oven mitts Nerdy Novelty Design is bringing with them to Booth #1949.
https://www.instagram.com/p/BzWcmUigh5L/
Artist Brian Richard (or MonkeyMan, if you will), is flying from Australia to be in the SDCC Art Show. You don't need a badge for this, so make sure you check out his work of brilliant mashed-up family portraits.
https://www.instagram.com/p/BzWWjrwF7C-/
Lapel Yeah posted a tease of their SDCC 2019 exclusive to Instagram. Because lapel. Yeah.
https://www.instagram.com/p/BzWWFz9JFOi/
Don't be ReDUCKulous! Or be as ReDUCKulous as you like when you check out Bling Squared Cute Glass's latest one-of-a-kind piece heading to Table #E-5 at SDCC.
https://www.instagram.com/p/BzV23z2nMFR/
We've already heard that Travel Channel is bringing the legendary chin himself, Bruce Campbell, to SDCC to celebrate their revival of Ripley's Believe It or Not!. But now we also know there's a lot more fun on the way. Inside the convention center, attendees can head to Booth #4015 and cruise into Ripley's Garage to view props and peculiar pieces from the Ripley's Believe It or Not! collection — from shrunken heads to the original Star Wars lightsaber. There will also be unique retail items like a shrunken head air freshener, and giveaways and prizes to redeem at the Ripley's Believe It or Not! Car Lot at Petco Park.
This is a spoiler-free post involving Game of Thrones. Jungle Boy Productions' Instagram followers got to see their latest Game of Thrones-themed wooden shield design. Get to Booth #1417 early; they expect these to go fast.
https://www.instagram.com/p/BzVyAivA01h/
Michael Moreci's collaboration with Gary Dauberman, MALL, will be having a sneak peek at SDCC this month before its official release in September. Look for it at Vault Comics' Booth #1819.
https://www.instagram.com/p/BzVoW1_BQho/
Toymakers Jupey Krusho are feeling the con crunch now. See Bun-Bun Belly's Snack Pack's debut at SDCC at Booth #2645.
https://www.instagram.com/p/BzVeuXeA13U/
Hermes Press was relieved to tweet that their Phantom Dailies V16 arrived just in time for them to make the cross-country trek to Booth #1821 at SDCC.
This just in! Phantom Dailies V16 has arrived! Just in time for us to leave for SDCC! – https://t.co/quEaUuJNTg pic.twitter.com/iCNzibNGKX

— Hermes Press (@HermesPress) July 1, 2019
The California Browncoats have something very shiny for you at Booth #A-7/A-8. Thanks to BOOM Studios, they'll have a few copies of Firefly: Unification War as prizes for their Chopstick Game.
#firefly Unification War is gripping as HECK and thanks to @boomstudios, you can win a copy of it at our for charity Chopstick Pull game at our booth at #SDCC! Booth A-7/A-8 We have limited numbers of it so see us early! pic.twitter.com/mC2kLYuvvh

— California Browncoats – WonderCon Booth 889 (@CABrowncoats) July 1, 2019
No sooner did we announce more Marvel at SDCC this morning than author Adam Bray announced he'll be signing at the DK/Penguin booth. He may have some more announcements up his sleeve as well, so we'll "stay tuned…".
AND… AND… AND… @SD_Comic_Con, Don't forget me!!! I'll be signing my @dkpublishing @Marvel @MarvelStudios & @starwars guides at the DK/@PenguinBooks @Comic_Con booth daily (Thurs 11am, Fri 4pm, S&S 2pm)! And stay tuned… I have another REALLY shocking announcement… 😀 https://t.co/8fxB6jwybl

— Author Adam Bray (@authoradambray) July 1, 2019
Here's the purrfect ring to get for your significant other. RockLove Jewelry will have some adorable Ahsoka Tano rings.
https://twitter.com/amy_geek/status/1145736586824257538
Artist Patrick Ballesteros's latest mini-originals he's made for SDCC pay homage to the greatest sci-fi movie ever made: Spaceballs. Lone Star and his father's brother's nephew's cousin's former roommate, Dark Helmet, will be at Ballesteros's Table #DD-08.
It's July and we have a couple of Spaceballs…"OH s***!" Today I'm working on the last of the mini originals and new "Can You Hear me Now" exclusives. Stay tuned as I will be releasing more of those & the last of the new stuff in the next couple of weeks! pic.twitter.com/ce00GO7NGw

— Patrick Ballesteros SDCC DD-08 (@PatrickBallest) July 1, 2019
If you decide to take a walk down Harbor Drive to the USS Midway Museum during Comic-Con, they're offering SDCC attendees $2 off admission with their SDCC badge.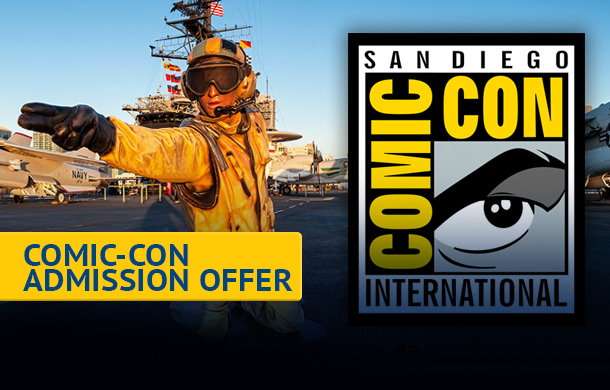 Night Cake Press (a subsidiary of The Beast Is Back) took one of their tiger illustrations and turned it into an 8×8 masterpiece you can wear. They'll have 40 available online before SDCC, but during, you'll find them at Booth #1535.
New stuff for SDCC! I turned a tiger illustration I made last year into a GIANT 8×8" embroidered patch. 40 available online before the show. #sdcc2019 #nightcakepress

Shop link: https://t.co/OvxTe2gYSt pic.twitter.com/JeCwSaJIeK

— Night Cake Press (@nightcakepress) July 1, 2019
Pop artist Truck Torrence tweeted a mischievous tease of what he's bringing with him to SDCC.
This is a #SDCC tease. 👀 pic.twitter.com/J7iLSnW1ie

— 100% Soft • ᴗ • (@100soft) July 1, 2019
Anything we missed? Let us know in the comments, drop us a line, or tweet us at @SD_Comic_Con.