If you're on the verge of panic regarding all things SDCC you're not alone. This morning it felt like a wave of reality swept over social media knocking us down,  We should be packed, we should be (more) prepared, we should be ready to go… but we're not. We never are. All we can do is our best and help you to do your best. So let's look at some more awesome art from Chrissie Zullo, a life-size LEGO Iron Man, some Russo Brothers swag and just enjoy this moment of peace.
Let's take a look at the news you might have missed:
Let's get the bad news out of the way first. Actor Doug Jones will not be attending Comic-Con this year, breaking a 10 year streak.  A bummer to us all, surely. You'll be missed, Mr. Jones!
Welp. Dang it all. Just found out I have not been released from @startrekcbs production to travel for Comic Con this coming weekend. My first time missing #SDCC in 10 years.
If you are there, raid the @Hallmark booth for this new Discovery ornament of @SonequaMG and me! pic.twitter.com/73CulAt5D5

— Doug Jones (@actordougjones) July 15, 2019
Artist Terry Dodson is offering plenty of opportunities to meet him, pick up some books and get them signed at booth #4706. Check out his full schedule of where and when you can find him this week.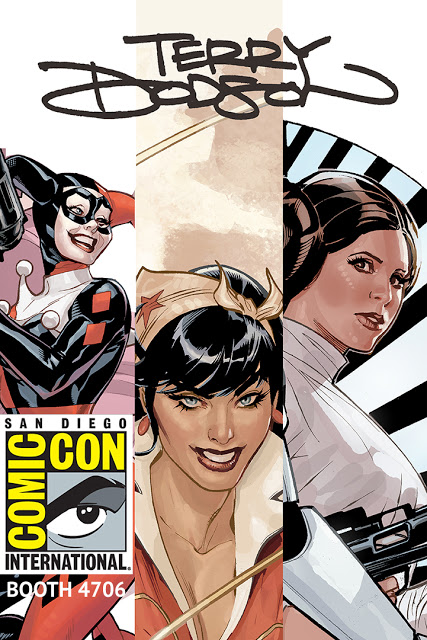 Morghan Gill has added to her stack of original pieces that she is bringing with her to San Diego Comic-Con and is a very timely fashion , has added some Lion King pieces.
Also made some The Lion King minis for SDCC! Hoping they all find good homes 💜 pic.twitter.com/wjQPYU8ytB

— Morghan Gill-Bedford✨ Looking for Work (April) (@teatigercafe) July 15, 2019
If you are anywhere near the LEGO booth, it'll be hard to miss this life-size sculpture of Iron Man. He is 6 and a half feet tall, weighs 188 pounds, and is made of consists of 35,119 bricks. Lego Master Builders spent 225 hours designing and building him.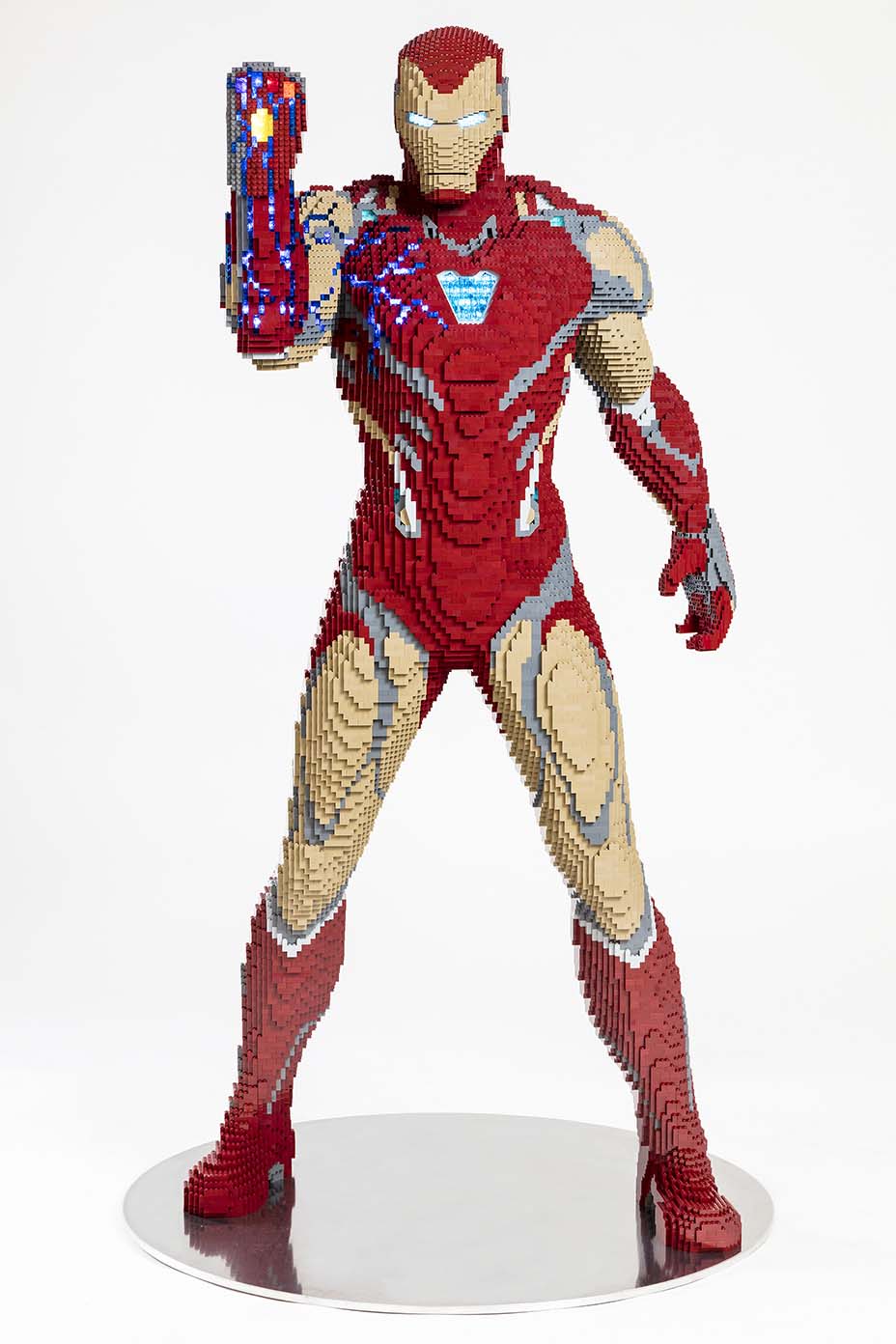 Be sure to swing by the Previews World booth, #2401 to spin their wheel for a chance to win some really cool stuff. You can also pick up a nifty pin to show your support for your local comic book store.
Another of Luke Chueh's Ghostbear vinyl figure will be debuted this week at SDCC. This little glow-in-the-dark fellow will be available for $30 at the Munky King booth.
Chrissie Zullo is packing up her originals that she will have at her booth. Star Wars, Game of Thrones, Wonder Woman… certainly something for everyone at her table.
Some originals I'm bringing with me to #SDCC 👀#jasmine #wonderwoman #batgirl #supergirl #hawkgirl #starwars #gameofthrones #sketch #doodle #drawing #traditionalart #painting #acrylicpainting #disney #art #dccomics #artistsoninstagram pic.twitter.com/j46O5IjvTq

— chrissie zullo uminga (@Chrissie_Zullo) July 15, 2019
Word on the street is that you'll be able to pick up a few new Ron English Grin pieces at Ron English Pop-Up Shop at Luce Loft. This trio of Hanna-Barbera Grin figures including Yogi Bear Grin, Flintstone's Dino Grin and Bamm Bamm Grin will all be released exclusively there by MINDstyle Worldwide.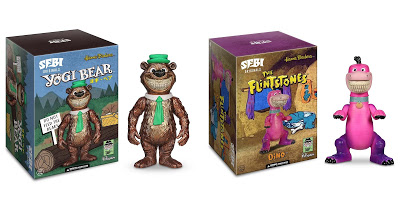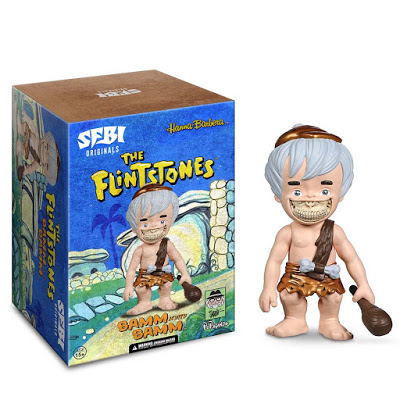 Have you met Frank & Becky? You should, they are the nicest people on the planet. You can find them at booth #1334 where you can also pick up this Scoop the Griffin print, limited to 50 copies.
SAN DIEGO COMIC CON IS ALMOST HERE! BOOTH 1334! Meet Scoop the Griffin, the newest resident of the Bouquet Forest! Scoop makes their print debut at SDCC this Wednesday at Booth 1334! Edition of 50! pic.twitter.com/tO0MoOGJBA

— Frank & Becky (@beckyandfrank) July 15, 2019
Artist Scott Williams will have a very limited supply of his Silver Surfer Black #1 variants. If you fancy one, you'll want to make sure to hit up his table right away. He'll also have some prints available too.
SDCC bound! Will have a limited supply of SILVER SURFER BLACK #1 variants (virgin and full trade dress) at my booth in Artists Alley, as well as full bleed prints. Come on by!!! pic.twitter.com/z1RbyUvZW2

— Scott Williams (@ScottW_inks) July 15, 2019
Attendees of the Russo Brothers panel will be walking away with some sweet flair for themselves, in the form of a Funko button. Their panel is Friday, July 19 at 11AM in Hall H. Could this indicate that a set of Directors Pops is coming soon?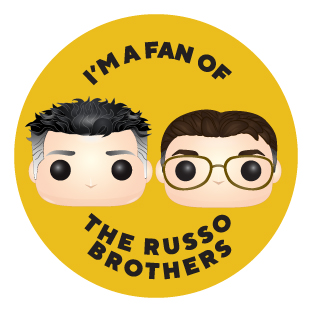 If you were hoping to see some of the new Mondo collectibles in person, you're in luck. Mondo will have the Sorcerer Micky Tiki and the Masters of the Universe Mer-Man 1/6 Scale Figure on display.
Some folks never stop working and James Silvani is one of those folks. He's got 4 more originals he'll be bringing, all from Toy Story 4. I challenge anyone to a race to booth #5555 for that Forky!
https://www.instagram.com/p/Bz8mHLoAwj3/?igshid=1ik3ri0r2mjwd
Hoping to see the cast of Riverdale? You might want to hang out by the IMDboat later this week. You just might catch them embarking.
#Riverdale fans! The cast is stopping by the #IMDboat at #SDCC later this week and we want to know, what are your burning questions for the cast of #Riverdale? pic.twitter.com/DAlVrKq99b

— IMDb (@IMDb) July 15, 2019
Creator of Bone and RASL, Jeff Smith has some goodies in store for SDCC attendees. RASL Book 2 and 3 will debut, and he'llhave a selection of new Bone prints as well. Find them at booth #2109.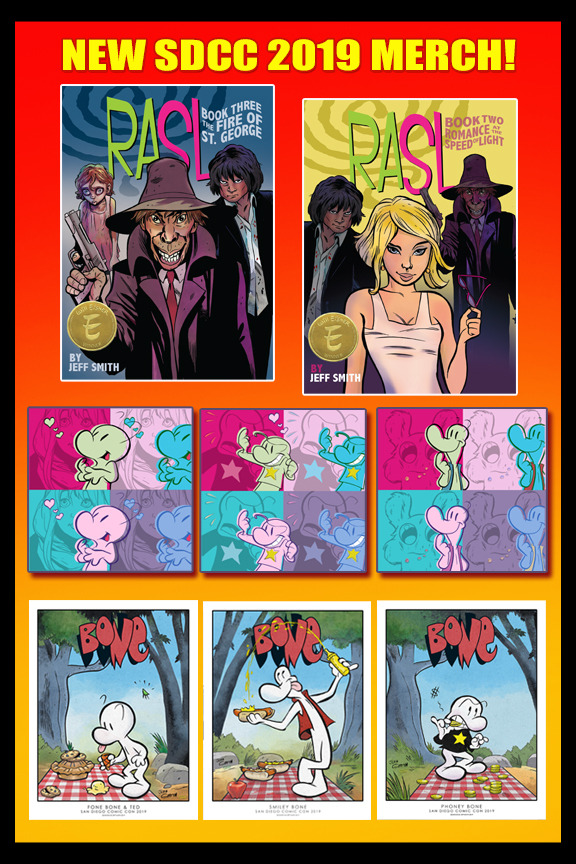 EXCLUSIVE! Here's 1 of the HUGE bags WBTV is passing out at our combo booth! In celebration of the Harley Quinn animated series starring #kaleycuoco! SEE the pilot WED at TV Preview nite & also at 7pm, this SAT at the @thedcuniverse panel. Indigo ballrm. Hilton bayfront hotel. pic.twitter.com/LMDPoyhS35

— Jim Lee (@JimLee) July 15, 2019
Anything we missed? Let us know in the comments, drop us a line, or tweet us at @SD_Comic_Con.