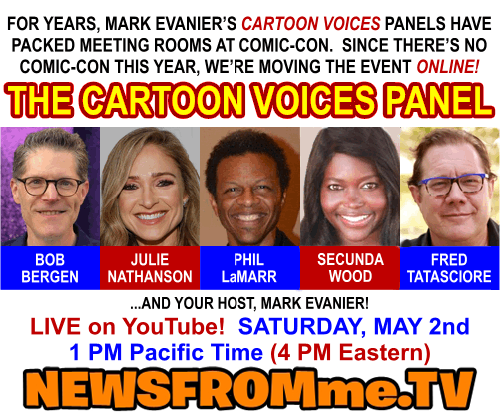 If you've been missing panels lately, Mark Evanier — writer, prolific panel host, and con historian — has you covered.
Evanier is bringing his popular "Cartoon Voices" panel, which features some of the top voices in cartoons being wacky while also discussing their craft, to a digital screen near you. You can catch his online panel live on YouTube this Saturday, May 2 at 1PM PT.
"Cartoon Voices" has been a mainstay at both WonderCon and San Diego Comic-Con for years, and this is your chance to attend without waiting in line. You can join Bob Bergen (the current voice of Porky Pig, but also known for his work on Star Wars: The Clone Wars, Avengers Assemble, more), Julie Nathanson (Suicide Squad: Hell to Pay and Ubisoft's Far Cry 5), Phil LaMarr (Justice League Unlimited, Samurai Jack, Static Shock), Secunda Wood (Boss Baby, Fast & Furious Spy Racers) and Fred Tatasciore (The Hulk, Family Guy, American Dad).