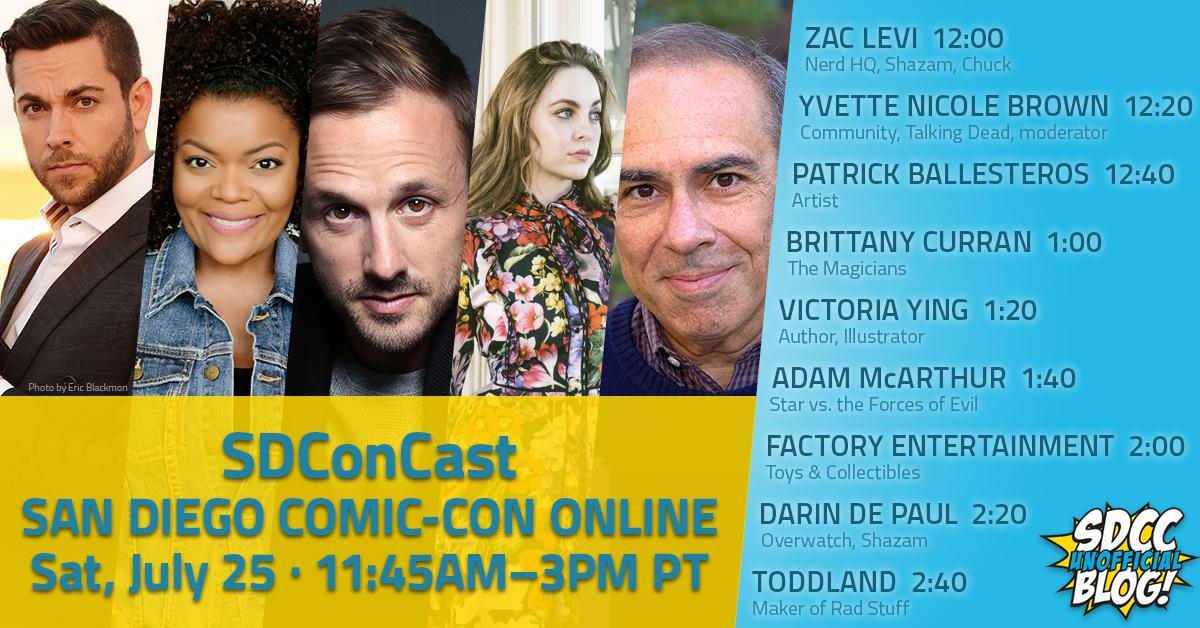 San Diego Comic-Con has been cancelled for 2020 (physically at least). But we at the San Diego Comic-Con Unofficial Blog are still here, so we're going to bring some of the magic of Comic-Con to you live virtually. This super-sized episode is a celebration with special guests, information on how to support artists and exhibitors who would have been at SDCC, and even some giveaways.
Here's a look at the Saturday, July 25 line-up:
11:45AM PT – Kick-off
12PM PT – Zachary Levi, Nerd HQ co-founder and actor (Shazam!, Chuck)
12:20PM PT – Yvette Nicole Brown (Community, Talking Dead)
12:30PM PT – Patrick Ballesteros, artist
1PM – Brittany Curran (The Magicians)
1:20PM PT – Victoria Ying, author/illustrator
1:40PM PT – Adam McArthur (Star vs. the Forces of Evil)
2PM PT – Factory Entertainment
2:20PM PT – Darin De Paul (Overwatch, Shazam!)
2:40PM PT – Toddland
Join us for fun, news, and come together as part of the SDCC community.
We'll kick things off at 11:45AM PT/2:45PM ET. Join in on the fun on YouTube Live.
Podcast Links:
Subscribe: [RSS] [iTunes] [Stitcher Radio] [Direct Download]
Show Notes:
Sign Up For Our Weekly Newsletter
San Diego Comic-Con 2020 Online Overview & FAQ (aka how to support artists and vendors)
List of Open Artist Commissions for San Diego Comic-Con 2020
Be Our 'Attendee of the Week'
Site Links:
[SDCCBlog.com] [Facebook] [Twitter] [YouTube] [Direct Download].
Music:
Intro: "Omg I <3 Livejournal (And My Livejournal Loves Me)" (Talkshow Boy)
Outro: "Joss Whedon" (lo-fi is sci-fi)
Special Guests:
Zac Levi
Twitter: @ZacharyLevi
Website: Nerd HQ
Yvette Nicole Brown
Twitter: @YNB
Patrick Ballesteros
Twitter: @PatrickBallest
Website: Patrick Ballesteros Art Shop
Brittany Curran
Twitter: @BrittanyCurran
Victoria Ying
Twitter: @victoriaying
Website: Victoria Ying
Adam McArthur
Twitter: @ninjamac
Factory Entertainment
Twitter: @FactoryEnt
Website: Factory Entertainment
Darin De Paul
Twitter: @DarinDePaul
Toddland
Twitter: @toddlandstore
Website: Toddland
The Hosts:
Kerry Dixon
Twitter: @kerrydixon
James Riley
Twitter: @danregal
Website: geekshotphoto.com
Robert Warners
Twitter: @LegionofSand
Website: legionofsand.com
Erin Tapken
Twitter: @BavarianErin
Andy Wagner
Twitter: @SDCCWackyWags
Produced by:
Beth Riley
Twitter: @trekkiebeth
Website: geekshotphoto.com