This week, to celebrate Comic-Con@Home, Vice Press will have three new releases in collaboration with Bottleneck Gallery.
The first is this Universal Monsters art print by British artist Andrew Swainson. It is officially licensed from Universal Studios and features likenesses of  all of the classic Monsters – Bela Lugosi as Dracula, Lon Chaney as the Phantom of the Opera, Lon Chaney Jr as The Wolf Man, Elsa Lanchester as The Bride of Frankenstein, Claude Rains as The Invisible Man, Gill Man from the Creature from the Black Lagoon Boris Karloff as The Mummy and Frankenstein's Monster.
Universal Monsters by Andrew Swainson will be available starting at 10am PT on Tuesday, July 20 exclusively at Vice Press. The variant version is available now by logging into your account with Sideshow Collectibles.
Universal Monsters by Andrew Swainson – £29.99
Size: A2 (420mm X 594mm)
Open Edition with stamp of authenticity on reverse
Lithograph on 250gsm Naturalis archival paper
Co-release with Bottleneck Gallery -Exclusive to Vice Press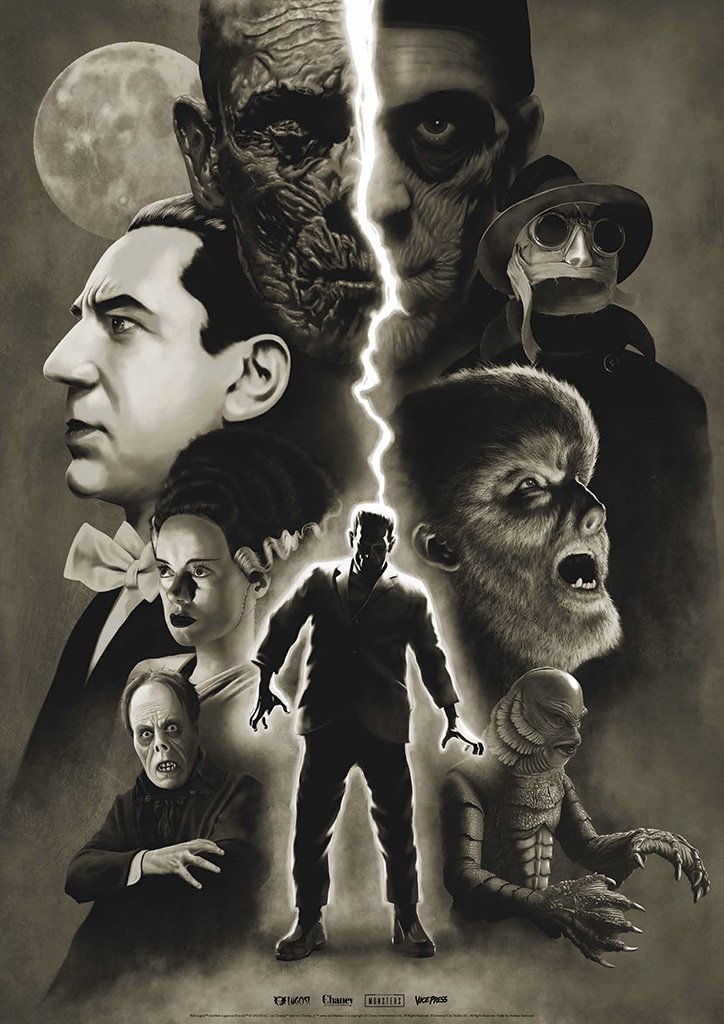 Universal Monsters Variant by Andrew Swainson – $45.00
Size: A2 (420mm X 594mm)
Open Edition with stamp of authenticity on reverse
Lithograph on 250gsm Naturalis archival paper
Co-release with Bottleneck Gallery, Exclusive to Sideshow